Going down: Property prices cool as affordability bites
This article by Madeleine Lyons for the Irish Times may be of interest to subscribers. Here is a section:
Latest reports have highlighted a distinct slowdown in growth in the housing sector since the start of the year. Despite a clear need for more houses this is not converting to actual sales. In fact, price drops have become commonplace in the second-hand market, and sales of properties over €500,000 have shown a 21 per cent drop since the start of the year.

All of this points to an affordability issue for buyers, and a gradual market realisation that prices need to be adjusted accordingly. Add to this fears over Brexit and Central Bank mortgage lending restrictions and the slow 2 per cent growth in number of mortgage drawdowns in the first quarter begins to make sense. Compare this with growth rates in 2018 of about 20 per cent.

Meanwhile, the throughput of housing stock for sale is strong. "June and July have been unseasonably strong with the flow of stock coming through," said Angela Keegan, managing director of property website MyHome.ie. "It's possible people are more confident about the market because, remember, if they are selling they are buying too. We know interest rates are not going up in the near term and there are excellent fixed-rate mortgages available too.
Declining demand for higher priced homes suggests consumers and investors are trimming their expectations for continued economic strength. There is no country likely to do worse from a hard Brexit than Ireland.
It will be for historians to parse whether the backstop gambit was an historic mistake or a masterful stroke. Meanwhile the stock market is rolling over and the housing market is softening. That occurring against a background where interest rates are close to zero and the ECB is about to restart QE.

The underperformance of smaller export-oriented economies like South Korea and Ireland suggest an easing of global growth expectations and is the rationale for what is looking increasingly like synchronised monetary and fiscal stimulus.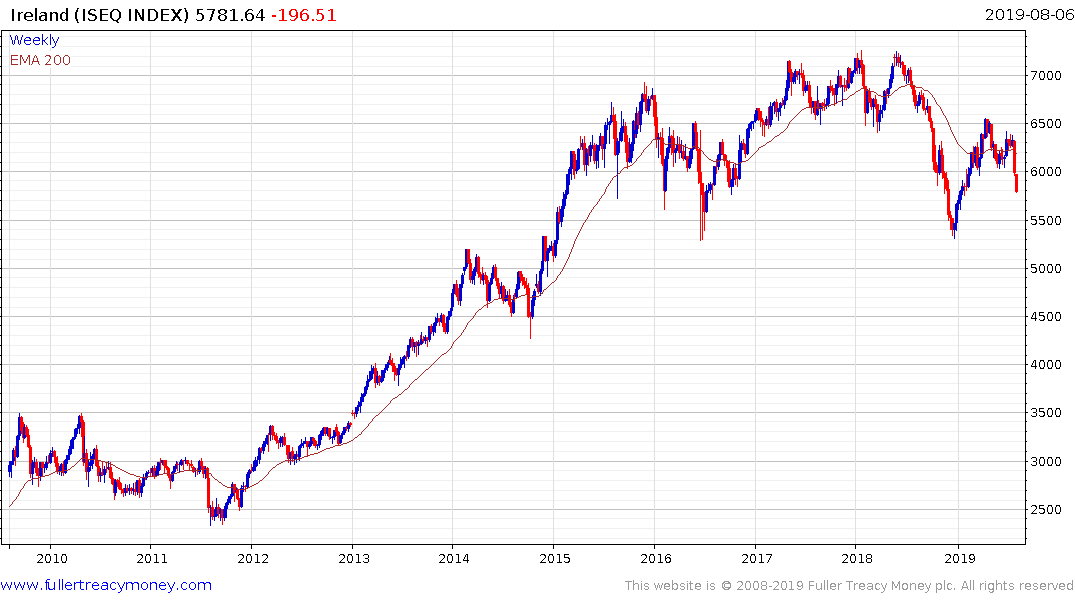 The ISEQ Index has developing top formation characteristics and will need to sustain a move above the trend mean to question that view.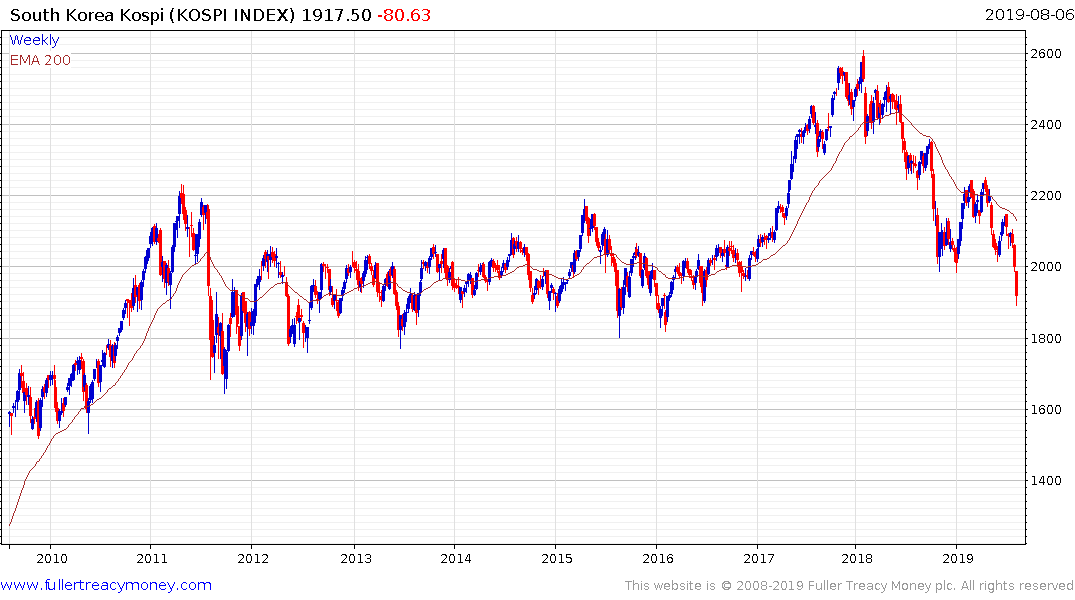 The Kospi Index broke below the psychological 3000 level this week to reassert its downtrend.
Back to top