GM Sees Profit Down on Inventory Woes, Reaffirms '22 Outlook
This article for Bloomberg may be of interest to subscribers. Here is a section:
General Motors Co. expects second-quarter sales and profit to take a hit due to supply-chain problems, but the automaker said it can make up for delayed production later this year and reaffirmed its full-year guidance.

GM had 95,000 vehicles in inventory as of June 30 -- most of them built in June -- that can't be sold until certain semiconductors arrive to finish assembly, according to a Friday securities filing. The carmaker expects to finish building those vehicles by the end of the year, allowing the company to keep its full-year guidance.

The semiconductor shortage has eased, but carmakers continue to wrestle with the availability of certain chips. The shortfall has forced GM and others to either cut production at times or start assembling vehicles without some chips and finish them when supplies arrive.

GM said second-quarter sales fell 15% due to production and supply issues. As big a drop as that is, it's a sign of improvement from the second half of last year when supply-chain problems caused a sales shortfall of more than 40%.

Detroit-based GM said second-quarter profit will come in between $1.6 billion and $1.9 billion; the average of analysts' estimates is $2.4 billion.

Despite the hit to quarterly sales, GM is sticking to its expectations of 2022 net income between $9.6 billion and $11.2 billion, adjusted operating profit of $13 billion to $15 billion and adjusted earnings of $5.76 to $6.76 a share.
GM's issues with securing the types of chips they require for vehicles highlights the nuances within the sector and the challenges of managing global supply chains when demand ramps higher in an unpredictable manner.
The other piece of news making headlines this week was the launch of GM's Cruise robotaxi service in San Francisco. The launch occurred with a few bumps along the way, such as cars clustering at intersections and blocking traffic, but it also shows progress in developing the trend of autonomous vehicles. https://techcrunch.com/2022/06/30/cruise-robotaxis-blocked-traffic-for-hours-on-this-san-francisco-street/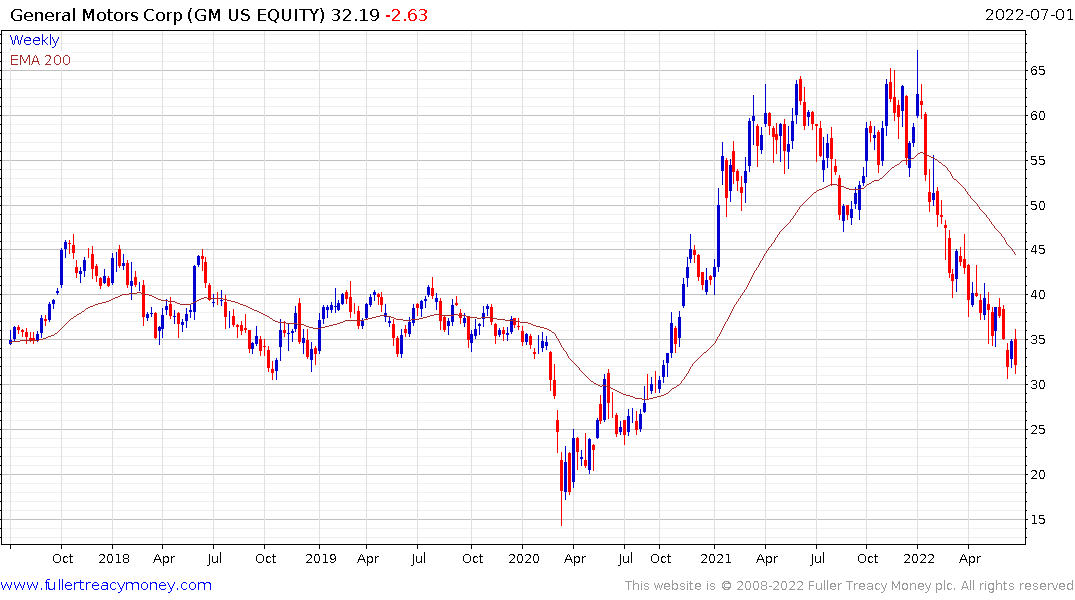 The share remains in a consistent downtrend.
Back to top