Global Oil Demand Hits Record and Prices May Climb, IEA Says
This article may be of interest to subscribers. Here is a section:
But in the meantime, world markets are tightening, leaving oil inventories in developed nations about 115 million barrels below their five-year average, according to the report. Global stockpiles are set to deplete by a hefty 1.7 million barrels a day in the second half of the year, and preliminary data appears to confirm declines in July and August, the IEA said.

Major consuming nations have criticized the Saudis and their allies in OPEC+ for constricting supplies, warning that a renewed inflationary spike would squeeze consumers and endanger the global recovery. Nonetheless, Riyadh has said it could deepen current cutbacks if necessary.

Output from the Organization of Petroleum Exporting Countries and its partners plunged last month to near a two-year low as the Saudis implemented a unilateral cut of 1 million barrels a day. Russia, a fellow member of the coalition, is also reducing exports.
Saudi Arabia has ambitious infrastructure construction underway and that does not come cheap. They have a vested interest in sustaining a higher for longer price environment to supplement the budget and ensure social harmony. Russia also has an obvious incentive to support prices.
Meanwhile, non-OPEC investment in additional supply has been meagre over the last several years. Companies have been cautious about announcing production investment because of the potential for backlash from the media. That changed over the last several months with both BP and Shell announcing more investment but that takes time to come to fruition.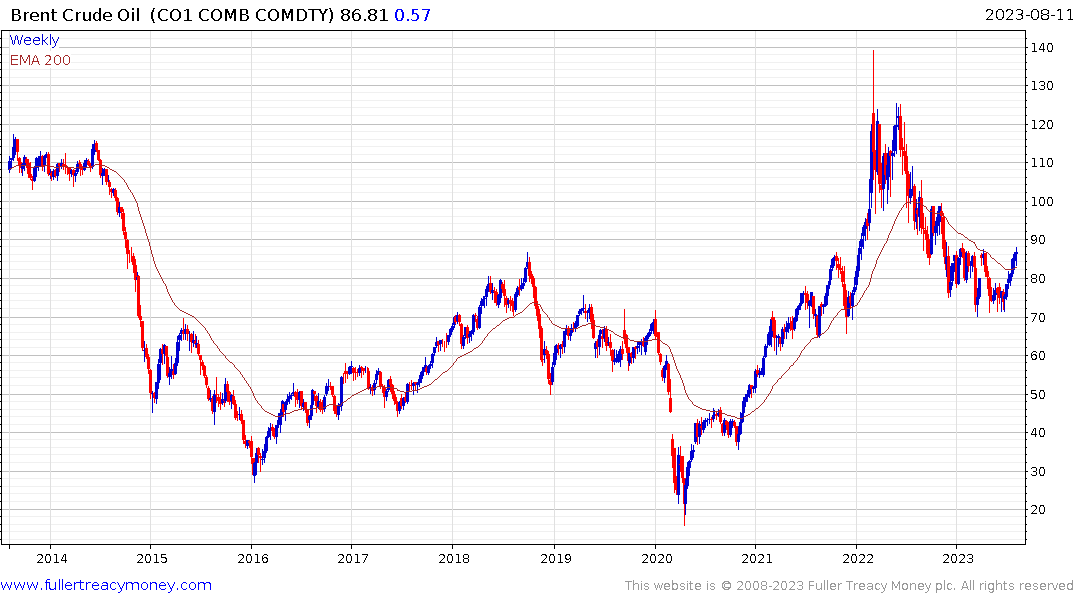 That lack of spare capacity provides OPEC+ with the ability to flex its influence on the global market. That is pushing prices higher. Many oil companies surged during the pandemic as profits recovered. They ranged over the last year because it was looking unlikely that profitability could be sustained. As oil prices rebound, sentiment towards the sector is improving.
The Energy SPDR continues to extend its rebound and is back testing the upper side of its range. A clear downward dynamic would be required to question potential for additional upside.
The downside to a recovering oil price is it will inevitably put additional pressure on economic growth in consuming nations.
Back to top