Global Metals Playbook 2Q14 Supply Challenges Ahead of a Cyclical Recovery
Thanks to a subscriber for this report by Joel Crane for Morgan Stanley which may be of interest to subscribers. Here is a section:
Commodities tend to outperform in the late expansion phase: As physical assets, commodities respond to the current environment while equities price off future expectations. This dynamic causes equities to discount slowing EPS growth and inflation pressures as the cycle matures, while commodities continue to benefit from rising demand (and supply constraints) until growth actually turns negative. We argue most indicators suggest we are still in the middle part of the business cycle and have not yet transitioned to a late cycle framework.

Demand outlook broadly constructive: Morgan Stanley Research economists expect global GDP growth to accelerate from 3.0% in 2013 to 3.4% in 2014 and 3.7% in 2015. The DM economies will drive this growth as central bank policy remains accommodative for the foreseeable future. However, EM economies may continue struggling with their transitions to new growth models and with the external challenge of rising US real interest rates.

Supply discipline not yet evident: This year marks the third in which metals and bulk commodity prices (in aggregate) remain challenging for most producers. However, although many miners are experiencing margin compression, suspension or closure of mines has not been prevalent. Instead operational rationalization including cost cutting and technically based productivity gains have been sought. And in some cases output has been increased in a bid to lower unit costs.

?Supply and demand balances more compelling from 2015: Our base case output and consumption forecasts suggest the metals and bulk commodities complex faces more supply saturation amid still rebounding demand in 2014.
Here is a link to the full report.

Sentiment towards the metals sector has been ambivalent over the last couple of years not least as the mining sector trended lower. This forced management teams to address their overly ambitious growth forecasts and to improve free cash flow which has resulted in their share prices stabilising. Decisions to cancel expansion plans, but keep existing mines open, maintains the status quo and explains the predominately rangebound environment. However this also suggests that there will be issues with increasing supply in future.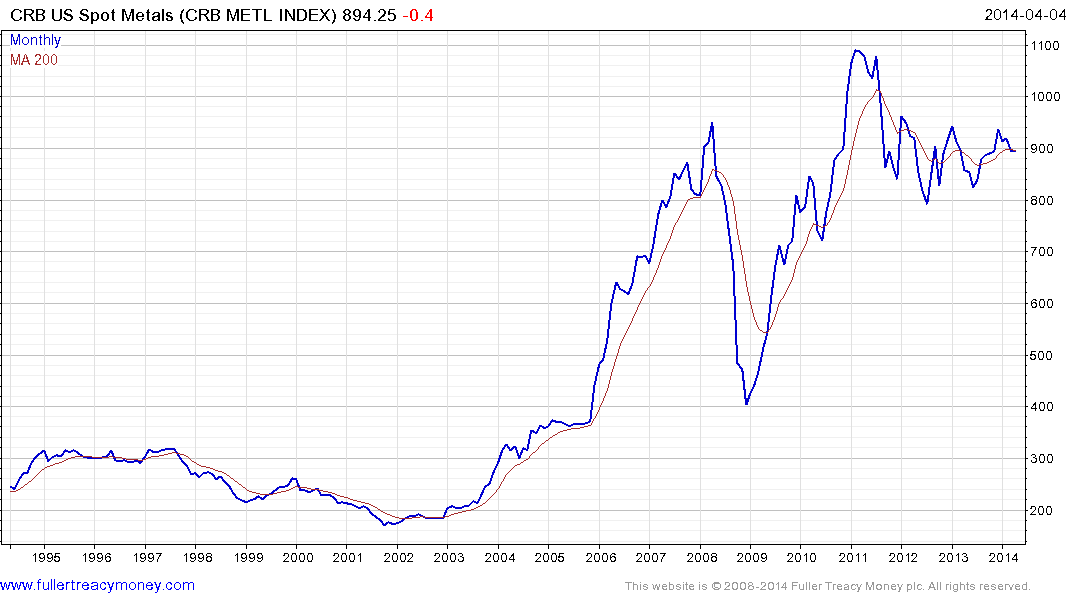 The CRB US Spot Metals Index has been confined to a range above the 800 area for more than three years and has held a progression of higher reaction lows over the last 18-months. It firmed yesterday in the region of the 200-day MA and a sustained move below the trend mean would be required to question medium-term scope for additional higher to lateral ranging.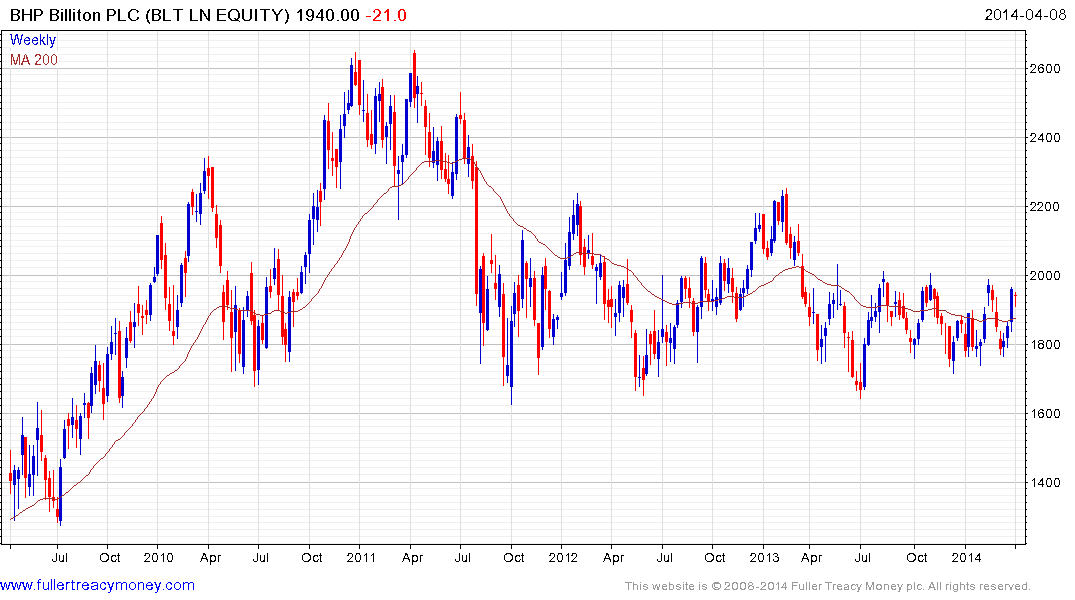 BHP Billiton (P/E 11.91, DY 4.21%) has returned to test the upper side of its range near the psychological 2000p and has at least paused this week. Some consolidation of the short-term overbought condition is likely and it will need to sustain a move above that level to confirm a return to demand dominance beyond the short term.
Back to top