Glencore's radioactive news may help give cobalt its buzz back
This article appeared in mining.com and may be of interest to subscribers. Here is a section:
Glencore plans to stockpile cobalt supplies until the middle of next year, while it builds a special plant to remove radioactivity. Caspar Rawles, an analyst at Benchmark Minerals, described the timing of the announcement as "opportunistic" because Glencore is currently negotiating 2019 supply deals.

Glencore-controlled Katanga Mining Ltd. would have produced about 30,000 tons of cobalt next year, roughly 25 percent of global supply, according to RBC Capital Markets. Holding this off the market should tighten supplies and support Glencore's other mine in Congo, which also produces cobalt.

"Assuming there are no uranium issues that this uncovers elsewhere, this production will benefit from any positive price impact," RBC said.

Katanga boasts one of Congo's biggest reserves of copper and cobalt, but the mine has underperformed for decades. In 2015, Glencore suspended operations to address the problems and upgrade the facilities. Production restarted in December and the mine is scheduled to hit 300,000 tons of copper next year, when it will account for about a fifth of Glencore's global production.
Cobalt went up in a straight line until its peak in the summer and has since experienced a significant correction. The metal is essential in the designs of all batteries currently in the market but the demand growth argument is predicated on that condition persisting. Considering how insecure global supplies of cobalt are, a race is on to use less of it, substitute it and to develop additional sources of supply from less politically insecure areas.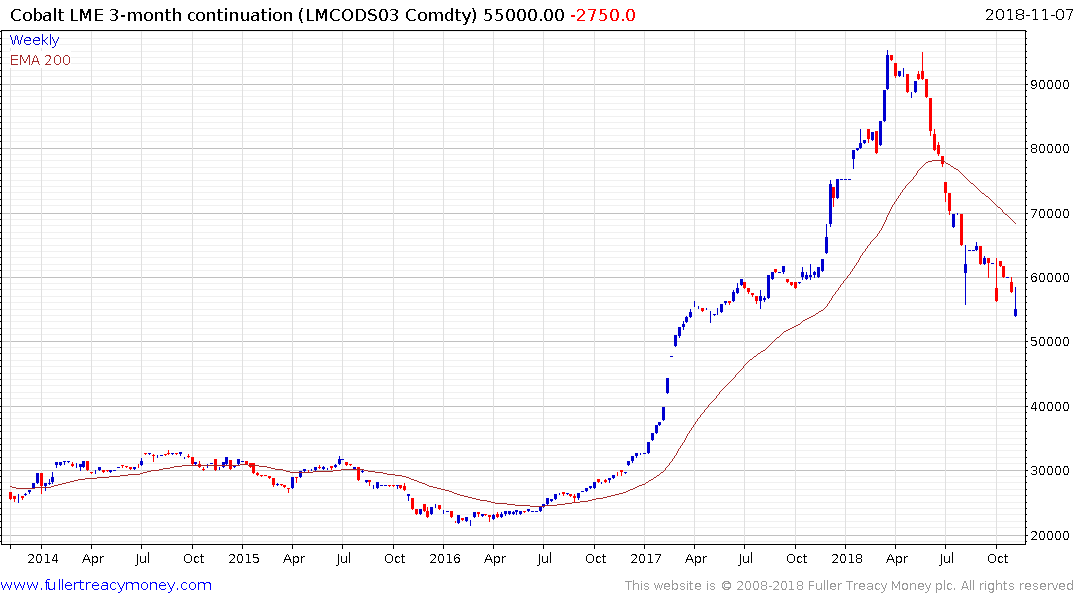 News that Glencore is removing supply from the market is the first positive news that supply and demand are beginning to come back into balance since the peak. However, the cobalt price has yet to demonstrate traders are convinced selling pressure has abated.


Katanga Mining has been trending lower all year and retested its lows earlier today. It needs to at least break the sequence of lower rally highs to challenge the supply dominated environment. However, if it is stockpiling supply, rather than selling it, revenue growth is at least going to be delayed until the problem with radioactivity is solved.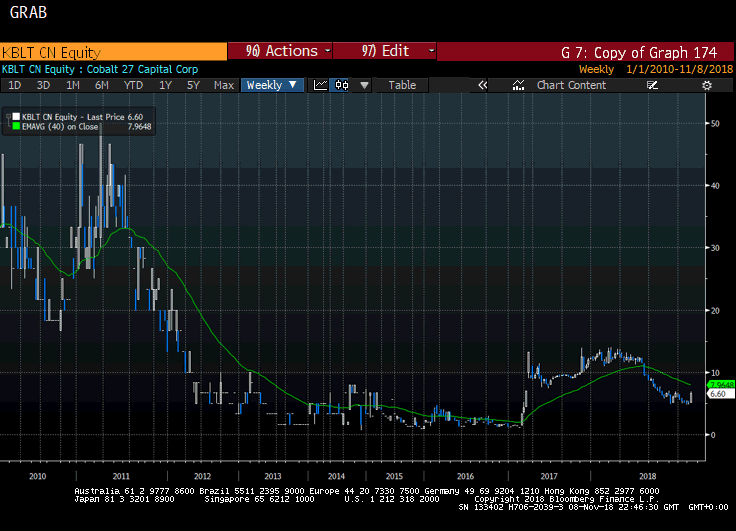 Cobalt 27 Capital Corp rallied this week to break its downtrend and will need to hold the low near C$5 if recovery potential is to be given the benefit of the doubt.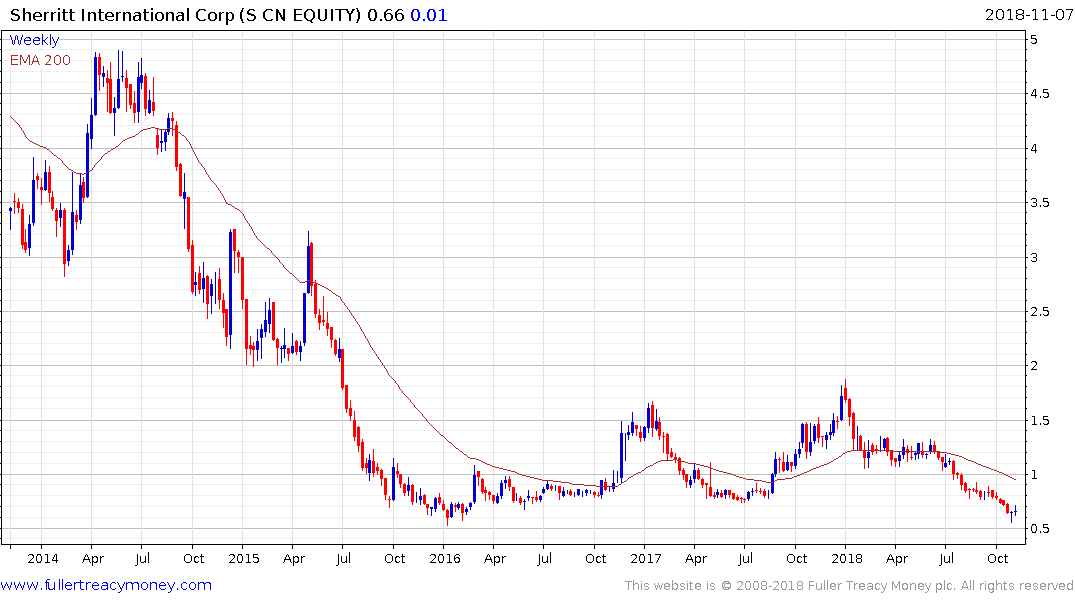 Sherritt International's nickel/cobalt mine in Cuba is the subject of US sanctions so Panasonic no longer purchases the company's cobalt for Tesla's batteries. Nevertheless, considering how much demand growth for batteries is planned there is likely to be a market both for the company's nickel and cobalt somewhere in the supply chain. The share is back testing its early 2016 lows but will need to break its sequence of lower rally highs to confirm a return to demand dominance.
Back to top