Germany's Largest Auto Makers Back Abolition of EU-U.S. Car Import Tariffs
This article by William Boston and Bojan Pancevski for the Wall Street Journal may be of interest to subscribers. Here is a section:
That would mean scrapping the EU's 10% tax on auto imports from the U.S. and other countries and the 2.5% duty on auto imports in the U.S. As a prerequisite, the Europeans want Mr. Trump's threat of imposing a 25% border tax on European auto imports off the table.

​Over the past few weeks, Mr. Grenell has held closed-door meetings with the chiefs of all major German automotive companies, including bilateral meetings with the CEOs of Daimler AG , BMW AG and Volkswagen AG , which operate plants in the U.S. Overall, Germany's auto makers and suppliers provide 116,500 jobs in the U.S., according to the Association of German Automotive Manufacturers.

During these talks, which the ambassador initiated, the managers said they would back the scrapping of all import tariffs on trans-Atlantic trade in automotive products as the keystone of a broader deal covering industrial goods. The German government is on board and Mr. Grenell promised to support the idea, according to U.S. and German officials.
Trade tensions are ebbing and flowing on almost a daily basis. Efforts led by the German auto manufacturers to defray risks to their US business obviously highlight how seriously companies are taking the threat of trade friction and what it could mean for their businesses. That is particularly true in the aftermath of the diesel cheating scandal which continue to make headlines.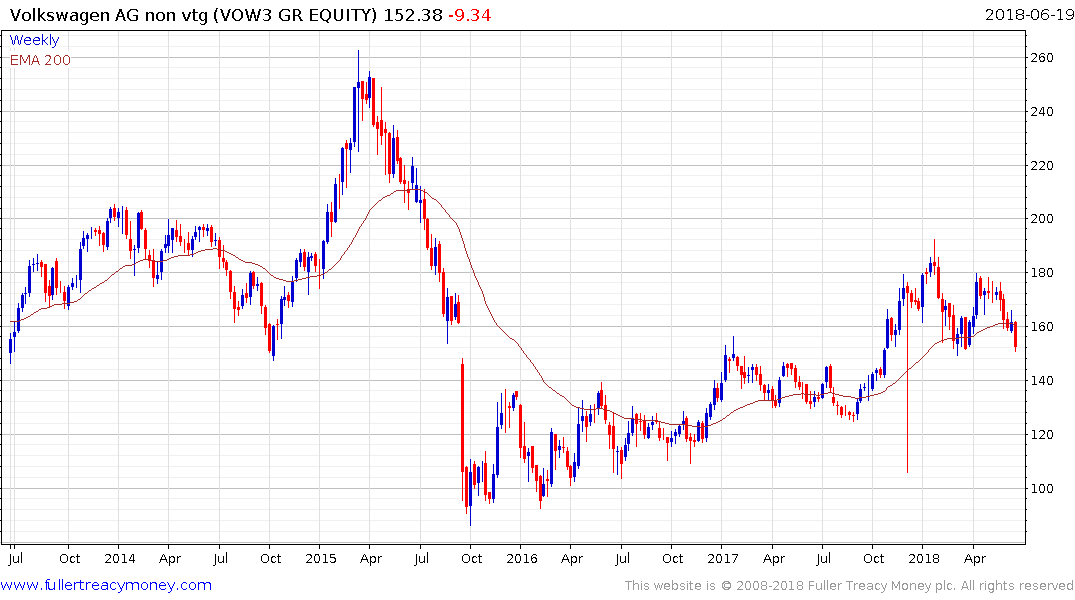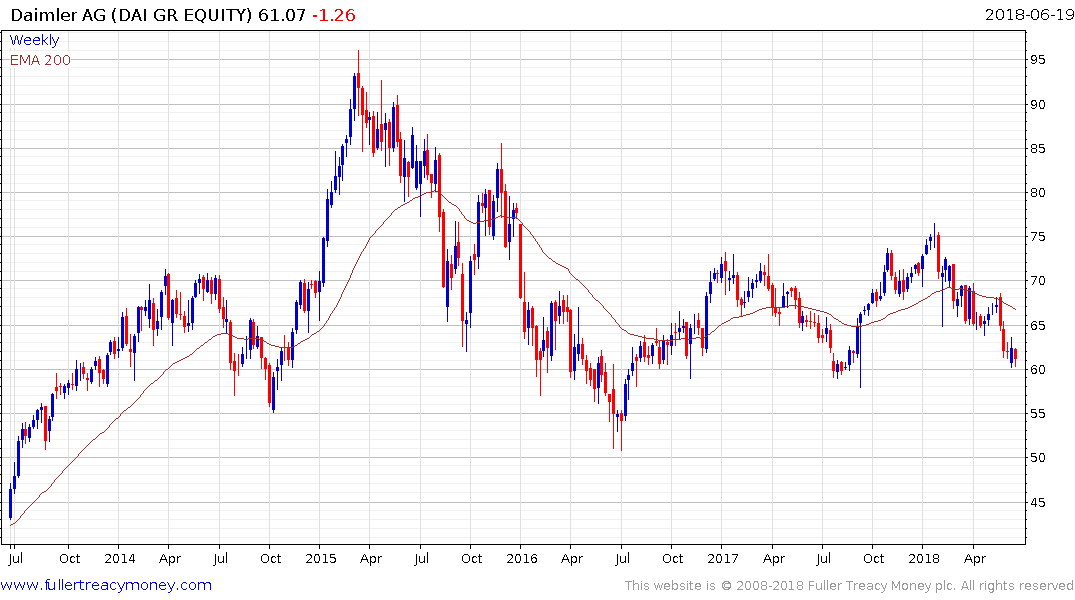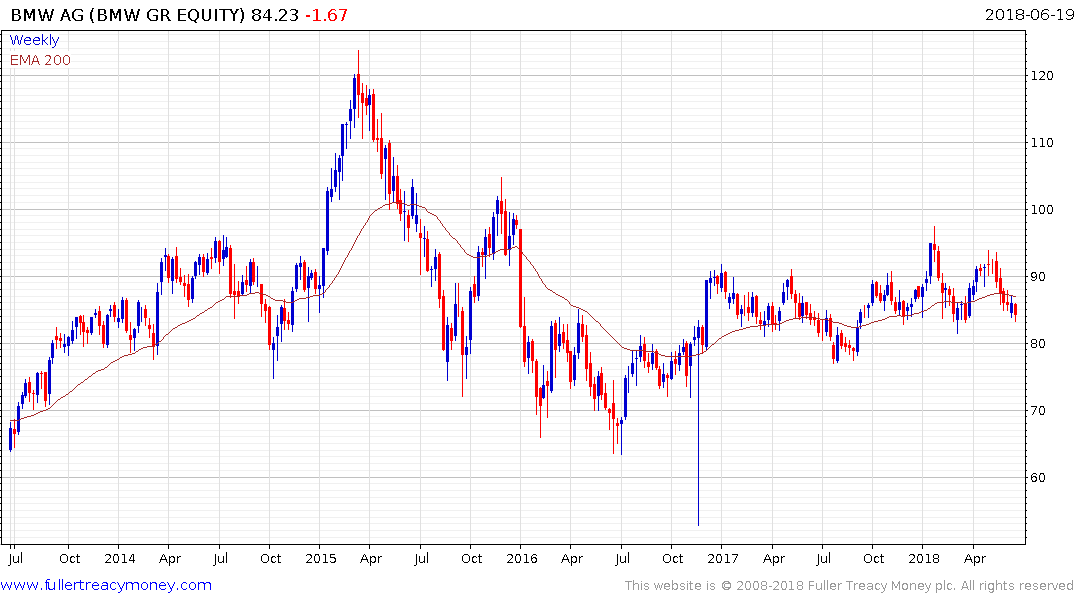 The shares of Volkswagen, Daimler and BMW are all back testing areas of potential support so companies are obviously eager to stall their declines. There is no sign, at least yet, that support has been found.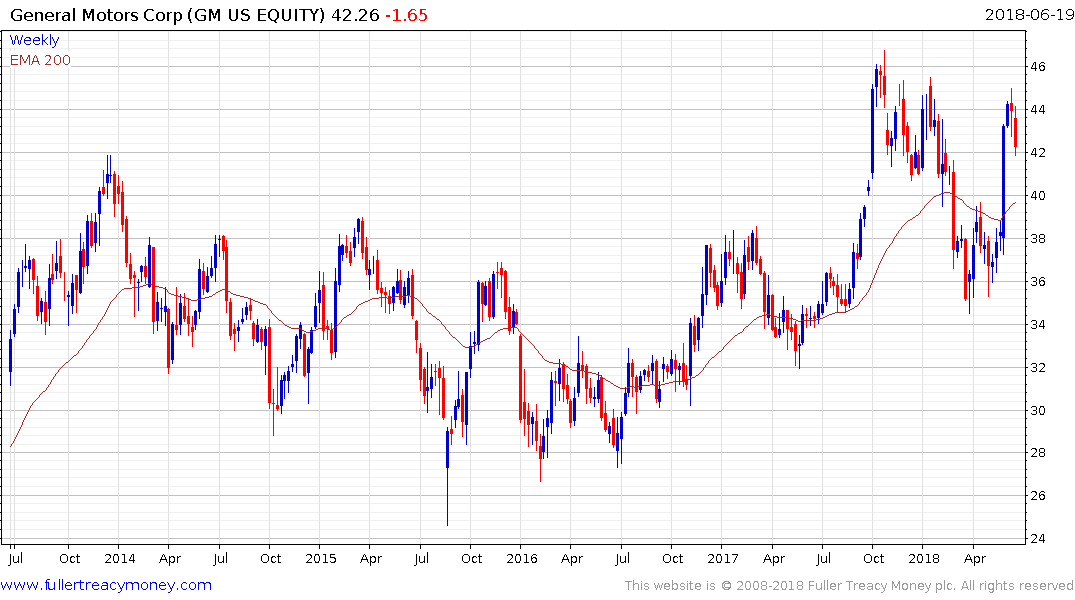 Meanwhile General Motors had rallied impressively over the last couple of weeks It has paused in the region of the October highs over the last couple of weeks but a sustained move below the $40 area would be required to question medium-term scope for continued upside.
This report from Citi highlighting the outlook for electric vehicles is a very relevant consideration for the auto sector since they are all planning on releasing a large number of electric and hybrid electric models over the coming years. The retooling required to achieve that goal is going to be expensive and is likely to represent a headwind for the sector until the production architecture has been completed.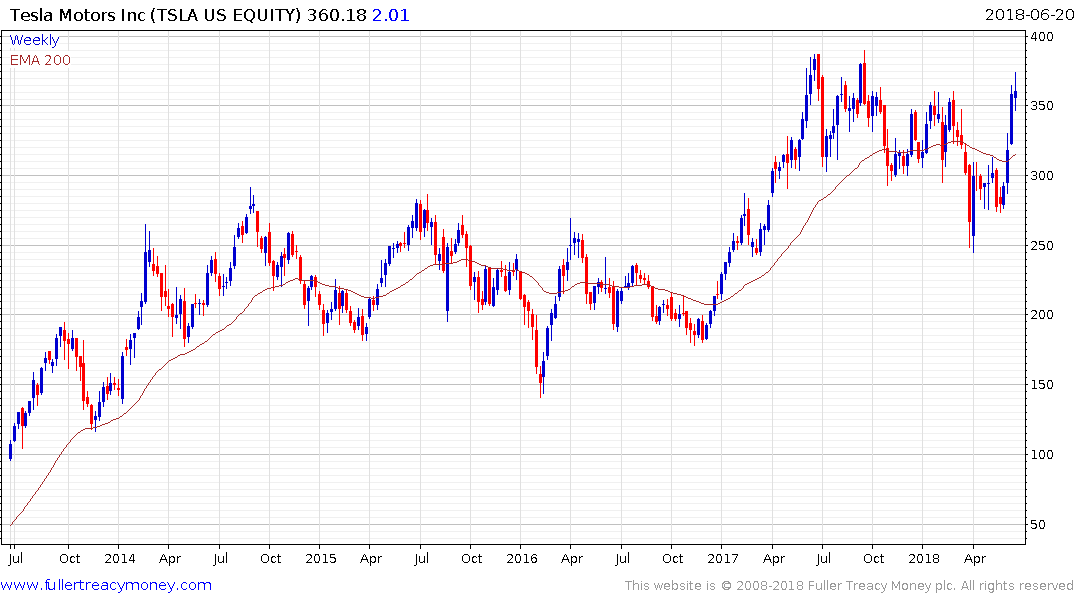 Tesla went through a three-year range while it was building its battery factory and broke out on the upside when it completed the project. The share has rallied this month to break a yearlong progression of lower rally highs and will need to hold the move above the trend mean if recovery potential is to continue to be given the benefit of the doubt.
Back to top