Germans Rush to Buy Gold as Draft Bill Threatens to Restrict Purchases
This article from biocoin.com may be of interest to subscribers. Here is a section:
In a tweet posted Wednesday, precious metals consultant and analyst Dan Popescu shared a picture of a long line of people waiting in front of "Degussa store to buy gold in Köln." Popescu described, "From Jan. 1, 2020, the limit to buy gold anonymously drops from €10,000 down to €2,000. Only two years ago the limit was €15,000." One user posted his own photo and replied "This is me line at Degussa in 23rd. The employees said they haven't seen anything like it before." To give an idea of the relatively small amount of gold €2,000 (~$2,224) can buy, even a 50g gold bar is currently too expensive.
Negative rates are currently only being imposed on depositors with more than €300,000 because the authorities believe wealthier people are less likely to put cash under the mattress. What they fail to understand is many people choose to hold their cash in gold when the risk of debasement is running high.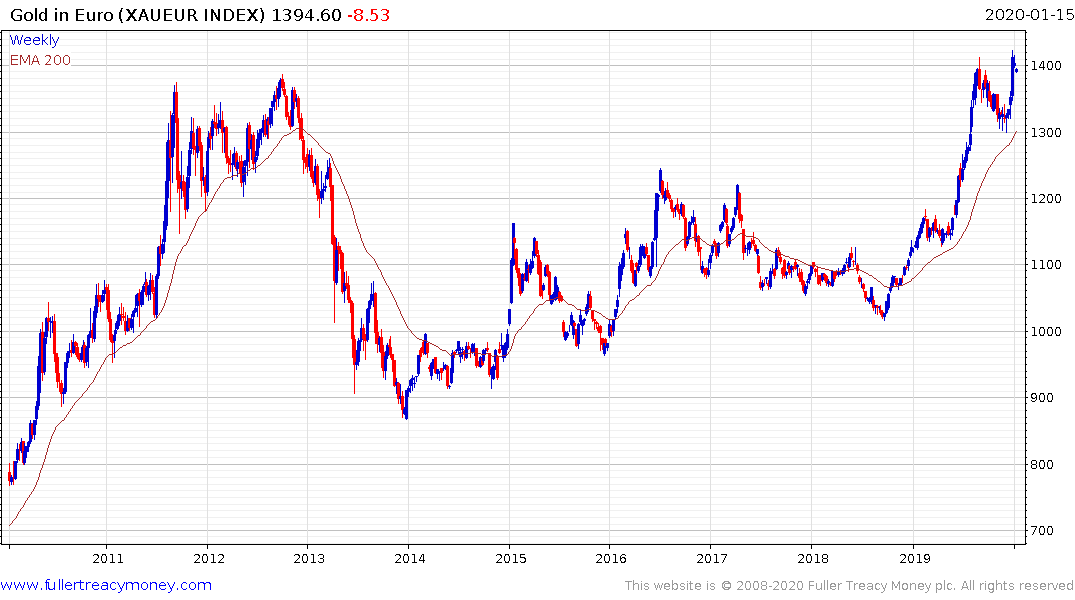 The price of gold in Euro is currently consolidating in the region of the all0time peak and a sustained move below the trend mean would be required to question medium-term scope for continued upside.
The requirement to report all purchases of more than €2000 is a significant scaling up of efforts to demonise holding of hard assets even as threat of confiscation of assets under a negative interest rate regime looms large.
Back to top