German Wind-to-Hydrogen Plant Takes Car-Fuel Battle to Tesla
This article by Alex Webb for Bloomberg may be of interest to subscribers. Here is a section:
Still, hydrogen-fuelled cars have two main advantages over their battery-powered rivals, said Salim Morsy, a New-York based analyst for Bloomberg New Energy Finance.

"They are faster to refuel and have much longer ranges than electric ones," the analyst said. "It can take just five minutes to refuel a hydrogen car for a range of 400 miles, compared to up to a seven hour charge for an electric vehicle to travel just 200 miles."

Linde says Energiepark Mainz could help put an end to the criticism that hydrogen fuel cells are only marginally more environmentally friendly than traditional combustion vehicles, and allow the gas to be extracted anywhere there's wind and water. BMW AG is also starting tests of a vehicle powered by hydrogen this month.
In 1874 Jules Verne hypothesised in the Mysterious Island "water will one day be employed as fuel, that hydrogen and oxygen of which it is constituted will be used". It's been a long time coming and we are not there yet but producing hydrogen cheaply and cleanly represents a major breakthrough in the potential for it to be reused as a transport fuel. Toyota putting the Mirai into production represents a major bet that the technology has reached commercial utility.

The global compressed gases sector represents an oligopoly with only a small number of companies dominating the market. These are Linde, Praxair and Air Liquide. Specifically within the hydrogen sector Air Products & Chemicals is one of the largest producers through its natural gas conversion system in Texas.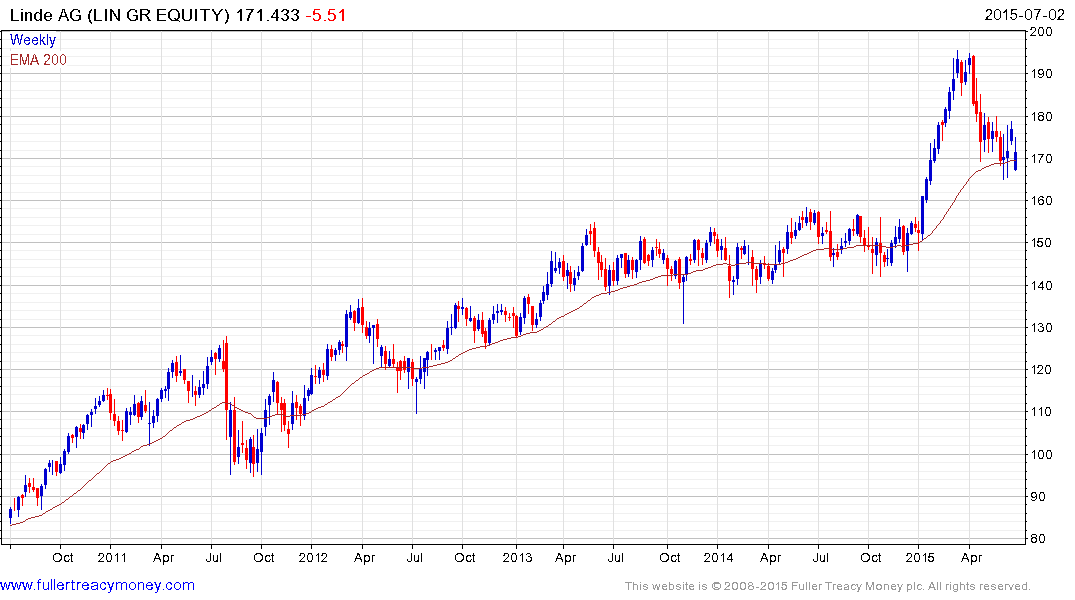 In common with a considerable number of German shares Linde rallied impressively from early this year and has now returned to test the region of the 200-day MA. It continues to firm from the region of the 200-day MA and a sustained move below it would be required to question medium-term recovery potential.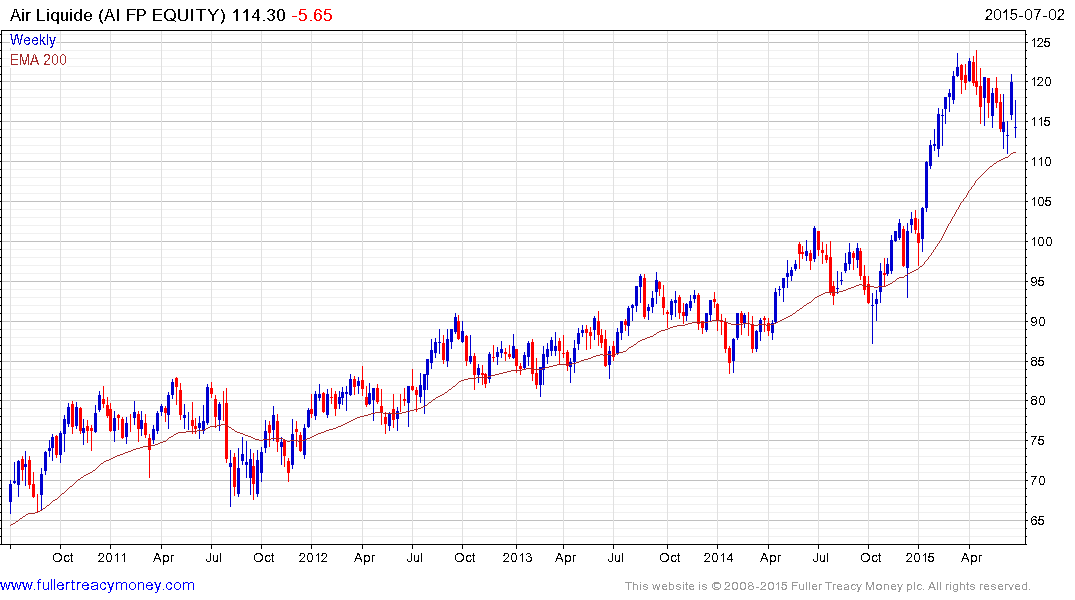 Air Liquide shares a high degree of commonality with Linde.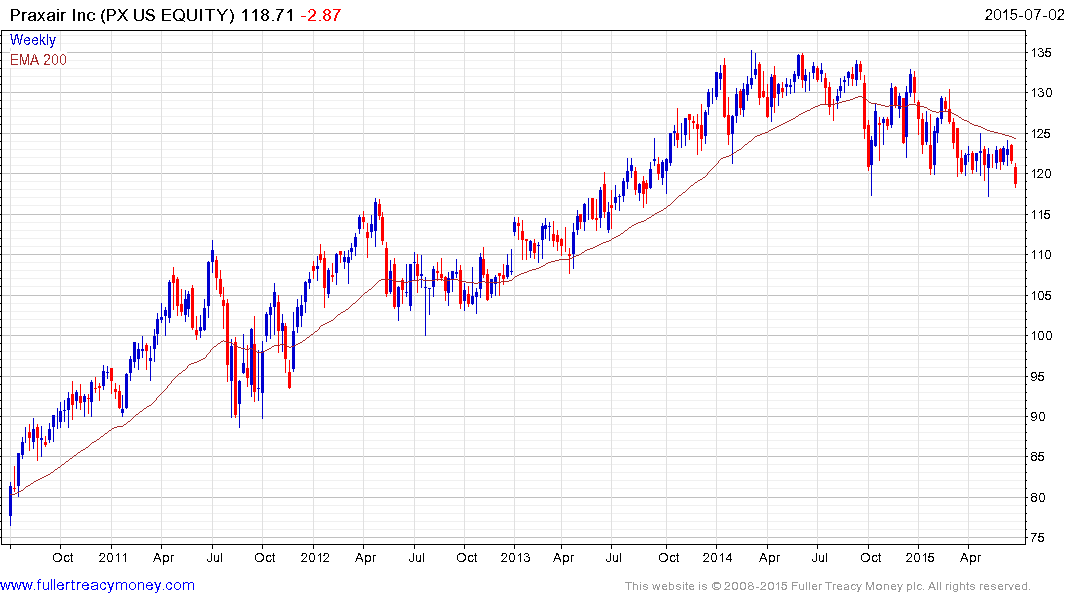 Both Praxair and Air Products & Chemicals outperformed their European competitors by a wide margin from 2009 but that changed early this year. Praxair is testing the lower side of an 18-month range. A clear upward dynamic and sustained move above the 200-day MA will be required to offset top formation characteristics.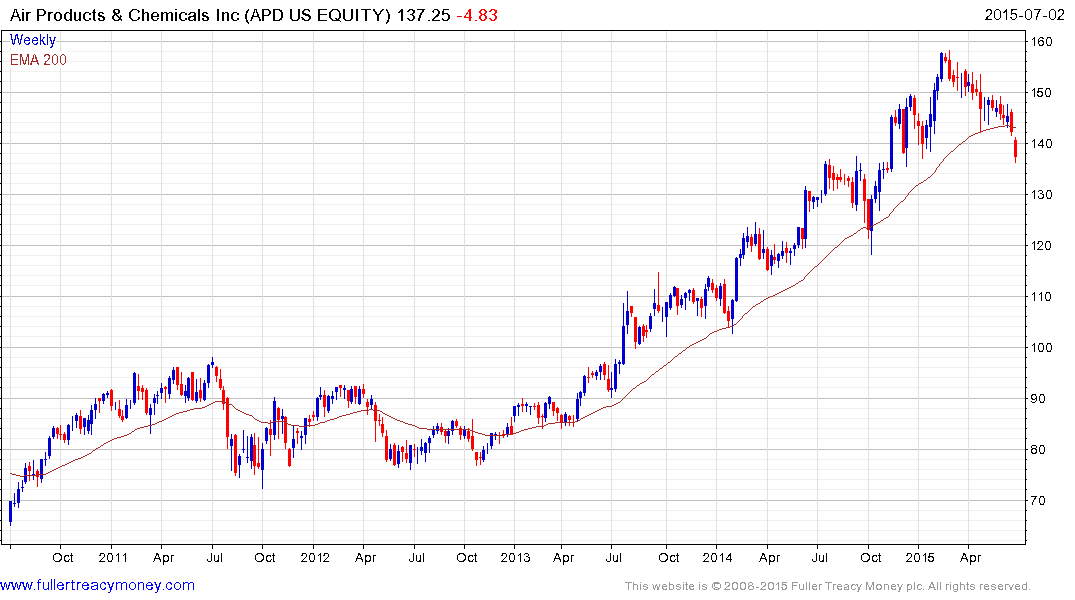 Air Products & Chemicals has dipped below the 200-day MA on previous occasions over the last two-years but has rallied impressively following those reversions. If that pattern is going to be reasserted it will need to rally in a dynamic fashion from current levels.
Back to top