German Profit Warnings Signal Trade Woes May Trigger Recession
This article by Jan-Patrick Barnert for Bloomberg may be of interest to subscribers. Here is a section:
Industrial companies have fared worst during the second-quarter earnings season. Expectations for German businesses were comparatively low, but even so, only 41% of them managed to beat sales estimates. The ratio is well above 50% in France, Italy and Spain.

The consequences are starting to be felt. Unemployment rose by a total of 62,000 in the three months through July and demand for new workers continued to soften. That's bad news for a country hoping to make up dwindling exports with consumption and investment. Domestic demand still supported the economy in the second quarter but that might change once uncertain prospects prompt companies and households to rein in spending.

Economists at Deutsche Bank AG and ABN Amro Group NV see Germany's economy contracting again in the third quarter, pushing the nation in recession -- it's first in six and a half years. Many more analysts say the risk of such a scenario has increased significantly after Wednesday's report.
Germany relies on the rest of the Eurozone and China for its exports. Europe is totally dependent on the ECB's monetary stimulus for growth because individual countries cannot engage in fiscal stimulus or devalue their shared currency. With the measly LTRO program announced at the end of last year and reluctance to admit ending quantitative easing was a mistake, the EU economy is foundering and hitting Germany harder than most. China's continued focus on the domestic consumer rather than heavy industry also represents a headwind for Germany.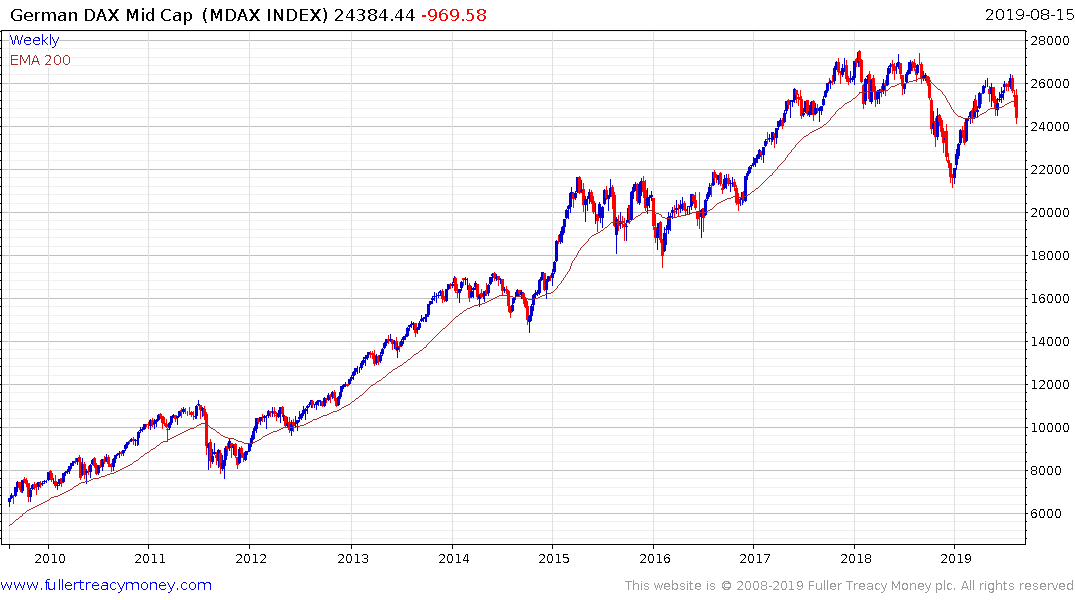 The MDAX Index of mid-caps needs to hold the 24000 area if medium-term scope for continued higher to lateral ranging is to be given the benefit of the doubt.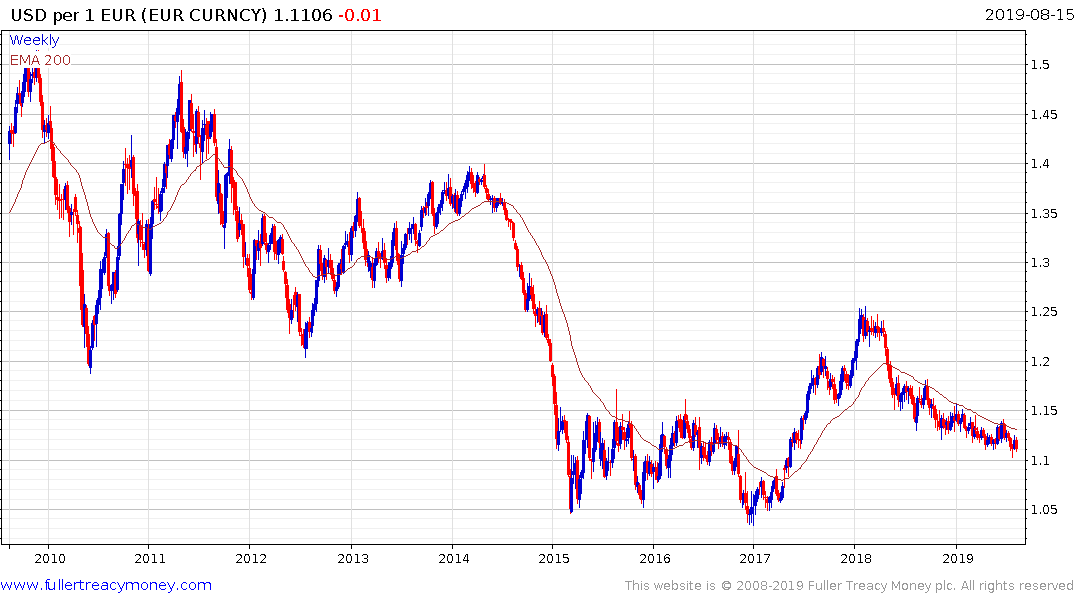 The Euro continues to hold a medium-term sequence of lower rally highs as it repeatedly encounters resistance in the region of the trend mean.
Back to top