German Manufacturing Job Losses Top 100,000 With Daimler Cuts
This article by Richard Weiss for Bloomberg may be of interest to subscribers. Here is a section:
The full effect of the cuts -- which also affect units of German companies abroad --- may not be felt immediately. Labor laws and powerful unions make it difficult to fire workers, and many large companies have agreements banning forced dismissals, meaning job-cut programs have voluntary elements and sometimes run for years.

Still, the deteriorating prospects for employment could turn into a headache for the German government, which has been considering following countries from China to the U.K. in beefing up investments to stimulate its economy.

Here is a rundown of the main job cuts announced since the beginning of the year by German industrial companies. The tally includes foreign corporations that have announced cuts affecting staff in Europe's biggest economy. It excludes the financial industry, cuts that remain unconfirmed, and programs where
companies have not yet specified how many jobs will go.
The evolution of the global automotive sector represents a major challenge for the Germany economy. Electric vehicles have fewer parts and therefore require fewer component suppliers. The battery is also the biggest constituent of the vehicle's cost and Germany does not yet have its own production facility. In fact, it is unlikely to ever become a dominant force in the production of batteries considering China and South Korea's already huge leads.
There are already Teslas on the road with 1 million miles on the clock. We can therefore conclude the issue with batteries losing charging capacity, and value, has been solved. Solid state or sodium catalyst batteries are not yet a commercial reality but there is a wall of capital being devoted to solving these engineering challenges. The first production ready solid-state battery will double the range of electric vehicles from around 300 miles to 600 miles. That removes just about any argument for continuing to use internal combustion engines. The companies that write off existing plants as sunk costs and embrace future mobility will probably survive. Those that fail to act quickly will likely eventually disappear.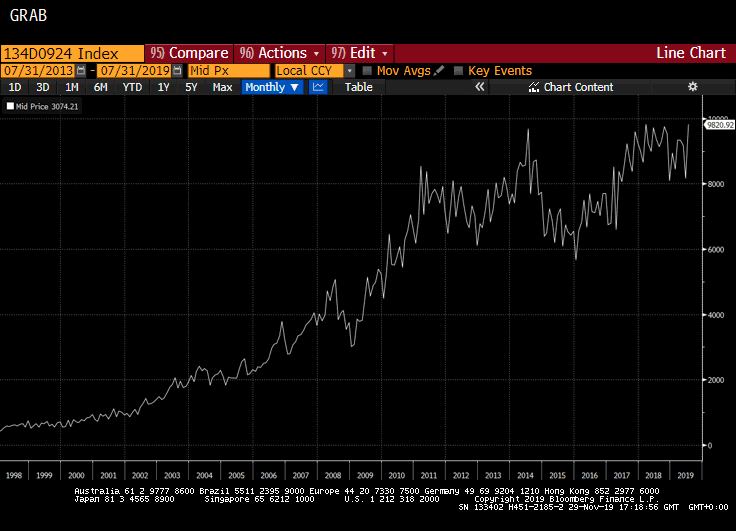 The other risk to the German economy resides with China where a significant portion of its exports find a home. The IMF's total figure has been hovering below 10 billion since 2014 and it will be interesting to see if its pulls back from that level again, when next updated, considering the pressure coming to bear from slowing Chinese growth.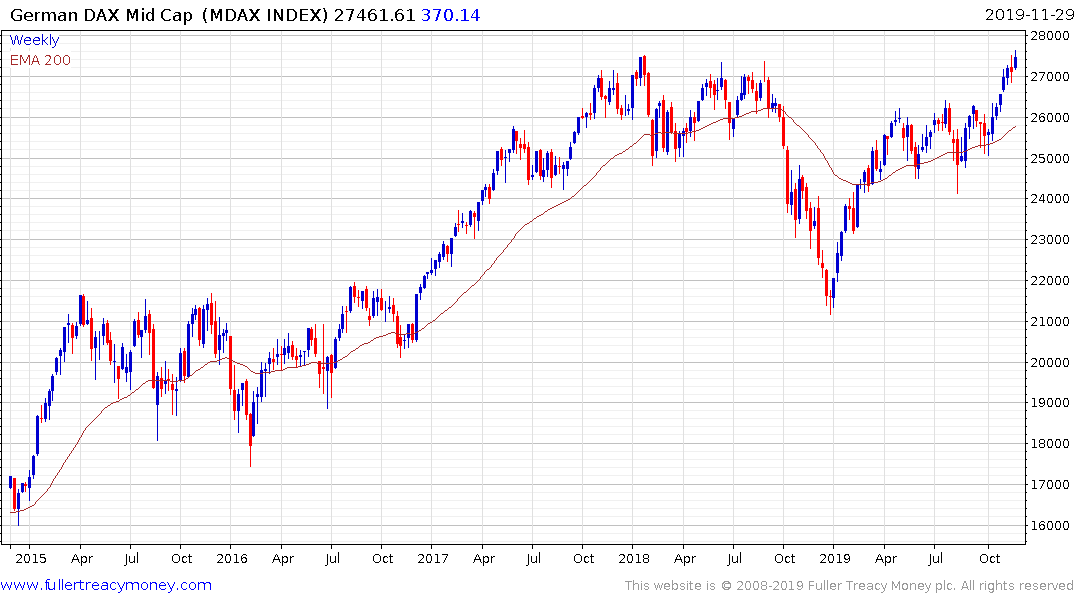 The MDAX is on the cusp of breaking out to new highs suggesting the stock market is pricing in a trough in growth.
Back to top