German Death Toll Exceeds 100 After Worst Floods in Decades
This article from Bloomberg may be of interest to subscribers. Here is a section:
Malu Dreyer, the Social Democrat premier of Rhineland-Palatinate, echoed Laschet in warning that the disaster was more evidence of the impact of global warming.

"We have more than 50 deaths to mourn and still people who are missing," Dreyer said in an interview with ZDF television, adding that police helicopters alone had rescued more than 300 stranded on Thursday. "The pain is acute in our region and we have never seen anything like this."

Merkel interrupted her U.S. trip on Thursday to make a statement in which she pledged swift federal government assistance backed by "all the power of the state." The chancellor took part in a Rhineland-Palatinate crisis video call Friday and is considering visiting the region soon, according to her spokesman Steffen Seibert.
The human toll from this flooding event highlights volatility in weather events that appears to be increasing. Only a couple of years ago, there were worries that the Rhine was running dry and barges were having trouble traversing the river. Once in a hundred-year events seem to be occurring with surprising regularity.
These events also ensure that Europe's carbon trading expansion will proceed as proposed. This article from the Guardian earlier this week covering the massive quantity of ice lost over the last 30 years will also influence public opinion on the need to for sacrifice in the face of rising costs for dealing with climate volatility.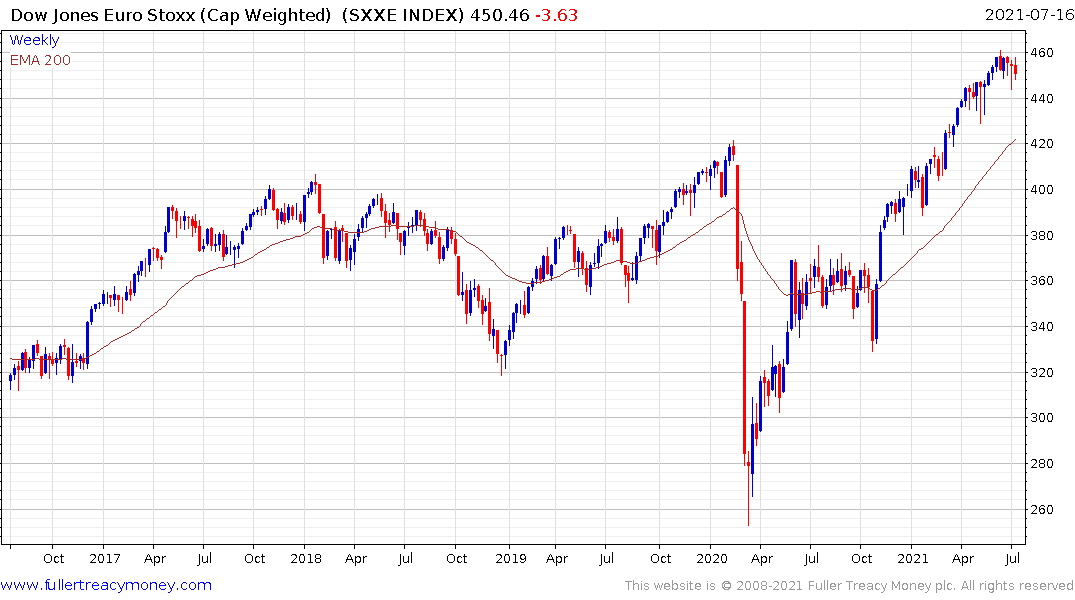 With the ECB is divided on providing stimulus guidance. Natural disasters will likely influence decisions on monetary and fiscal spending. The Euro STOXX Index has been trending higher in a consistent manner for the last nine months with a series of ranges one above another. The Index is falling back to test the lower side of the current range and will need to hold the 445 level if the trend is to remain consistent.
Back to top