Gene-Editing Drugmaker Backed by Google, Gates Files for IPO
This article by Caroline Chen and Alex Barinka for Bloomberg may be of interest to subscribers. Here is a section:
Editas Medicine Inc., the drugmaker whose backers include Bill Gates and Google Ventures, filed to become the first publicly traded company to specialize in a new technology to edit flaws in genes.

The company, which uses a gene-editing technique called Crispr, filed Monday for the IPO with an initial size of $100 million. That's a placeholder amount used to calculate fees and will probably change.

Gene-editing startups have drawn more than $1 billion in private venture-capital investments since 2013, according to Boston Consulting Group, with investors hopeful that new, more precise DNA-editing capabilities will yield treatments for conditions as diverse as blood diseases, cancers, auto-immune disorders and inherited eye disorders.

Cambridge, Massachusetts-based Editas has raised $163.3 million from selling preferred stock, its filing said. Venture capital firms Flagship Ventures and Polaris Partners each hold more than 15 percent of the company before the offering. Google Ventures -- the unit of Alphabet Inc. that goes by GV for short -- has also bought private shares, along with Gates and Khosla Ventures.

Rodger Novak, chief executive officer of Basel, Switzerland-based Crispr Therapeutics Ltd., has said he would consider an IPO this year. Both companies have said their first in-human trials won't start until 2017. Other closely-held gene editing firms include Intellia Therapeutics Inc. and Poseida Therapeutics Inc. Bayer AG and Crispr Therapeutics also started a joint venture in December with a $335 million investment from Bayer.
There is still an ongoing emotive debate about the virtues of genetically modified food with North America championing the sector while Europe has taken a much more cautious and often aggressive opposing view. Despite fear of the unknown, which would appear to inspire much of the emotive commentary on genetics, the potential for truly life changing innovation is undiminished.

The ease with which CRISPR can be edited and the ability to turn genes on and off it confers means software is rapidly being developed that will facilitate much faster discoveries. The application of big data to this evolving technology means the science of gene editing is likely to progress much faster than the ability of regulators to respond. This innovation trend is all the more important considering the threat antibiotic resistance represents. It is technologies such as CRISPR editing that could hold the answer to creating the next effective weapons against bacteria. It also has far reaching potential for cancer treatment or using animals to grow human organs.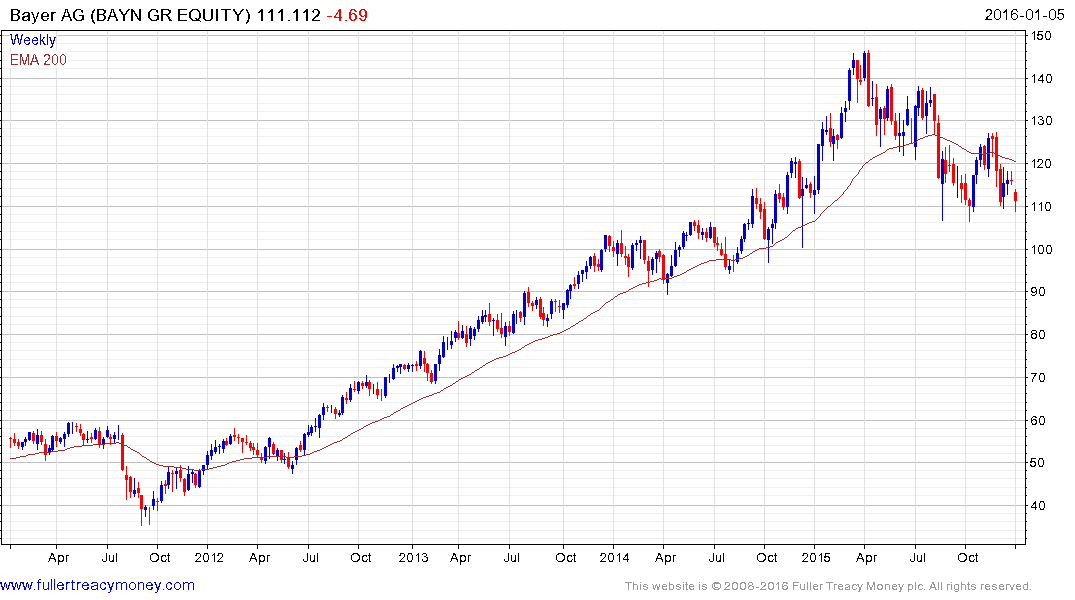 Just about all of the large pharmaceutical companies have an interest in this evolving technology so potential for M&A activity is high. Bayer, mentioned in the above story, has returned to test the lower side of a four-month range but will need to sustain a move above €120 to begin to signal a return to demand dominance beyond short-term potential for a bounce.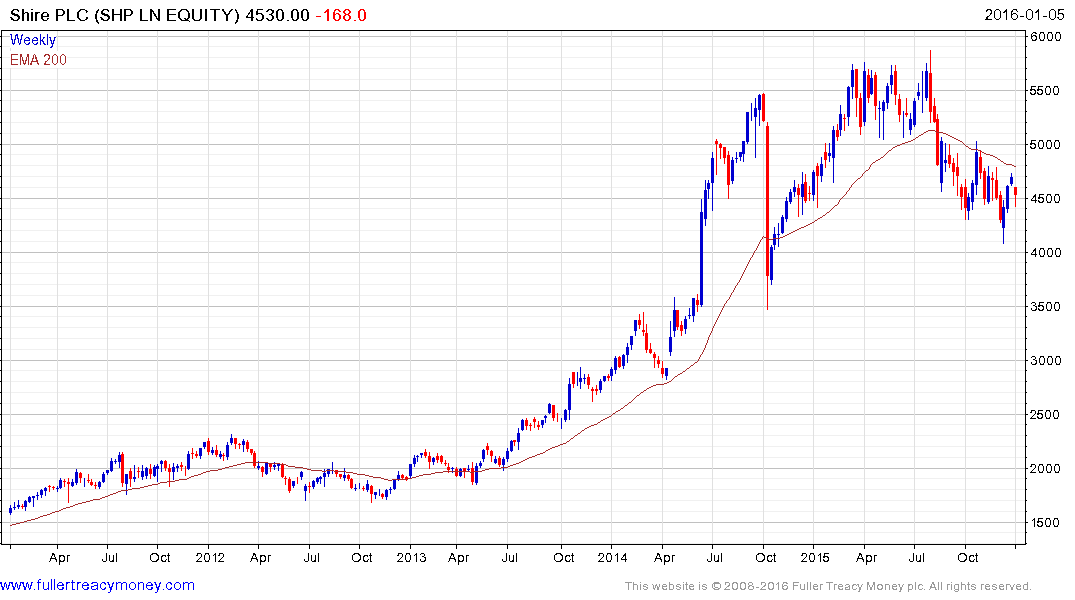 UK listed Shire generates approximately 38.6% of revenue from genetic therapies. Its proposed acquisition of Baxalta may be motivated by that company's soon to be released gene therapy for haemophilia. The share has been ranging lower since the offer and a sustained move above the trend mean would be required to signal a return to medium-term demand dominance.
Back to top