Funding Battle Heats Up for World's Strongest Material
This article by Andrew Marc Noel for Bloomberg may be of interest to subscribers. Here is a section:
"Our revenue is starting to come through but it's not substantial enough yet to offset the costs in the business," Applied Graphene Chief Executive Officer Jon Mabbitt said in a phone interview, adding that its number of graphene-related projects has quadrupled to about 100 during the past year. "The momentum is building and the U.K. is doing pretty well."

Applied Graphene has little competition in its specialty of using the material in coatings and composites, according to the CEO. The company is working with about 50 manufacturers including Sherwin-Williams Co. on displacing traditional additives like chromates, phosphates and glass flakes used by coatings industry.
Graphene is often referred to a wonder material and for good reason. However rather than speculate on the myriad uses it can conceivably be put to the obstacle to widespread adoption has been mass production. That is the area where the majority of R&D money is being spent. A race is on to gain market share as the sector evolves and explains why small companies are attempting to source fresh capital.


Haydale announced a doubling of revenue today but news that it is going to seek an additional 10 million in capital with a discounted share issuance took a bite out of the share price. It will need to hold the 120p area if recovery potential is to be given the benefit of the doubt.

Here what CEO Ray Gibbs had to say today following the announcement of interim results:

"This has been a year of considerable developments at Haydale as the Group has moved from being R&D focused to a commercial entity with focus on repeatable revenues of our advanced materials in both Graphenes and our specialist Silicon Carbide micro fibre product. We are at the inflexion point in our evolution having built a global presence serving locally the key markets of the Far East and USA. We have grown total income by 100% and with the recent overseas investments and emphasis on increasing sales, we look at the current financial year with much optimism having built the foundations for the Group to achieve its long term strategic objectives."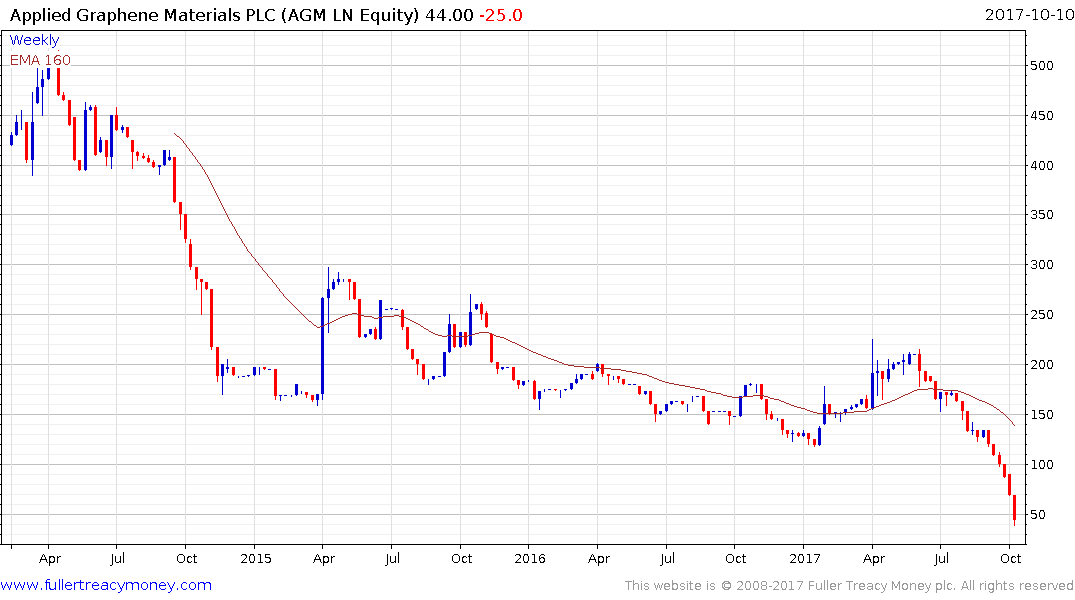 Applied Graphene is a much smaller company and has been accelerating lower since June. It halved today following the announcement of the capital raise which is now equivalent to the company's market cap. It need to deliver upon some of the sector's high expectations if the decline is to be arrested.
Back to top