From mobility to connectivity
Thanks to a subscriber for this interesting report from Deutsche Bank focusing on the Internet of Everything theme which is likely to continue to gain attention over the coming decade. Here is a section:
IoT-driven demand for servers to all benefit the Asian technology supply chain in 2015-20. In this report we focus on devices which have yet to become connected and will be new growth drivers in 2015-20. We expect the upstream semiconductor sector to see incremental sales contribution from IoT and wearable ICs in 2015-20. We anticipate server demand to benefit the downstream hardware sector more than the upstream semiconductor sector.

Internet of Things – the connectivity theme After the mobility theme drove the proliferation of smartphones and tablet PCs since 2005, we expect the connectivity theme to trigger IoT demand in 2015-20. We expect 1) low-power application processors and microcontrollers with connectivity and embedded memory, and 2) MEMS (micro-electro-mechanical systems) sensors to be the major growth drivers for the upstream semiconductor sector. The key IoT applications for the downstream hardware sector include smart cities, home automation, eHealth, retail, smart cars, logistics, industrial control, smart metering, and smart agriculture and farming. In our view, IoT will provide benefits such as life quality improvement, productivity improvement, energy saving, and security enhancement.

Wearable devices to be key products in an IoT world
Wearable devices can be connected to mobile devices and belong to the concept of IoT. Major applications for wearable devices will be entertainment, healthcare monitoring, mobile communication (connection with mobile devices), and mobile payment, in our view. We expect wearable device units to grow at a 25% CAGR in 2015-20.

?IoT infrastructure should drive continuous server demand growth
We believe IoT infrastructure will be based on the current cloud architecture. Once IoT connects more objects, machines, and networks for global cloudbased services, data will be routed through servers for applications and data analysis. The uptake of IoT should therefore result in growing demand for data analysis and storage in servers and continue to drive demand for servers in 2014-18 with 4.3% unit CAGR
Here is a link to the full report.

Connectivity is an increasingly utility-like commodity which is essential to modern living. As 4G networks continue to evolve and speed up, the practicality of having access to the internet wherever you go, at an acceptable cost and for an increasingly wide array of uses is swiftly becoming a reality. Set aside for one moment the angst of what we are to do to ensure full employment and think of the productivity that can be gained from supplying an educated, astute worker with tools that make their jobs easier. The roll out of technology to the global workforce and the development of entirely new industries that benefit from big data, tech distribution and connectivity represents the type of development on which secular bull markets are based.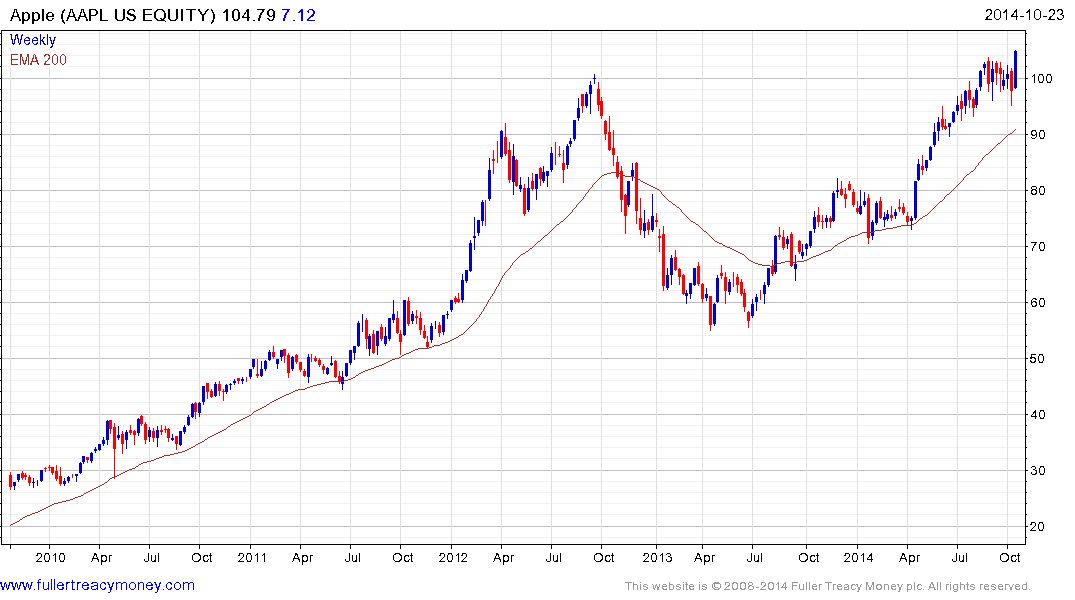 In the wearables sector, Google, Samsung and Apple have all staked a claim to providing the solution most people will be willing to wear. Apple has yet to sell its watch but it has the potential to pick up the slack left by deteriorating growth of iPad sales and the share has the most consistent chart of the three.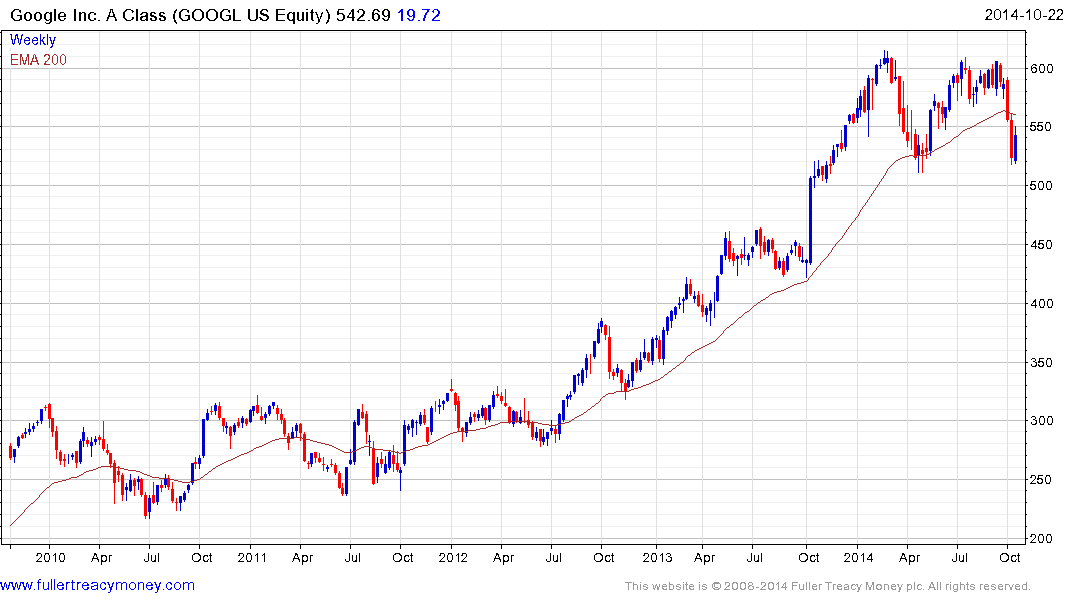 Google has spent a great deal of money in developing an autonomous vehicle and laws are slowly changing to permit their use but the roll out of the product continues to represent a risk. Google rebounded from the lower side of its range this week and will need to hold the lows above $500 if medium-term scope for continued higher to lateral ranging is to be given the benefit of the doubt.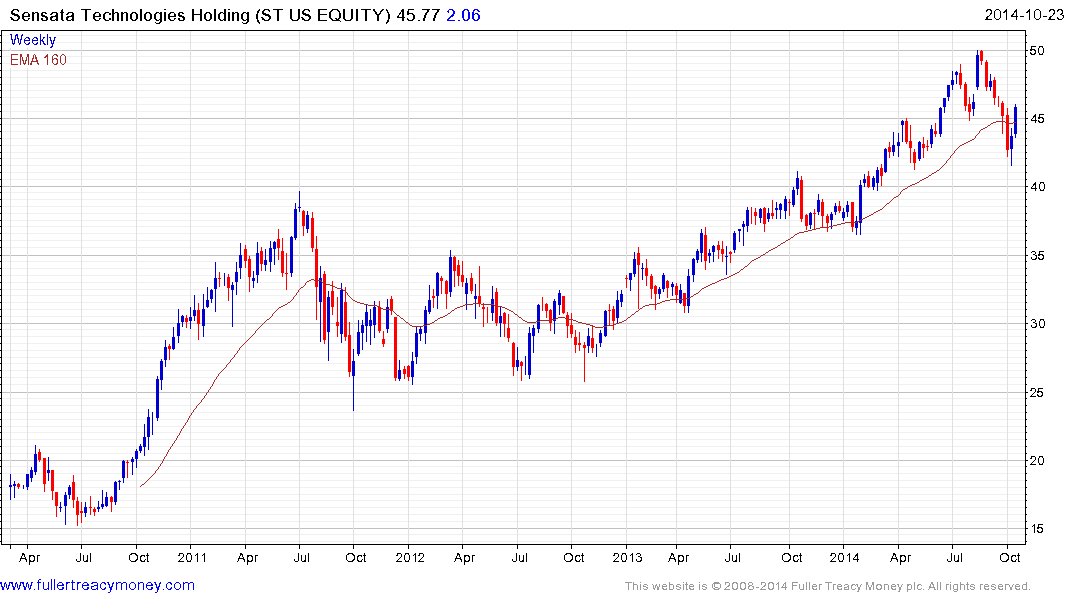 Sensata Technologies, on the other hand, produces the sensors used in vehicles to enhance the intelligence of their on board computers. CEO Martha Sullivan's presentation at the recent Morgan Stanley Technology Conference is available via their website and contains additional detail on their business. The share found at least short-term support last week in the region of the psychological $40 and a sustained move below that level would be required to question medium-term scope for continued upside.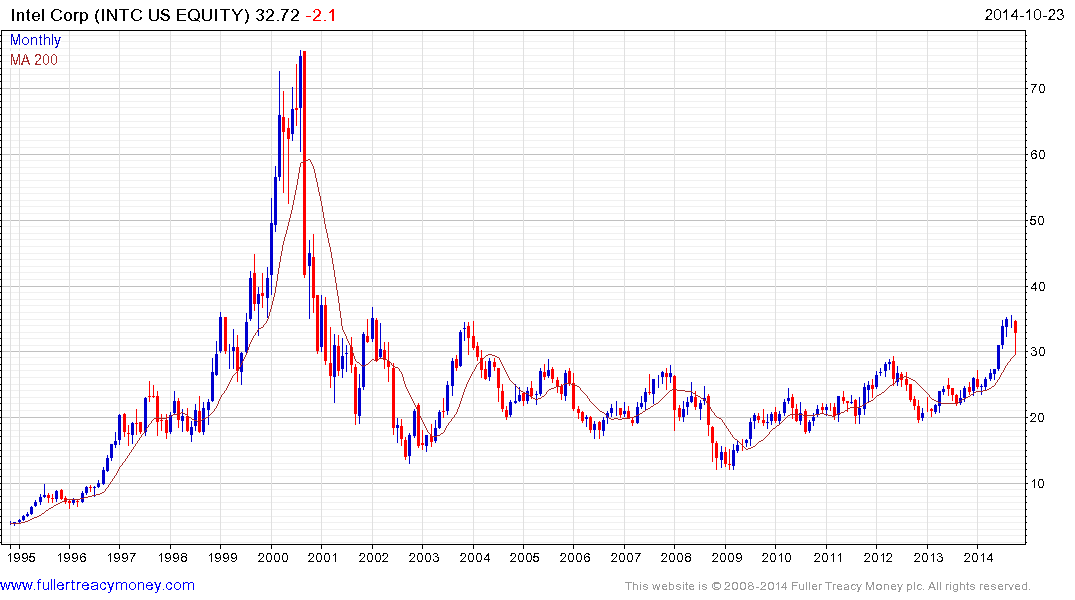 Intel completed a decade long base in June and found support last week in the region of the upper boundary. A sustained move below $30 would be required to begin to question medium-term scope for additional upside.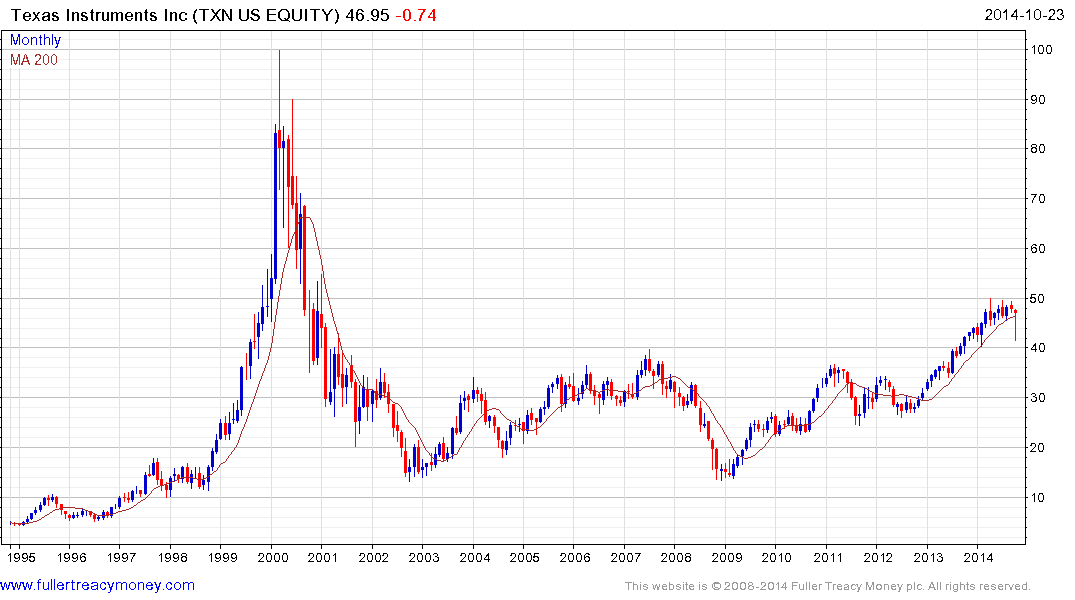 Texas Instruments has a similar pattern.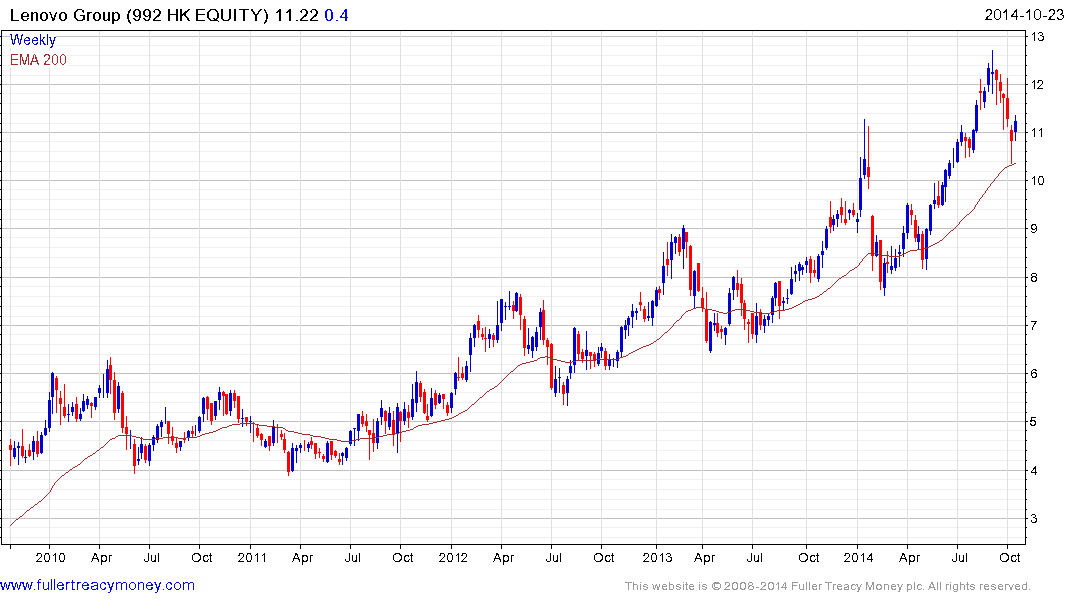 Lenovo continues to hold a medium-term progression of higher reaction lows and found support last week in the region of the 200-day MA. A sustained move below HK$10.50 would be required to question the consistency of the medium-term uptrend.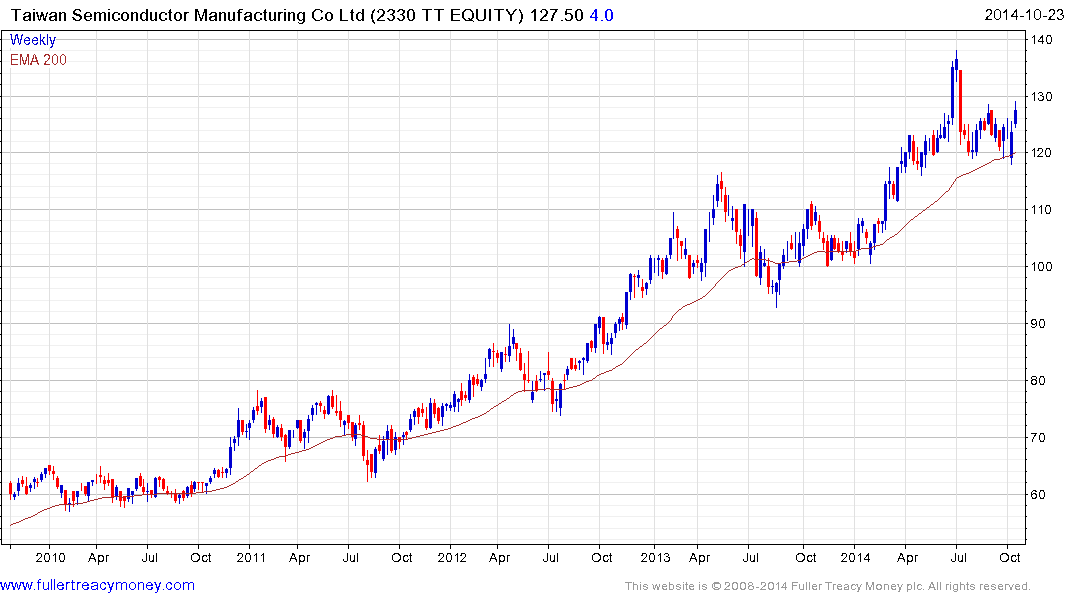 Taiwan Semiconductor (TSM in the US) also found support in the region of the 200-day MA last week.
Back to top