France Tops OECD Table as Most Taxed Country
This article by Paul Hannon for the Wall Street Journal may be of interest to subscribers. Here is a section:
Economists say such consumption taxes that reduce pollution and other harmful effects are an efficient way for the government to raise revenue. But the planned move sparked the worst riots to hit Paris in decades on Saturday, leaving the city's shopping and tourist center dotted with burning cars and damaged storefronts. Protesters vandalized the Arc de Triomphe, rattling Mr. Macron's administration and the country.

The rise in French tax revenues was in line with a longstanding trend across wealthy countries. The average tax take across the organization's members edged up to 34.2% of GDP in 2017 from 34% in 2016 and 33.8% in 2000 as governments continued efforts to narrow their budget gaps and limit the rise in their debts that followed the global financial crisis.

Of the 34 countries for which 2017 figures are available, 19 saw a rise in tax revenues relative to the size of their economy, with Israel reporting the largest increase. Mexico continued to record the lowest tax take at 16.2% of GDP, down from 16.6% in 2016.
Social democracy is broken when a non-progressive tax like putting duty on fuel is considered a good idea by an administration that is made up of quasi-socialists. Transportation is as much a necessity for the majority of people as clothing and food so why should it be singled out for oppressive taxes? The powers that be, will argue it is aimed at cutting pollution but the reality for most people is simply less money left over at the end of every month. Meanwhile, the well-off, who have luxury of having to commute less or can afford electric vehicles don't pay the tax.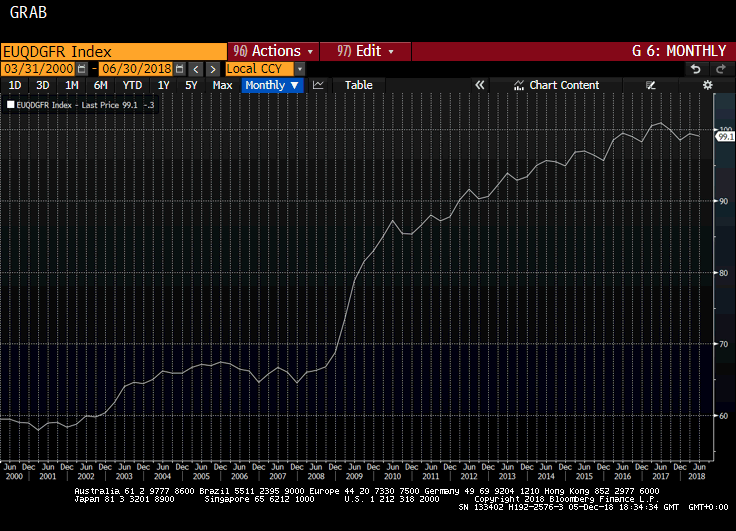 France might be the most taxed developed nation but it has a debt to GDP ratio of 99%. It offers one of the clearest examples of a country which mortgaged its future on the belief that globalisation would be wonderful for everyone. The reality is far from that ideal. Sacrificing domestic manufacturing on the altar of globalisation resulted in cheap imports but not the means to pay for them and the resulting debt binge is why France has such a high debt ratio even after a decade of supposed austerity.
The simple fact of the matter is traditional manufacturing offered a route for uneducated people to achieve a middle-class lifestyle because the jobs paid well while the tourism and services sector has significantly lower wage rates. That leaves a hole in the ability of the private sector to fund the bloated state sector that is not easily bridged.
The failure of social democracy is not a problem that is unique to France. It is evident in just about every highly indebted major economy. That's not something that is going to be fixed by riots or elections. These kinds of social problems are usually fixed by revolutions. For a revolution you need young people and Europe doesn't have a surfeit of young people, so we get the rise of populism and protests but that is only delaying the inevitable. The next step to placate the protests will be to reimpose the wealth tax which set of another wave of migration from the ranks of France's diminishing pool of big tax payers.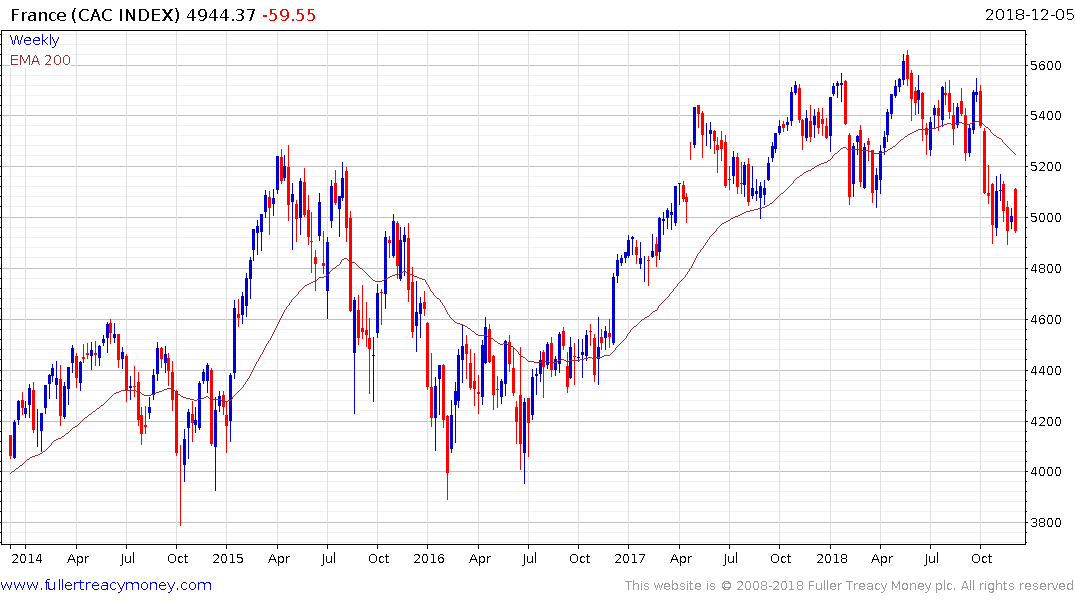 The CAC 40 Index has completing top formation characteristics.
Back to top