Foxconn Says It Will Move Forward With Wisconsin Plant After Conversation with Trump
This article from the Wall Street Journal may be of interest to subscribers. Here is a section:
On Wednesday, a top aide to Mr. Gou said high labor and production costs in the U.S. would make it difficult for Foxconn to compete with rivals if it manufactured LCD displays in Wisconsin. Louis Woo, a special assistant to Mr. Gou, said Wednesday that roughly three-quarters of Foxconn's Wisconsin jobs would be in research, development and design, instead of manufacturing.

The back and forth came after the Taiwanese contract manufacturer fell short of a job-creation target in Wisconsin last year to obtain tax credits, amid a tight U.S. labor market. The Wall Street Journal reported in November that Foxconn considering bringing in engineers from China to Wisconsin as it struggled to find personnel locally.

Wisconsin state lawmakers lauded Foxconn's announcement Friday. "We want to thank President Trump for his commitment to Wisconsin workers—our state has an ally in the White House," said state Assembly Speaker Robin Vos and state Senate Majority Leader Scott Fitzgerald, both Republicans.
The performance of the share epitomises just how exposed the company is to the deteriorating relationship between the USA and China, hence the willingness to persist with building its factory in Wisconsin.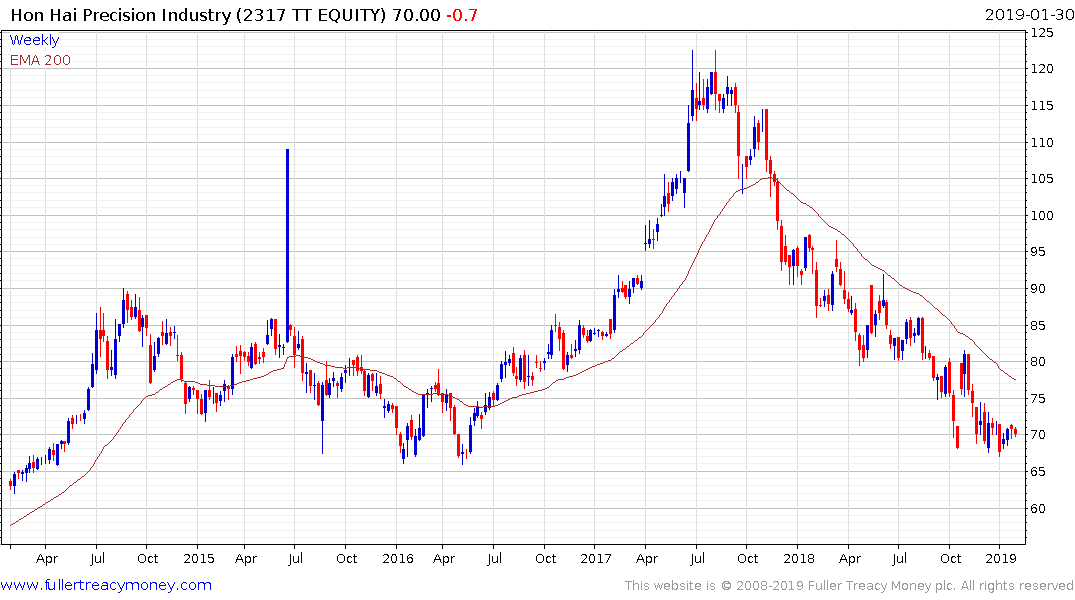 It has at least lost downward momentum since November but some kind of resolution to the trade war is probably required to question act as a catalyst for a recovery.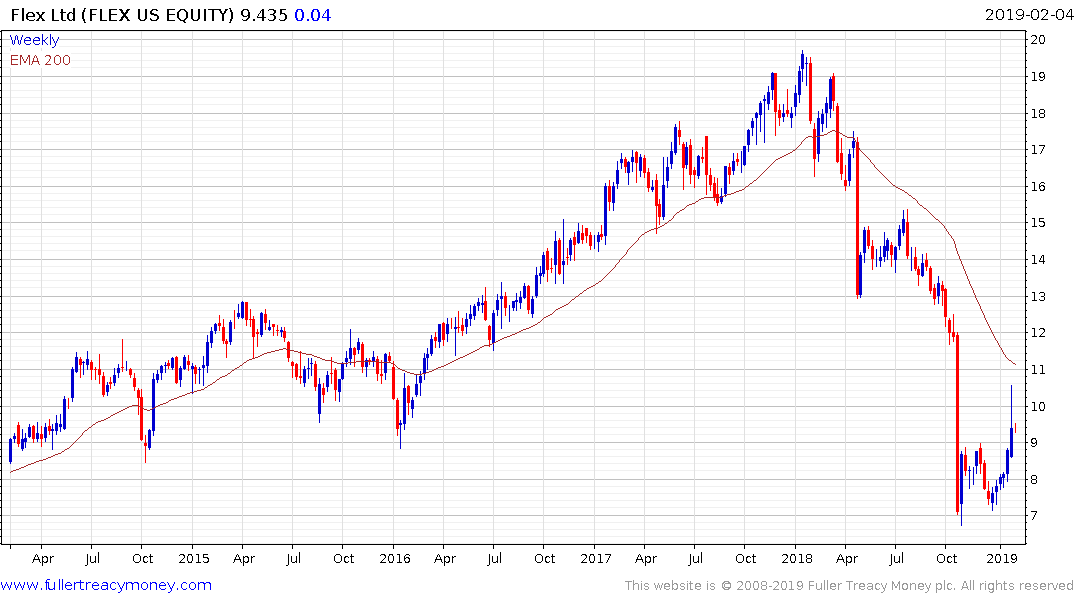 Foxconn is the world's largest manufacturer and therefore has to play politics just about anywhere it does business. The one thing they have been clear about is the drive to automate many of the repetitive processes currently performed by people. That trend is going to continue regardless of where it builds its factories. In fact, Foxconn is the world's largest producer of industrial robots, many of which are for its own use.
Flex Ltd which is also involved in building highly automated production facilities declined in similar manner to hon Hai Precision but popped on the upside to test the region of the trend mean last week on strong earnings.
Back to top