Foxconn Dangles $10 Billion Tech Investment to Create U.S. Jobs
This article by Bloomberg News may be of interest to subscribers. Here is a section:
The billionaire however focused primarily on Hon Hai's plans for the longer term. Apple's main manufacturing partner, which does most production in China, makes everything from smartphones to PCs with a growing clout that has seen it courted by governments around the world.

Gou promised to ramp up investment in the U.S., possibly helping with a rust-belt economic revival. Dubbed "Flying Eagle," Foxconn's plan to build a U.S. facility could create tens of thousands of American jobs during Trump's first year in office. The company is considering a joint investment with Sharp, but details have yet to be hammered out.

In the nearer term, Hon Hai's shares are riding high as Apple prepares to unveil its latest iPhone -- one of the most- anticipated devices of 2017. The shares closed little changed in Taipei after reaching a record earlier this week.

?Hon Hai reported first-quarter earnings short of estimates after a stronger Taiwan dollar squeezed profit in the lull before the new iPhone. That came after a year in which smartphone shipments grew at their slowest pace on record and PC demand continued to flounder. In 2016, Hon Hai's sales fell 2.8 percent while net income rose just 1.2 percent. Gou said Thursday that revenue and profit this year would be better.
Over the longer term, Gou is re-tooling Foxconn for the future, installing robots to offset rising labor costs in China.

It's also investing in emergent fields from virtual reality to artificial intelligence.
Hon Hai makes a wide range of electronic devices from HP laptops and Xiaomi handsets to Sony PlayStation game consoles.

But Apple is by far its most important client, yielding roughly half the company's revenues.
Foxconn employs 1 million people in China but is also one of the largest investors in robotic technology to try and mitigate its reliance on human labour. Any factory built in the USA will likely employ a lot of people in the construction phase but will be highly automated to control headcount.

However the broader point is that supply chains are getting shorter and more concentrated. The trend towards instant gratification is being met by Amazon with two-day shipping, same-day shipping and possibly even two-hour shipping. That requires a highly complex supply chain and logistics operation which would be facilitated by having manufacturing close to the end user so delivery times could be shortened.

I've been anticipating this kind of evolution since the first time I heard about Softwear's ongoing development of a sewing robot. Right now fast retail operations like Inditex, H&M and Primark release new lines in as little as two weeks but half that time is shipping. The only way to cut the time between design and delivery is to have manufacturing close by. I have been to stores in Guangzhou which bring out new lines on a daily basis because their factories are only 50 miles away. That is a business model that is scaleable with the advent of robotics and highly nimble knitting operations.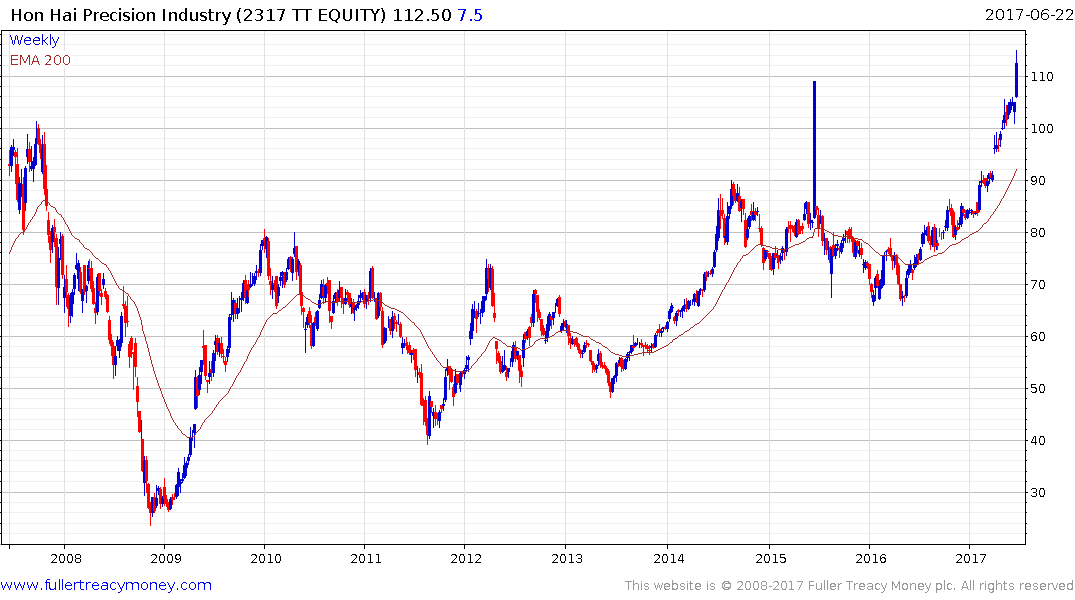 Hon Hai Precision is one of Taiwan's largest companies at 6.36 of the TAIEX. It broke upwards to new all-time highs in the last few months and a sustained move below TWD100 would be required to question medium-term potential for additional upside.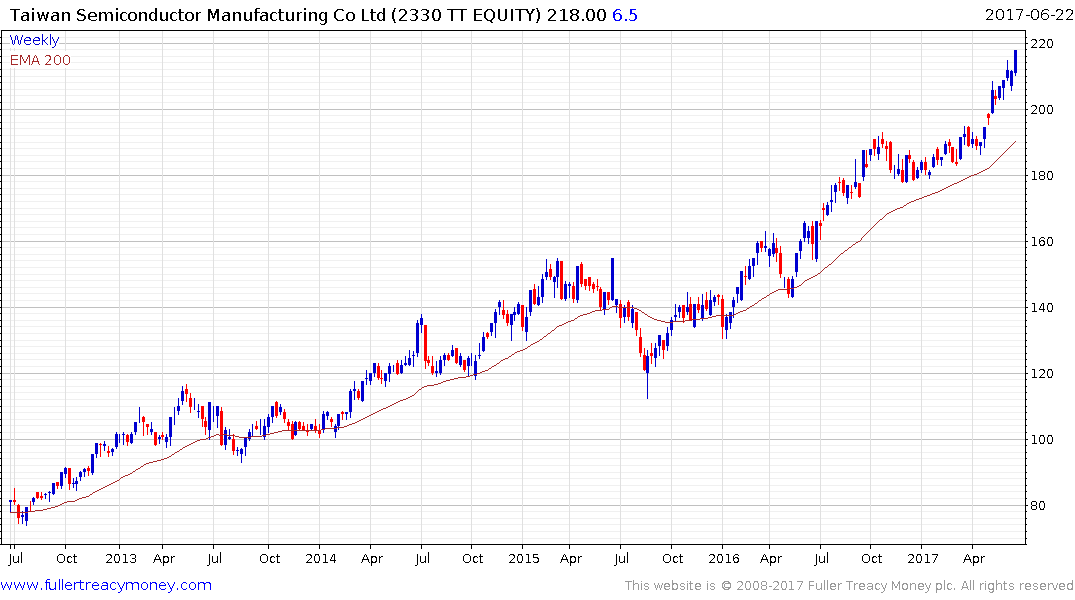 TSMC, which occupies 18.5% of the TAIEX, has been trending higher in a consistent manner since 2009 and broke up out of a six-month range in early May. A break below TWD205 would be required to question medium-term scope for additional upside.
The outperformance of both these shares is helping to drive the broader market up and out of what has been a 27-year range.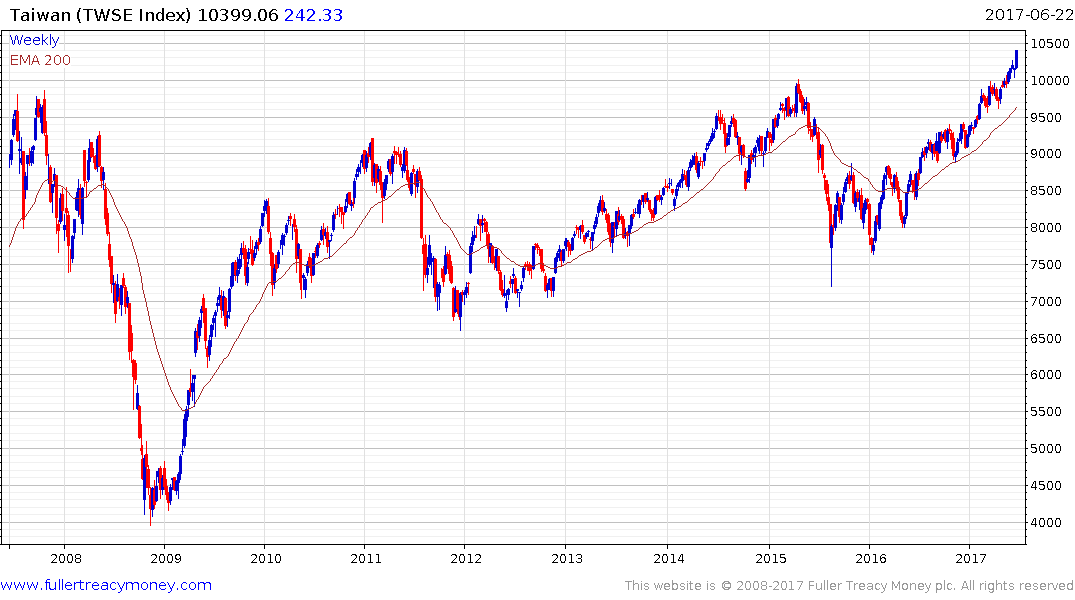 Back to top