Forecasting the US elections
This article from the Economist may be of interest to subscribers. Here is a section:
Right now, our model thinks Joe Biden is very likely to beat Donald Trump in the electoral college.
No President in modern history has been more stock market friendly than Donald Trump. Since he won the election in 2016, the Nasdaq-100 has doubled. The fiscal stimulus, tax cuts and tax holidays on foreign income, regulatory roll backs and championing of the stock market have all contributed to positive returns. The simple fact he has continually pointed to the strength of the market as vindication for his policies is a clear sign of his efforts to boost sentiment.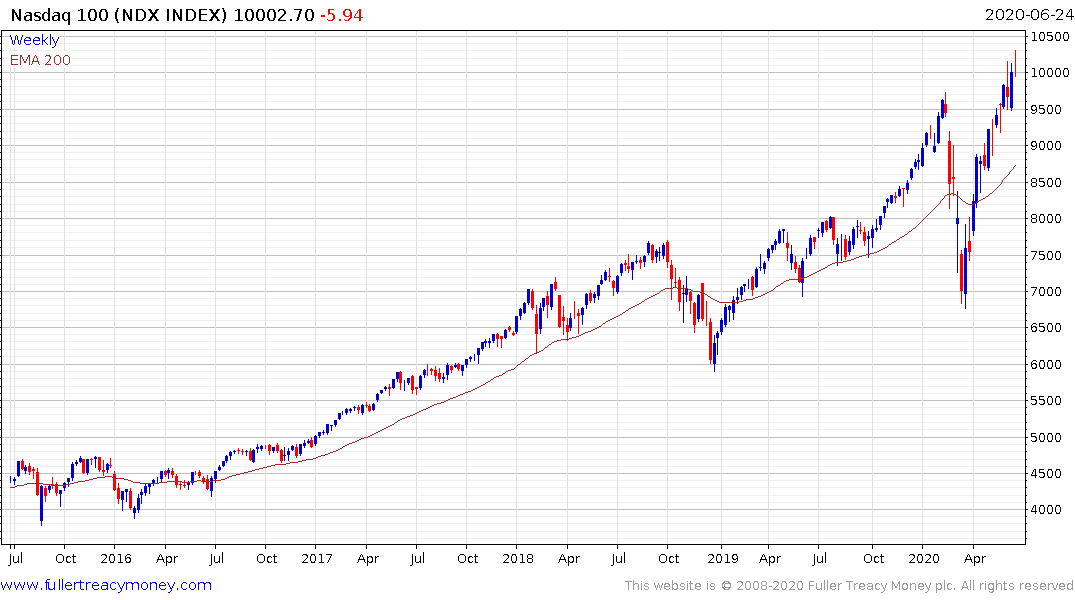 The big question everyone needs to ask is how much support a Biden presidency is likely to offer. This article from the Wall Street Journal covering this week's primary elections may be of interest.
The ascendant progressive / left wing populist portion of the Democratic Party is a likely to push for higher taxes, more regulation and additional efforts to control animal spirits. It is hard to imagine how the environment will be as supportive as it was over the last four years even if Biden is more of a moderate than either Warren or Sanders.
So far, investors have been relatively sanguine about the potential repercussions of the Presidential Election, but the potential for a leftwing populist takeover of the House of Representatives is a non trivial matter.
Between now and then, there is clear potential for additional stimulative measures in an effort to buy the election. Support for an additional fiscal stimulus will only grow if the stock market continues to experience vertigo.
Back to top