For Counterfeit Fighters on Social Media, Fake Profiles Are a Real Ally
This article by Kathy Chu for the Wall Street Journal may be of interest to subscribers. Here is a section:
Globally, sales of fake goods amount to between $250 billion and $600 billion each year, as products made mostly in China are dispersed through brick-and-mortar shops as well as online platforms from the Philippines to the U.S., government and industry groups say.

More than half of counterfeiters now use social media to sell their products, up from about 10% three years ago, estimates Ken Gamble, who tracks fake goods for global brands. Brands now want monitoring of counterfeit sales extended to social media, he said.

Ugg, the maker of sheepskin boots, created anticounterfeiting pageson Facebook and Twitter last year to alert consumers to the growing problem.

"You hear these stories about how they're being duped and losing their money," said Graham Thatcher, brand protection associate at Deckers Outdoor Corp., Ugg's parent company.
Counterfeiting is big business and there is a well-trodden route for getting the goods in question out of China. It's an issue that will always be with us because demand is steady and the profits than can be made, often in a short period of time, are large. Certainly, China is a major source of counterfeit goods and is unlikely to begin really enforcing patents until it has a vested interest in doing so. However even then, respect for patents is likely to remain spotty. Where counterfeiters becomes a problem for investors is when manufacturers can latch onto a large target to get a high profile win in their efforts to combat the practice.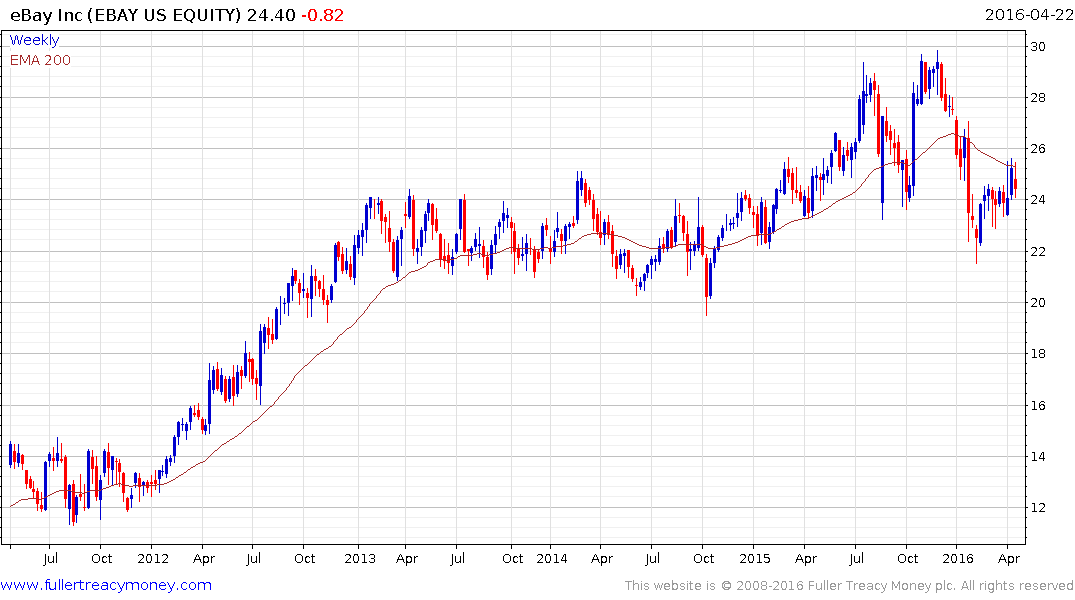 Ebay is synonymous with fake goods but the company has so far been reasonably successful at avoiding the fallout from potential litigation. The share pulled back sharply from its November peak and is now testing the region of the 200-day MA It will need to sustain a move above $26 to signal a return to demand dominance beyond short-term steadying.

Alibaba is a major enabler for Chinese counterfeiters looking for markets overseas. (Please see the above piece for a comment on the share's performance).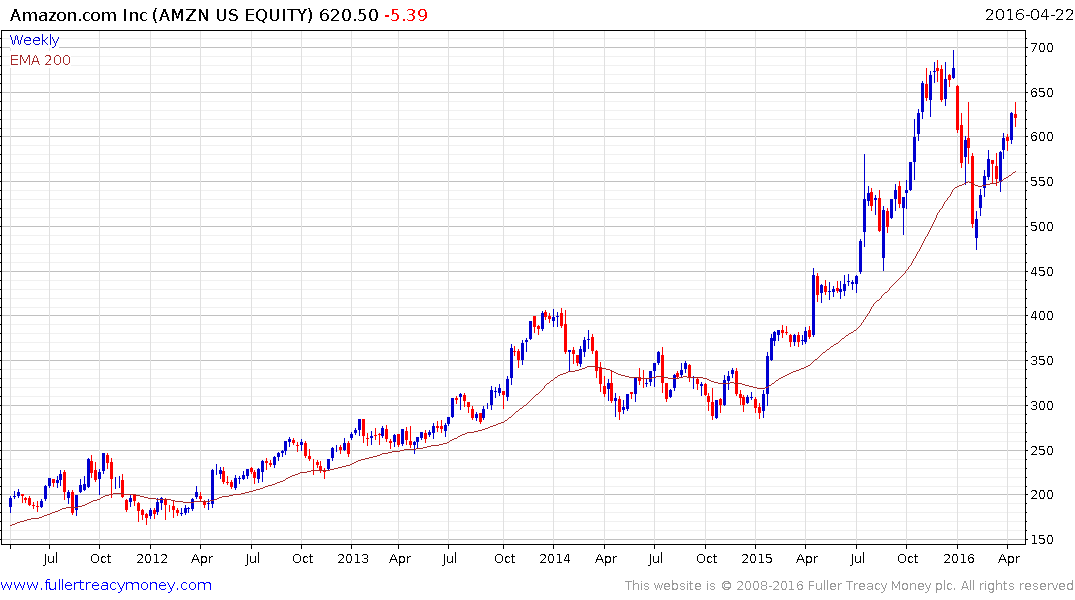 Amazon is also increasingly mentioned as a venue for selling fake goods and sometimes even under its own name if these forum posts are credible. The share has rebounded impressively from its January low but is overbought in the short term and needs to hold the short-term progression of higher reaction lows, currently near $585, if potential for continued upside is to be given the benefit of the doubt.
Back to top