Finally back at 1,000 but no rush Deconstructing the TSX-V surge
This article by Kip Keen for Mineweb may be of interest to subscribers. Here is a section:
Unfortunately, for juniors, the volume spikes look like an aberration. They owe much to the impact of surging trade in a handful of oil stocks, most recently, and before that extensive selling (and, relatively speaking, a little buying) in stocks worth just a few (or less) pennies and, importantly, that were not on the rise. Furthermore, much of this selling, as John Kaiser, of Kaiser Research, pointed out to me last Friday, came from two related sources: Pinetree Capital - a junior that owns an extensive portfolio of junior stock - and its Chairman and CEO Sheldon Inwentash, a well known stock promoter in Canada.

Doing a quick count of Inwentash and Pinetree volume from SEDI insider reports (SEDI is Canada's regulatory repository of insider information) shows that during the last few trading days of January and first few trading days of February, Pinetree and Inwentash accounted for at least 50 million in Venture volume. On January 31 - when Venture volume hit 351 million - Inwentash and Pinetree traded in two equities, among numerous others, accounting for 20 million of that day's volume at least.

This was a sell off of Bear Lake Gold and Nortec positions. More broadly, according to SEDI, Inwentash either directly, or through a related party, ceased to be, or be associated with, a 10-percent-plus stock holding as an insider in 30 junior companies in 2014.

Now as for the oil connection: In recent weeks the Venture, grossly speaking, has topped 200 million on a number of occasions. The volume surge is, importantly, also evident on the more widely referenced S&P/TSX Venture Composite Index, a selection of junior stock on the Venture: It has posted volumes near 100 million, which were rare in 2013-14.
This article caught my attention because it highlights the fact that while the miners have recently attracted investor interest, commentators are still talking about investors liquidating positions in highly illiquid shares. They would appear to be missing the bigger picture.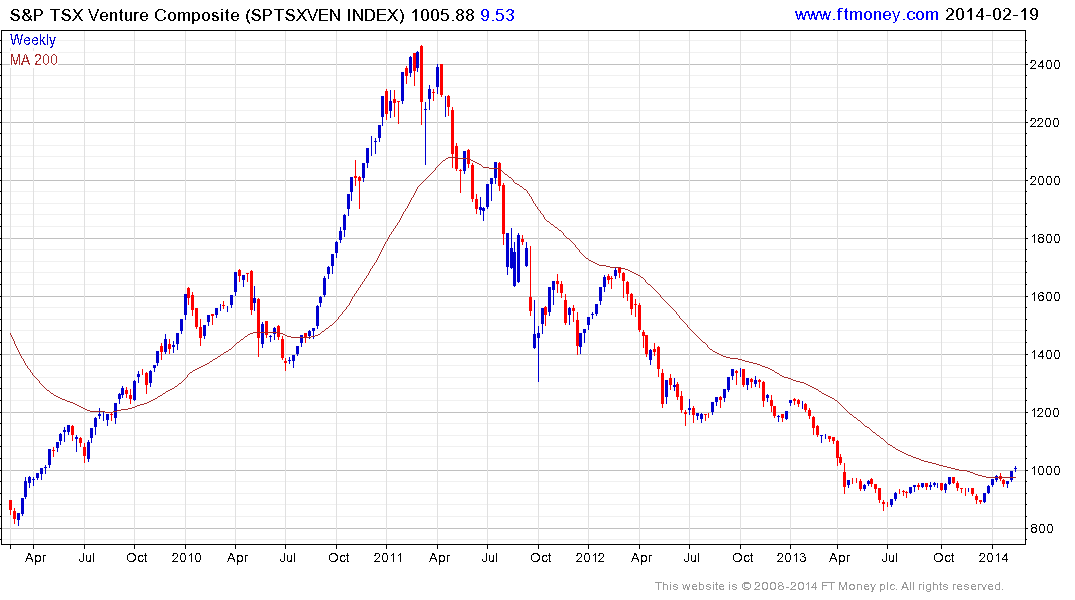 The S&P/Venture Index fell from a 2011 peak near 2500 to a June 2013 low near 850 and has been forming a base since. It broke successfully above the psychological 1000 level this week and a sustained move below 980 would be required to question potential for additional upside.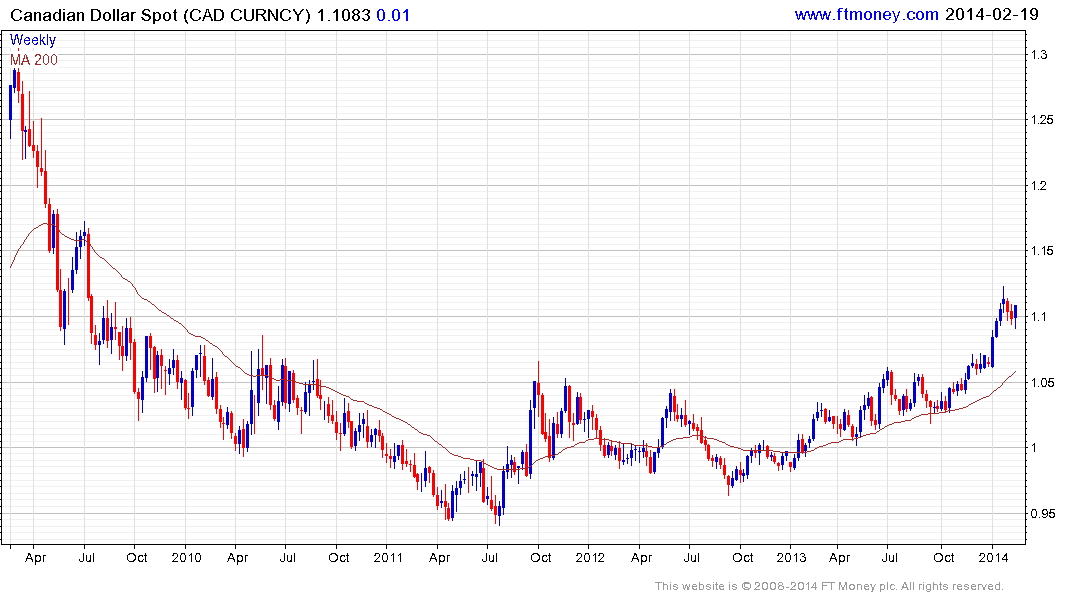 The return of investor interest in Canadian small cap shares has been flattered by the weakness of the Canadian Dollar. The US Dollar broke out of a three-year base against the Loonie in November and surged higher in January. It pulled back somewhat over the last couple of weeks and posted a upside key day reversal today to reassert demand dominance.
This suggests that while Canadians have little to worry from the weakness of the currency, foreign investors may need to consider hedging their exposure to a weakening Canadian Dollar.
Back to top