Few Computers Are Powerful Enough to Support Virtual Reality
This article by Ian King for Bloomberg may be of interest to subscribers. Here is a section:
But making the virtual seem so real is highly hardware-intensive, and most computers struggle to meet the needs of VR. Facebook recommends that Oculus Rift owners have a computer with an Nvidia GeForce 970 or AMD Radeon 290 graphics card. Each costs at least $300, which is almost as much as an Xbox One or PlayStation 4. While the graphics card is the big-ticket item, the Oculus Rift will also require other bells and whistles, including an Intel i5-class processor, more than 8 gigabytes of memory, and two USB 3.0 ports.

There's a very good reason why VR demands such processing power: Anything less, and you might hurl. Early VR prototypes caused many testers to suffer from motion sickness due to slight delays in the screen's responses to the user's movements. A standard PC game runs at 30 frames per second. But to deliver the fluid, natural motion our brains need to be convinced an image is real, VR needs to achieve 90 frames per second on two video projections (one for each eye). Right now, that means a $1,500 laptop.
The PlayStation 4 and Xbox 1 were both selling at fairly substantial discounts this holiday season in order to clear inventory ahead of beefed up product releases in the first quarter of 2016. Virtual reality is a big deal for the gaming industry and expected demand has contributed to Nvidia's outperformance this year.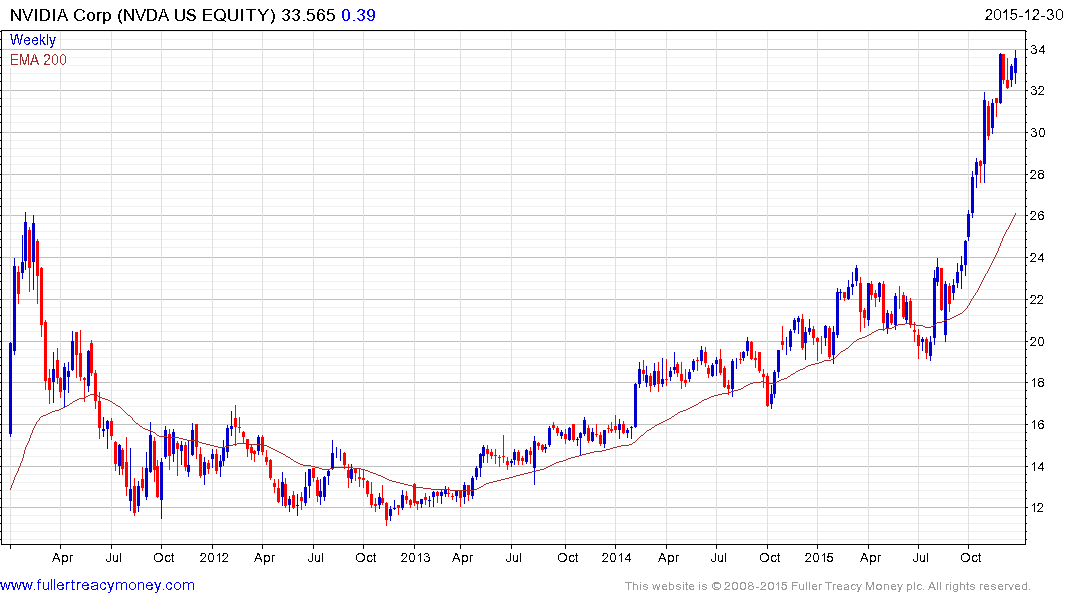 The share has been among the top 4 performers on Wall Street this year but most of that performance has occurred since late July. The share continues to hold a progression of higher reaction lows but a break in that sequence would signal a mean reversion correction is more likely than not. At its current valuation the company needs to hit its sales targets as the first VR systems are shipped.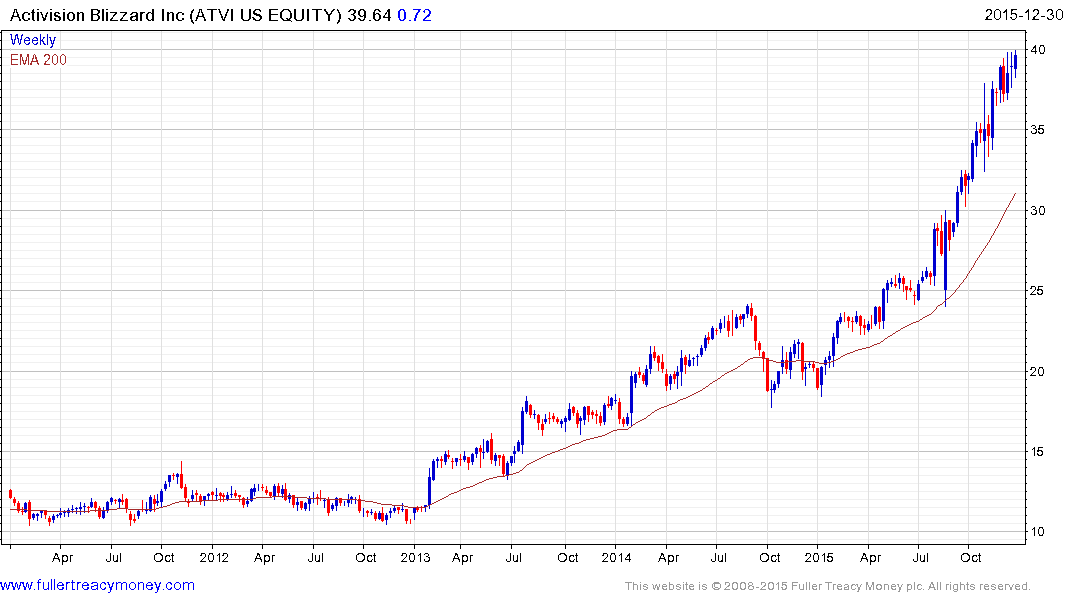 Activision Blizzard's Call of Duty was the bestselling game this holiday season. The share's outperformance has been even more exaggerated since the clear upward dynamic from the region of the trend mean in early September. It continues to hold a progression of higher reaction lows but is equally at risk of a reversionary corrective phase when that sequence is broken.

Perhaps the broader question is whether these shares are likely to rally in 2016 like they did in 2015. Considering how overextended they are relative to their respective trend means that is looking unlikely.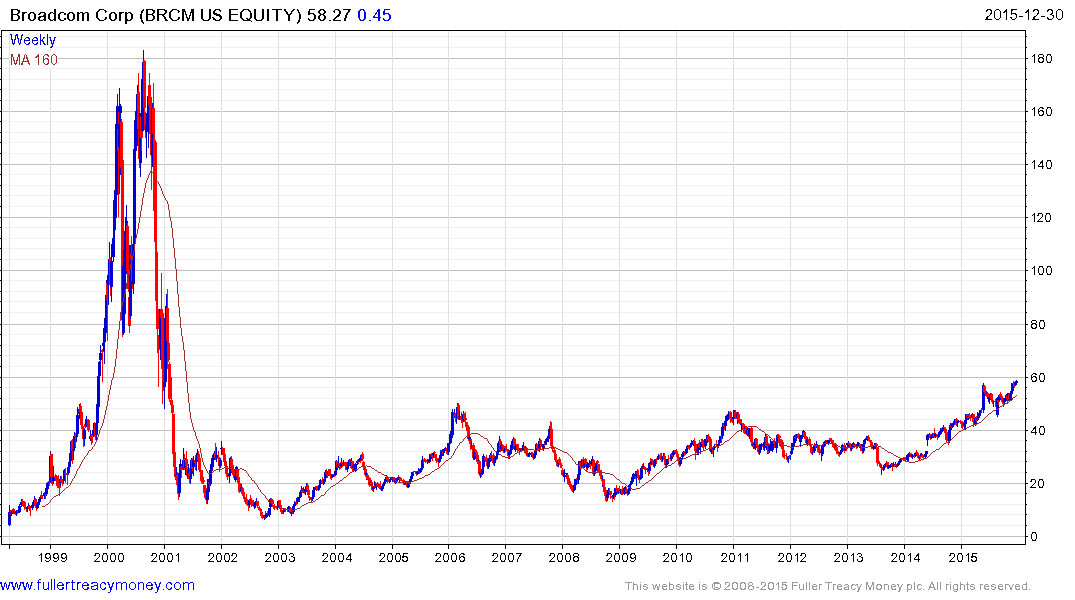 One technology sector that has been neglected by the masses over the last few years is infrastructure. Broadcom (Est P/E 20.56, DY 0.96%) completed a 14-year base in June and has been forming a first step above it since. The share broke out to a new recovery high today and a sustained move below the 200-day MA would be required to question medium-term upside potential.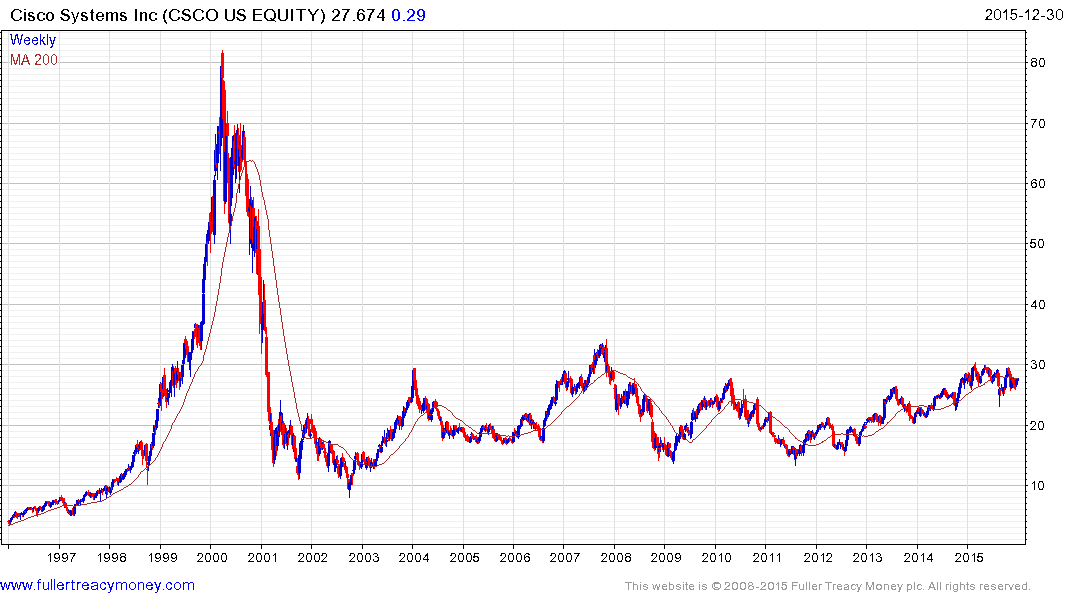 Cisco Systems has been ranging mostly below $30 since 2001 and a sustained move above it would confirm a return to medium-term demand dominance


Juniper Networks is back testing the region of the 200-day MA and provided it finds support in this area the benefit of the doubt can be given to additional higher to lateral ranging.
Back to top