FedEx Good News Gets Even Better With Big-League Tax Cut
This article by Brooke Sutherland may be of interest to subscribers. Here is a section:
Intriguingly, FedEx also gave a third guidance range that reflects the effect of the tax cut Republicans are trying to pass. It's one of the few companies I've seen try to parse the legislation's earnings impact, and the benefits are major: the tax bill would add an estimated $4.40 to $5.50 to FedEx's fiscal 2018 adjusted EPS. To put that in context, that's an extra $1.3 billion in earnings at the midpoint of the range, based on the company's shares outstanding as calculated by Bloomberg.

That FedEx of all companies would start running the numbers before the tax bill has even become law isn't surprising. CEO Fred Smith is a major fundraiser for Republicans and earlier this year was pitching his own version of tax reform. The biggest reason for the 2018 boost is the revaluation of net deferred tax liabilities, according to the company. FedEx, which gets the vast majority of its revenue from the U.S. even after the TNT deal, paid an effective tax rate of 34.6 percent in 2017 and had been expecting a levy of between 32 percent and 35 percent for 2018, per its annual filing. The latest version of the tax bill targets a corporate rate of just 21 percent.
The stock market has been pricing in the impact of tax cuts for much of the last year amid optimism about the influence the cut in corporate taxes would have, primarily for domestically oriented businesses. FedEx generates two thirds of its revenue from the USA and therefore will see a significant benefit from the cut to corporate tax rates.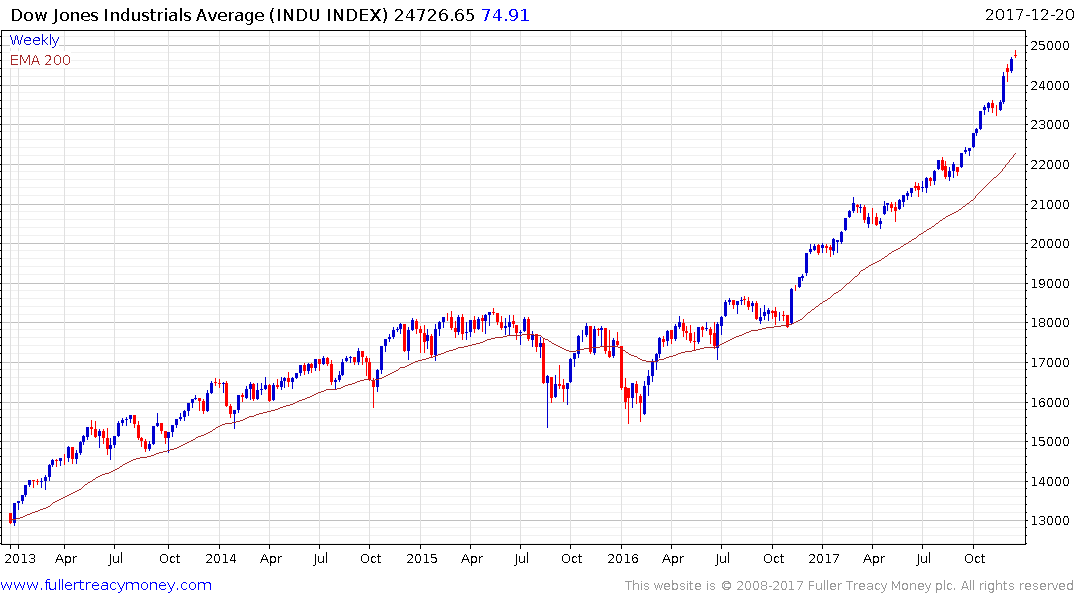 As the final draft of the tax cut bill wended its way through Congress, the trend on the Dow Jones Industrials, in particular, picked up pace. The big question in the last six sessions of the year will be just how much of the good news has already been priced in. This is a particularly poignant question as the Index approaches the psychological 25,000 level, where at least some investors will pause to ask "what next?" The risk of at least a pause and consolidation increases the larger the overextension relative to the trend mean.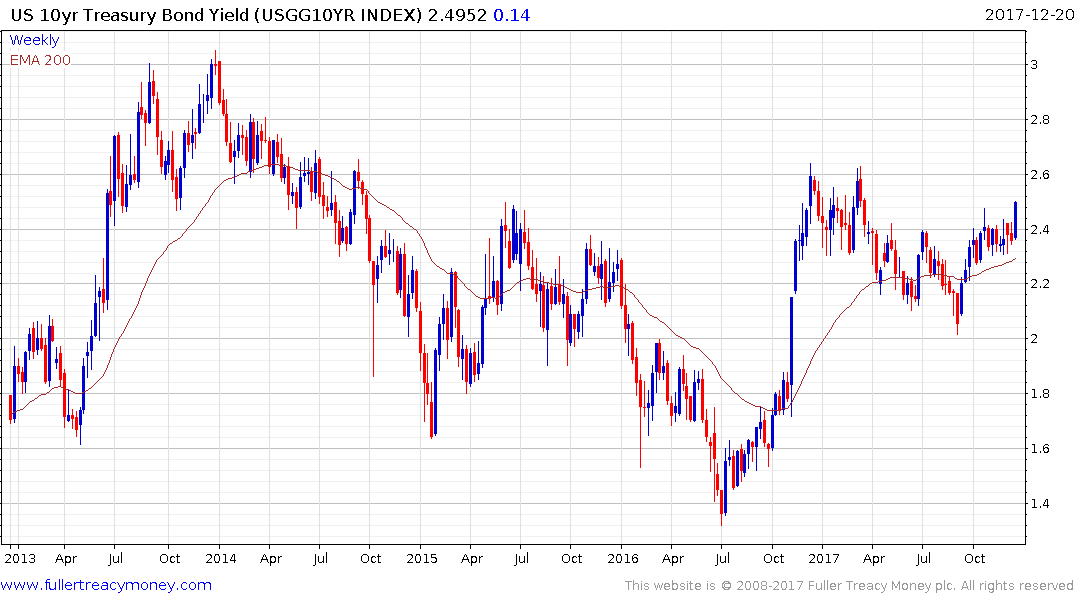 Meanwhile 10-year Treasury yields followed through today on yesterday's upward dynamic to test the 2.5% level. A countermanding downward move would now be required to question current scope for additional upside.
While the headwind from yields is not meaningful right now, if we were to think about a single obstacle that could present itself in 2018 it is that bond yields back up meaningfully.
Back to top