Federal Reserves Powell Says CBDCs Need to Coexist With Cash
This article from Coindesk may be of interest to subscribers. Here is a section:
In recent months, Powell has emphasized several times that the U.S. would not act fast on issuing a digital dollar because of the physical dollar's status as the global reserve currency.

The latest comment, though, is in line with Powell's previous remarks about the Fed taking the prospects for a digital dollar seriously. Powell has said the Fed will engage with the public on the topic in 2021 and will seek congressional approval before issuing one.

CBDCs are an early-stage payments innovation that governments hope can increase payments efficiency and lower costs by running them on blockchains. The details on CBDCs are still murky, and detractors argue most transactions today involve money that's already digital.

There's a fear some governments may use CBDCs for increased financial surveillance. At the moment, it looks like the U.S. could favor privacy in its CBDC development.
I tuned in to this discussion on CNBC last night and what I found interesting is the eagerness central banks have in talking about digital currencies while at the same time saying they are in no rush.
There are obvious attractions for central banks in that digital currencies provide a direct route to consumers. For example, when stimulus checks are sent out, they tend to be saved instead of spent which defeats the purpose. With a digital currency a time stamp could be attached which would mean they expire unless spent.
The other side of that argument is they provide a route to surveillance of consumers and their spending habits. The online/credit card marketplace has already greatly diminished the use of cash. For now, the big data those markets create are used by vendors but China's social credit score is evolving to take a much more nuanced approach to transactions.
Bitcoin continues to pause in the region of the February peak. This is the first time in a year that a breakout from a short-term range has not been sustained. That's an inconsistency and suggests ample supply above $60,000. The price could yet rebound and rally to new highs but there is now doubt a loss of momentum is evident and that the imbalance between supply and demand is less powerful than over the last year.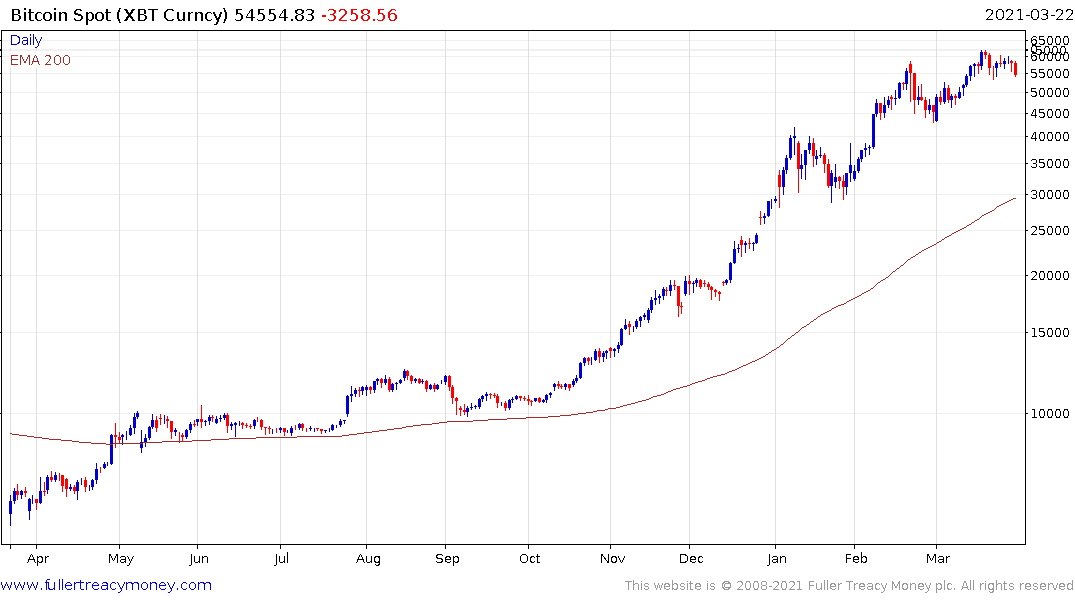 Back to top