Fear of Filing? Some Taxpayers Finding Tax Bills, Not Refunds
This article by Ben Steverman and Laura Davison for Bloomberg may be of interest to subscribers. Here is a section:
"Most people don't know how much they pay in taxes," said Bob Kerr, who leads the National Association of Enrolled Agents, a trade group for tax preparers. "But the refund is the wrong
metric to measure it."

Right or wrong, the drop in expected refunds is creating fear and anger in accountants' waiting rooms. "Every single person" who walks in is dreading how much they're going to owe the IRS, said CPA Gail Rosen, who heads the Martinsville, New Jersey, office of WilkinGuttenplan. "They come in and they worry."

But telling people they paid fewer taxes throughout the year doesn't help the sticker shock felt by filers who've become accustomed to getting a check, not writing one. Only about 5 percent of taxpayers -- about 7.8 million people -- are expected to pay more under the new law. But about 5 million, according to the Government Accountability Office, will find their typical tax refund replaced by a tax liability. "A lot of people are going to be surprised," Rosen said.
Every politician knows that when it comes to policy, perception is often much more important than substance. If people had been asked whether they would prefer more money every month in lieu of receiving a chunky refund cheque they might not be nursing a surprise now. The reality is many people are likely coming out better off. However, if they had been using the refund as a saving mechanism, instead of saving monthly from their paycheques, this situation is going to feel like a tax hike.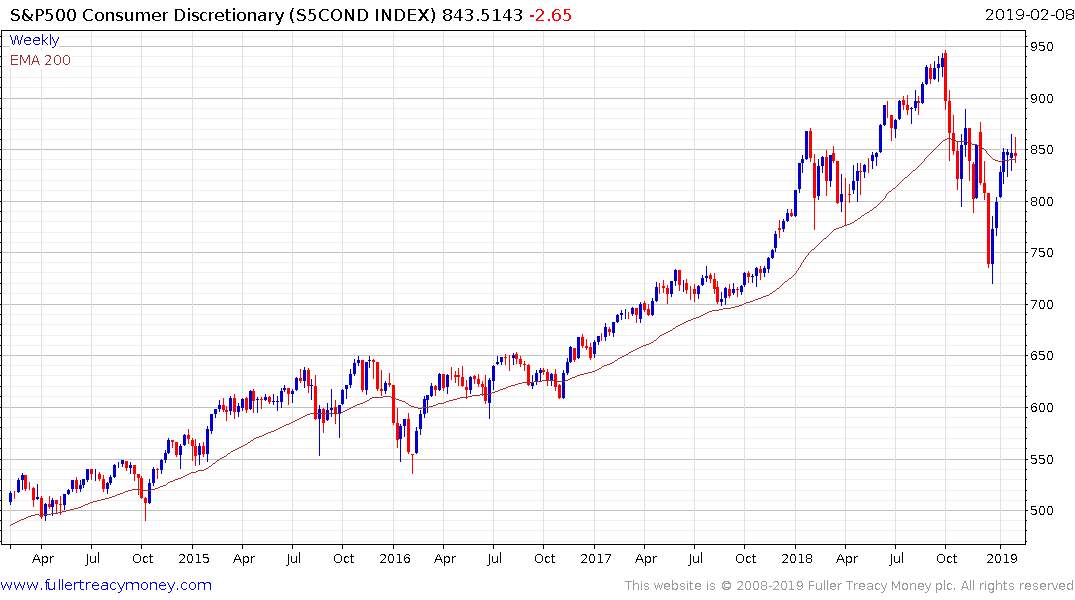 The S&P500 Consumer Discretionary Index trended consistently higher until September when it peaked with a large downside weekly key reversal. The subsequent pullback was larger than any seen in the almost decade-long uptrend which is a major trend inconsistency. Amazon is by the far the largest constituent in the Index and its rebound has been a significant influence in the sector returning to test the region of the trend mean.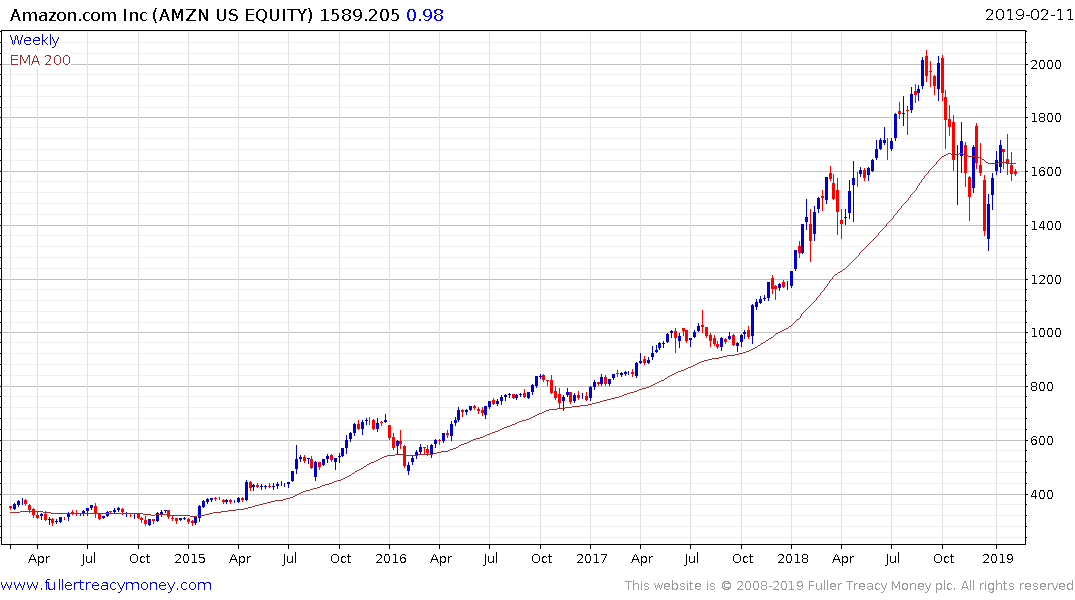 Amazon broke below $1600 on Friday and needs to sustain a move back above that level to defray the risk of a further test of underlying trading. We will not have clear evidence of a return to demand dominance in the share until a higher reaction low has been posted.

Meanwhile, companies like Church & Dwight, Clorox, Procter & Gamble and Colgate-Palmolive are all announcing price hikes in an effort to offset higher transportation costs, currency volatility and raw material prices. Against a background of full employment and where people feel like they just got a tax hike, there are inevitably going to be calls for higher wages. That's one of the clearest arguments I've seen in a while for a rising threat of inflation. Meanwhile the bond market is pricing in no risk of inflation suggesting this is late cycle activity.
Back to top