Fast Strike Against GM Breaks Years of UAW Negotiating Tradition
This article by Andrew Wallender for Bloomberg may be of interest to subscribers. Here is a section:
"I think that they were just very impatient in this round of negotiations," said Marick Masters, a management professor and the director of Wayne State University's labor studies program.

But there's a flurry of complicating factors in ongoing negotiations. Union leadership is under increased scrutiny as federal prosecutors continue to unravel a sprawling culture of corruption among former UAW leaders and negotiators.

There also was a strong sense inside and outside the union that a strike was likely, Masters said. Such an outlook could have contributed to the speed with which the strike was called, according to the professor.

"It's hard to say how far apart they are," Masters said of the UAW and GM. "But I get the feeling that they are pretty far apart. So you hope that they come to their senses pretty soon. But it certainly has the makings to go on for a very long time with the caveat that when reality sets in, they're probably going to want to sit down and see what they can do to bring things back together."
Workers are increasingly agitating for a bigger piece of the pie as stocks close in on all-time new highs and the cost of living increases. That is contributing to the potential for inflationary pressures to reappear despite the widespread fear of deflation that has pervaded sovereign bond markets this year.
Rising energy prices, rising wage demands, higher trade barriers and higher costs for health and education all contribute to the perception inflationary pressures are rising. The Core CPI is already rising but that has not fed through in the Fed's PCE measure just yet but there is scope for an inflationary scare, not least as we are in the mature stage of the current expansion.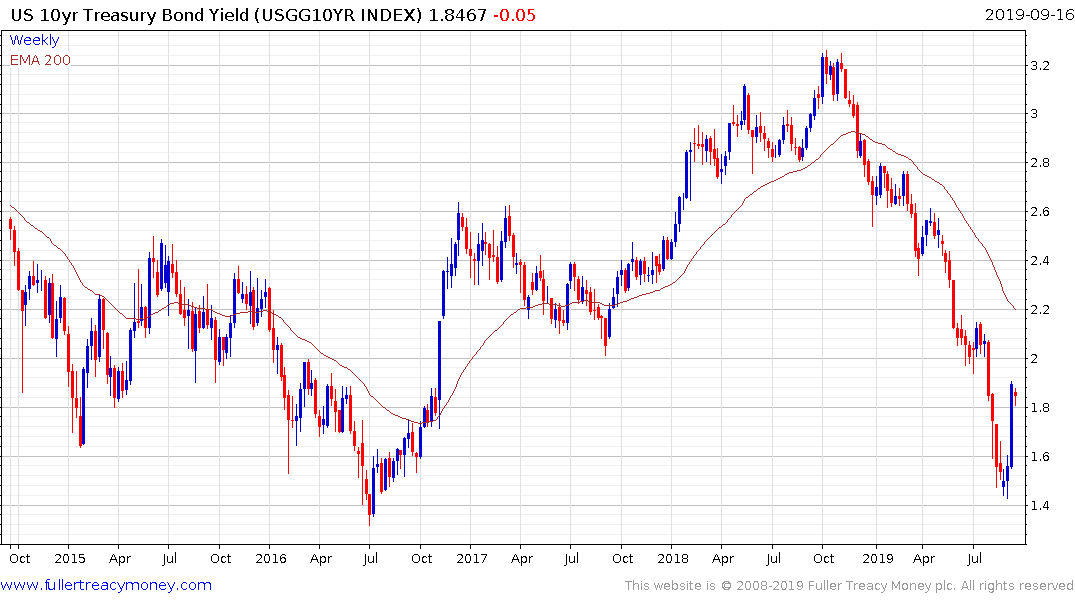 US 10-year Treasury yields continue to unwind the over extension relative to the trend mean and despite the uncertainty arising from the Saudi refinery attack were relatively unmoved today. There is clear scope for a continued rebound from the 1.5% area as the deflationary furore abates.
Back to top