Factories Are Building a Robot Nation
This article from Caixin may be of interest to subscribers. Here is a section:
"At first, robots replaced workers who had jobs that exposed them to pollution, such as painting, or required that they repeat the same task," the equity manager said. "But gradually, robots have been used for trades requiring skilled workers, such as welders, because they are cost-effective."

Yet some companies have automated their factories simply because they cannot find enough people. A mid-level manager at an electronic manufacturer said that many businesses that are unable to fill positions have had no choice but to install robots.

"Workers quit every day," he said. "Physically challenging jobs under harsh conditions or jobs requiring repetitive processes are much less attractive to young workers than the older generation."

?Zhang Fan, who oversees automation at a Midea factory in Wuhu, in the eastern province of Anhui, said the plant installed one robot in 2011 and another in 2012 to rapidly move 70 kilogram air conditioners on an assembly line – a job that was too strenuous for people.
China can no longer compete with some of its neighbours as a low cost manufacturing environment. Highly labour intensive, thin margin businesses such as textiles and jewellery manufacture have already migrated to countries like Vietnam, Cambodia, Indonesia and increasingly India and Africa. Some of the larger Chinese families will have operations in all of these countries as they manage their exposure to labour costs.

Just as with other countries, the incentive to invest in automation increases in line with wages. As demand for compensation increases so does the requirement for enhanced per capita productivity. It is reasonable to assume that the Chinese workforce will become increasingly productive as the manufacturing sector focuses both on supplying the domestic market and moves further up the value chain.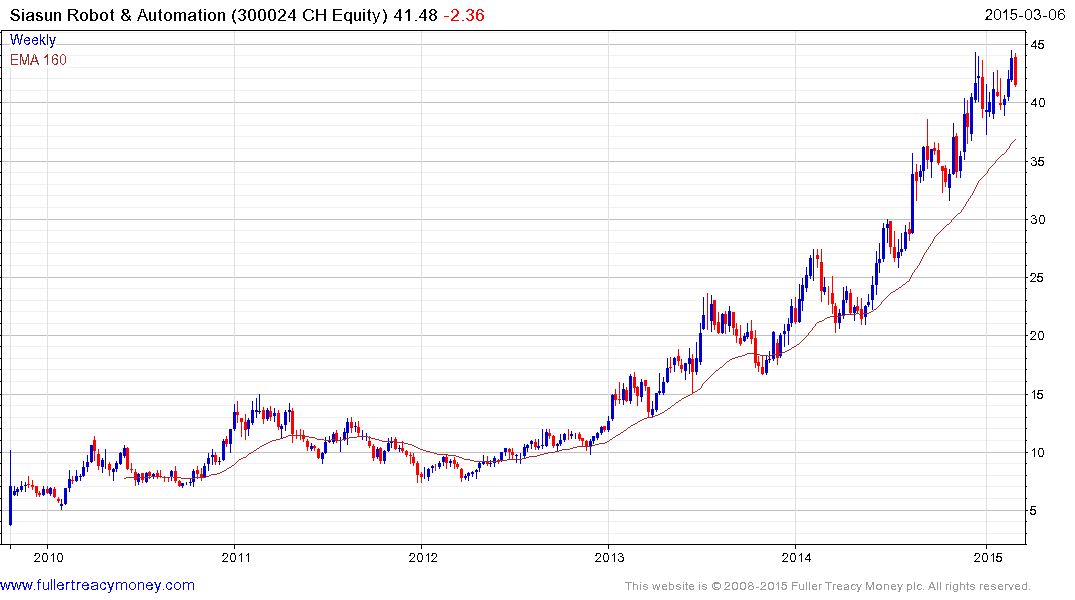 China listed Siasun Robot & Automation is susceptible to mean reversion but a sustained move below the 20-day MA would be required to question medium-term scope for additional upside.
Back to top