Facebook's Answer to Bitcoin Is a Double Threat
This article by Lionel Laurent for Bloomberg may be of interest to subscribers. Here is a section:
Weekend media leaks suggest that Facebook's "Libra" project will be a continuation of its past efforts to expand its payments business and keep customers within the walled garden of its social media apps by creating their very own money.

While Zuckerberg is poised to unveil a team of partners – reportedly including eBay Inc., Farfetch Ltd., Spotify Technology SA, Uber Technologies Inc. and Vodafone Group Plc – so far this feels very much like Facebook's baby. Tellingly, it's not one that the big banks or the other Silicon Valley and Seattle giants seem ready to adopt quite yet, unless Zuckerberg surprises us with some bigger names at the launch.

The target customer base for these new digital tokens looks certain to be the 2.6 billion-strong user base of Facebook, WhatsApp and Instagram.

While Facebook will no doubt assure us that this project is all about making the lives of its customers ever easier, giving them the ability to actually buy stuff in a way that Bitcoin has rarely offered, it's hard to square it away with the political effort to curb Big Tech's monopolistic tendencies (regardless of that roster of launch partners and their $10 million participation fees).
If we were to summarise Facebook's foray into cryptocurrencies it would be to say that Zuckerberg wants what Jack Ma and Pony Ma have. Alibaba has Ali-Pay and Tencent has WeChat-Pay. Respectively these represent the crown jewels of their respective business empires, because the payments platforms tie users to the parent app but also enable a significant multiplier effect by linking buyers with sellers.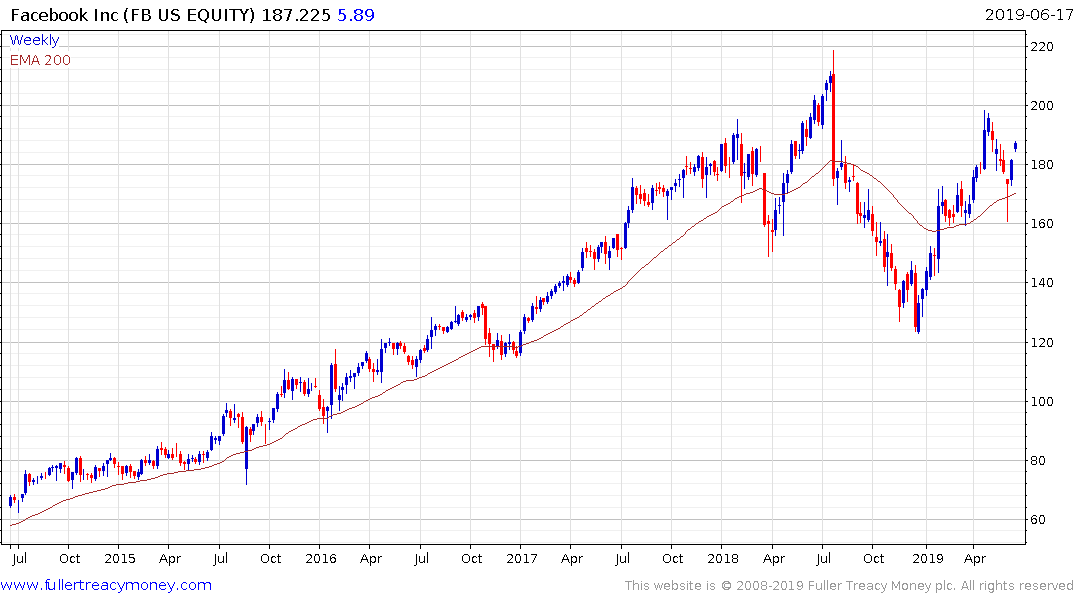 If Facebook can successfully deploy a payments platform similar to its Chinese rivals it without stirring the ire of anti-trust officials it will be represent a powerfully bullish catalyst for the share which is bouncing impressively from the region of the trend mean at present.

Meanwhile bitcoin broke out to new recovery highs over the weekend, responding to heightened tensions in Hong Kong and potentially Father's Day buying in the USA.
Back to top