Facebook's $5.7 Billion Bet on Jio Is a Move Beyond Ads
This note from Bloomberg Research may be of interest. Here is a section:
Facebook's investment of $5.7 billion in India's top telecom operator Reliance Jio highlights a broader bet on India's online growth beyond ads. Jio has more than 388 million subscribers with reach in content, payments and ecommerce, all of which Facebook can scale up via its 380 million WhatsApp, Facebook or Instagram users in India. Plans to integrate Jio's small businesses to enable shopping on WhatsApp shows an acceleration in e-commerce.

THESIS: Facebook will be the hardest-hit internet company in 2020 from the virus fallout as a sharp ads decline and small and medium business exposure can take growth down to low-single digits, while surging usage hits profit harder. Yet we believe exiting this uncertainty with a higher user base and new habits means diversification into new businesses and a 2021 ad rebound will make its growth emerge the strongest among peers. More than 60% of Facebook's sales are in the U.S., the U.K., Germany, Japan, France and Italy. Small and medium business make up the majority of Facebook's 7 million advertisers. Earnings in 1Q will likely reset growth expectations, creating room for longer-term sales outperformance as Facebook pushes into diversifying its business post-virus.
Where are the largest tech companies going to find the next billion users? There are only three potential options. China, Africa and India. They have been cut out of China as it champions its domestic firms. Africa is a continent rather than a country, and on aggregate is further down on the per capita income scale. That leaves India with a massive young population, large number of English- speaking consumers, an independent judiciary, financial market norms familiar to westerners and a democracy intent on raising living standards.
Facebook wants to turn WhatsApp into its own version of WeChat which includes social media, payments, business, news, media and gaming applications. India is likely to be the first place that happens and with the investment in Jio, it has acquired access to the market.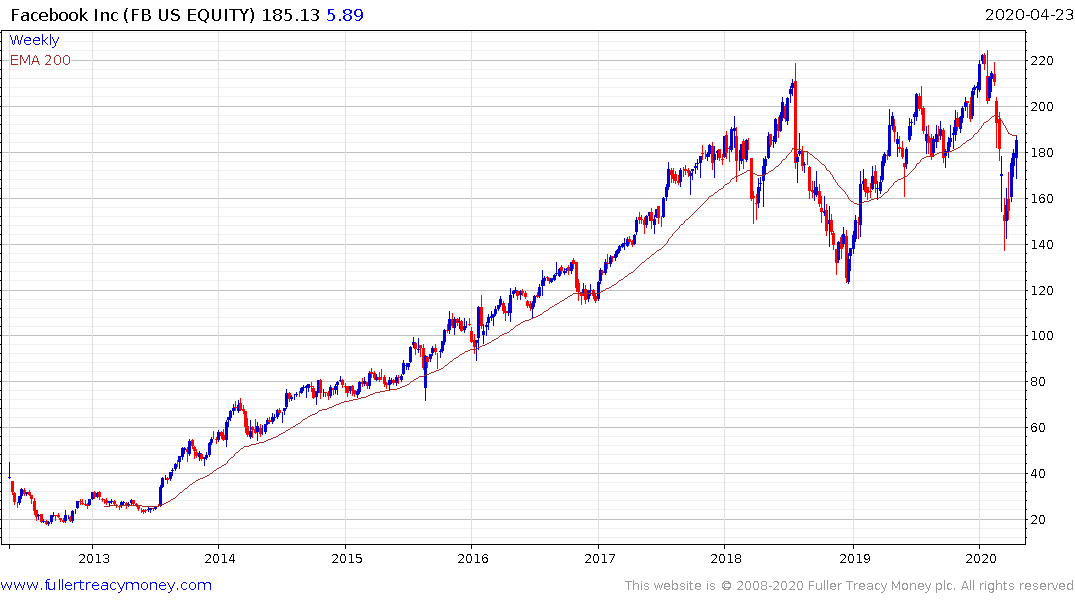 The share continues to rebound from the March low but has been ranging for two years. It needs to sustain a move above $200 to confirm a return to medium-term demand dominance.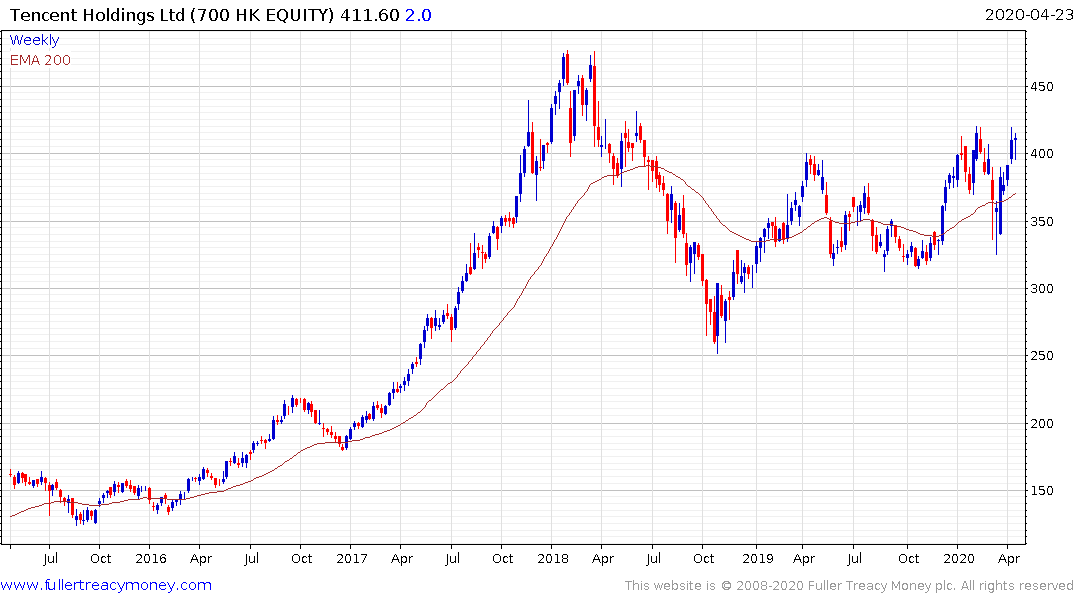 Tencent Holdings has so far held its break above HK$400 as it plots a recovery.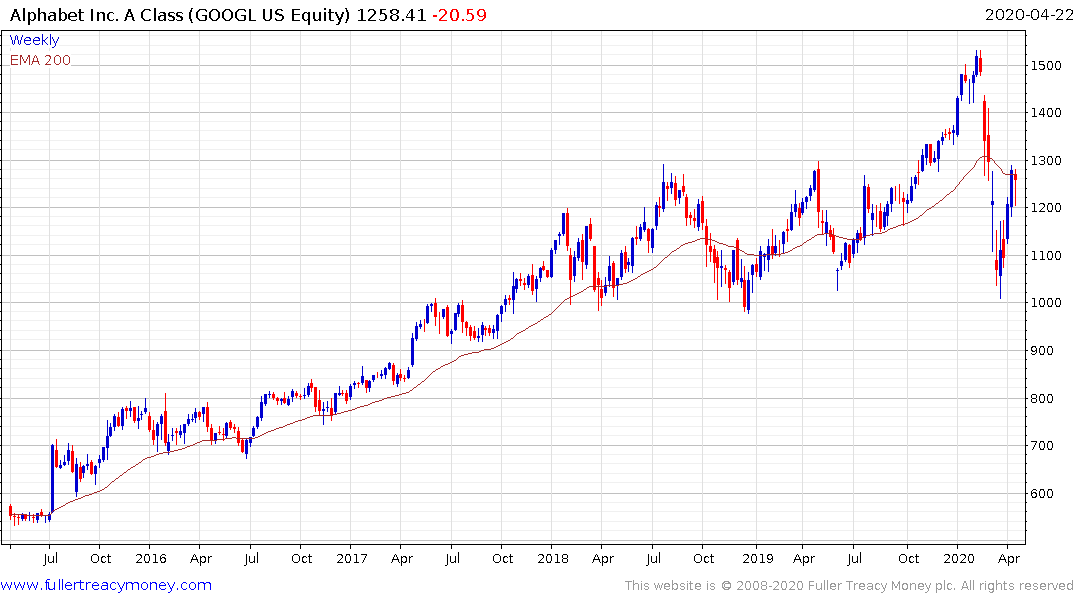 Alphabet/Google is back testing the psychological $1300 area which represented resistance in 2018 and 2019 and now coincides with the region of the trend mean. A sustained move above this level would bolster the view the share is back on a recovery trajectory.
India relaxed its lockdown this week and is attempting to get back to work. The big question outstanding is how well the two-week hiatus has succeeded in curtailing infections. It remains likely that India will experience fewer ill effects because of the youth of its population but slower economic growth is likely this year. Longer-term investors like Facebook are clearly willing to look beyond near-term weakness.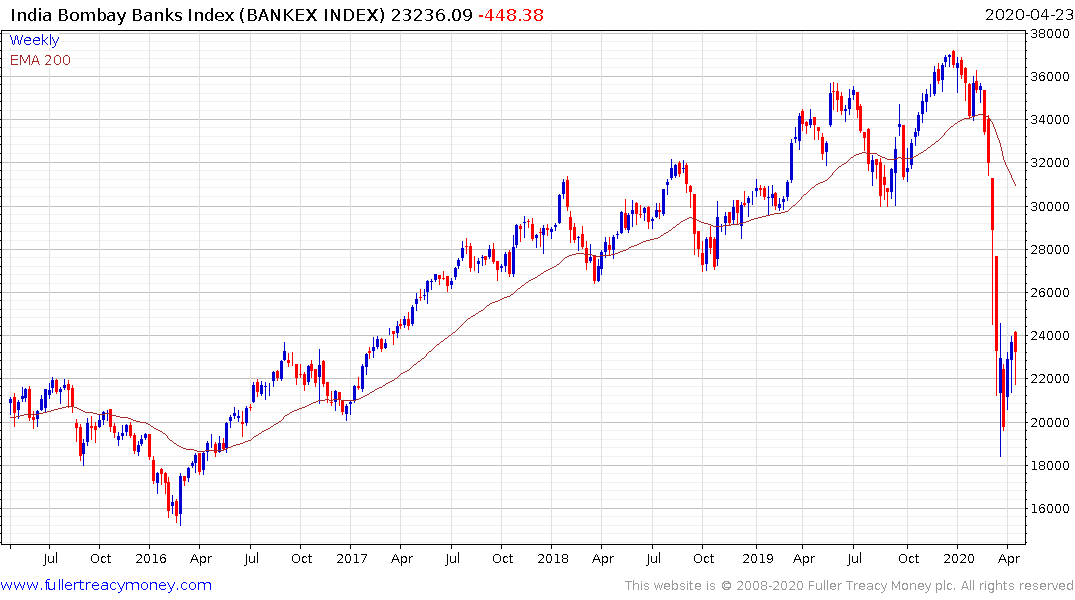 Meanwhile the Bombay Banks Index has been reliable lead indicator for the wider market and it's bounce to date has been modest at best.
Back to top