Facebook Hits Record as Analysts See Opportunity From Shop
This article by Ryan Vlastelica for Bloomberg may be of interest. Here is a section:
Facebook analysts were positive after the social-media company added a new shopping section, called Facebook Shop, to its main app, seeing strong e-commerce growth potential.

JMP Securities (market outperform, PT $305)

There are "multiple catalysts" for Facebook, and e-commerce "can be a significant opportunity"
There is "a clear line of sight to monetizing Shop"
While advertising should remain Facebook's focus, the growth in e-commerce means Facebook "can generate greater product discovery" for small and mid-sized businesses relative to other channels

Stifel (buy, PT $290)

The accelerated roll-out of the service "suggests the benefits to growth could be evident as early as 2021," and Facebook waiving selling fees in 2020 "could accelerate the adoption of these tools"
Over the long term, Facebook's e-commerce opportunity "should come more from increased adoption of digital ads" by small and mid-sized businesses than transaction fees

Shares up as much as 2.86%, the stock has nearly doubled off a March low, and it is trading at a record
Companies like Alibaba and Tencent were quick to introduce payment platforms into their social media and ecommerce products. The impending IPO of Ant Financial represents the consumer finance crown jewel of Jack Ma's empire. It is a revenue engine that was successful because it afforded Chinese consumer the opportunity to earn daily interest at rates which were significantly higher than from banks. That's the kind of regulatory two-step Silicon Valley start-ups have been performing for years and, so far, the Chinese government has been willing to look the other way.
The big challenge for Facebook has always been in how to monetise its massive user base. The shopping feature is already well developed on Alibaba but is totally new for Facebook. However, we can get an idea of how powerful the feature is from Alibaba's experience. It is also likely to be a feature that gives more revenue generating power to influencers since it will introduce click to buy features in videos.
Facebook has been toying with financial services. So have Apple and Amazon. However, they have so far not fired in the same way as China's financial services offerings because they are not sufficiently differentiated. Apple pay is basically a credit card on your phone. Amazon is offering lending facilities to sellers for inventory management purposes. Meanwhile Facebook tried to make a splash with its crypto offering but failed. The only way they are truly going to get the ball rolling with consumer finance would be to offer a deposit rate above that of the banks. However, that requires a banking licence and overt regulation. There is no getting around that in the USA or Europe.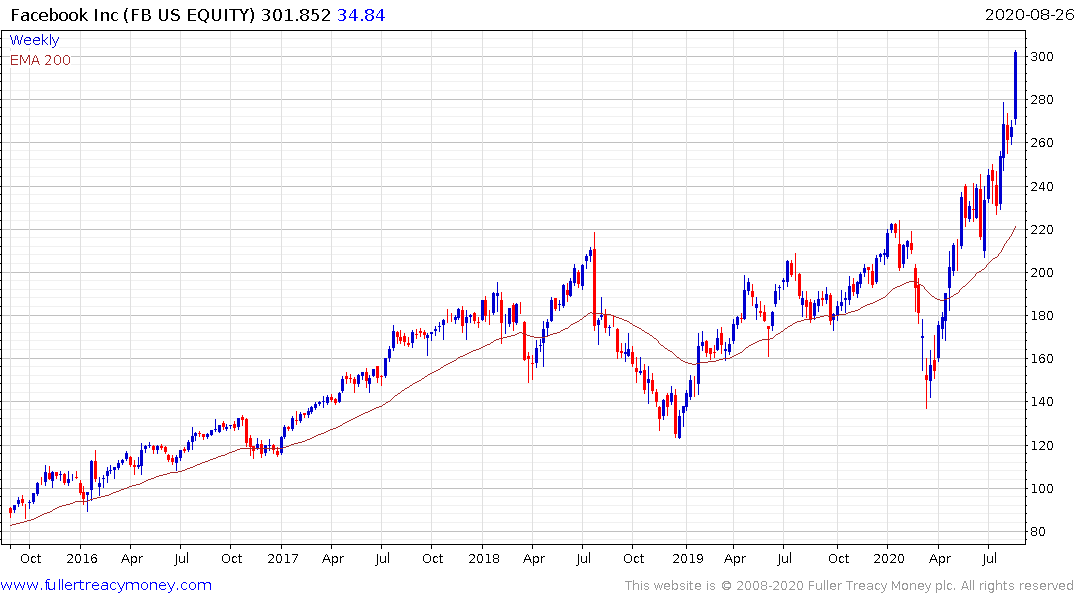 Facebook continues to extend the breakout from its two-year range.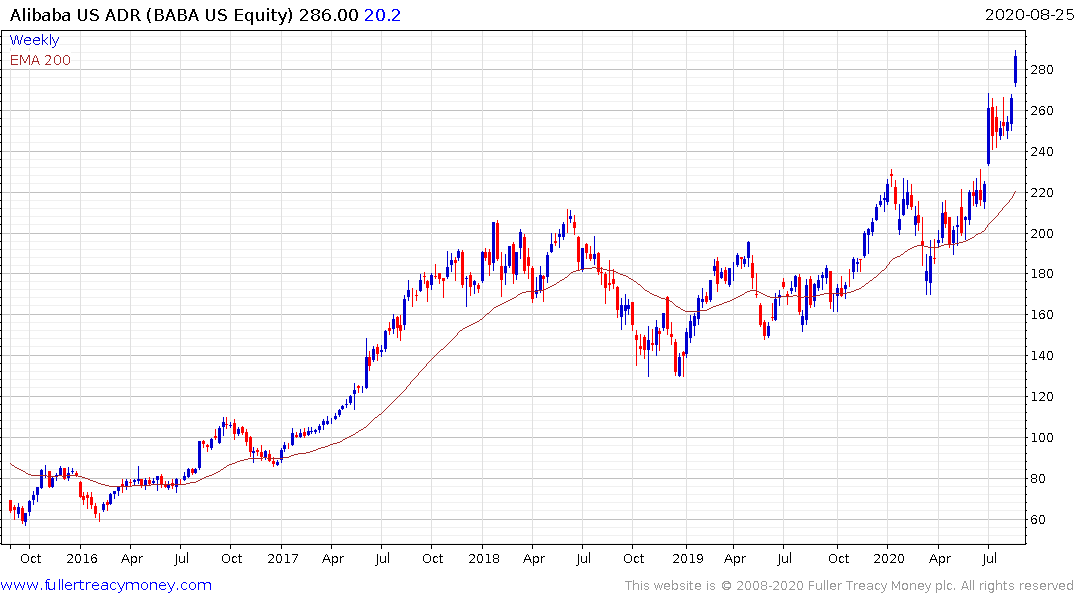 Alibaba has a similar pattern.


Tencent rebounded from the psychological HK$500 level this week to confirm at least near-term support.
Back to top