Facebook and Google Chase a New $1 Trillion Payments Market
This article by Saritha Rai and Anto Antony for Bloomberg may be of interest to subscribers. Here is a section:
Surendrasingh Sucharia always has a few thousand rupees in his pocket, but can't recall the last time he used cash. The 29-year-old product manager in Bangalore uses a string of smartphone apps including ones from Google and India's Paytm to pay for everything from $40 bags of groceries to street food that costs pennies.

A bewildering array of digital payment businesses from global names like Facebook Inc.'s WhatsApp to Google are in a slugfest to win Indian users. Warren Buffett's Berkshire Hathaway Inc. is acquiring a stake in the company behind payments leader Paytm.

Meanwhile, a string of other big-name players are also expanding in the country's digital payments market including its banks, its postal service, and its richest man, Mukesh Ambani.

India saw a brief spurt in digital payments two years ago when Prime Minister Narendra Modi's government banned most of the nation's existing bank notes, although the spike petered out as new bills were printed. But over the past year, a string of new apps have made payments increasingly easy, and the discounts and cash bonuses they offer are proving irresistible to young, urban users like Sucharia.

Credit Suisse Group AG now estimates that the Indian digital payments market will touch $1 trillion by 2023 from about $200 billion currently. Cash still accounts for 70 percent of all Indian transactions by value, according to Credit Suisse, and neighboring China is far more advanced with a mobile payments market worth more than $5 trillion.

But local players have a stranglehold on China's digital payments space. Modi's administration, meanwhile, has welcomed foreign firms in order to expand financial services across India.

"This kind of a promising market exists nowhere else," said Vivek Belgavi, a Mumbai-based partner at consultancy PwC India with an expertise in financial technology.
4G is the gateway to online payments, video streaming, mobile gaming, local ads, delivery services and it is a comparatively new development for India. While it would be rash to conclude India is completely open to foreign control of its nascent online payments network, it is also more willing to accept competition than China.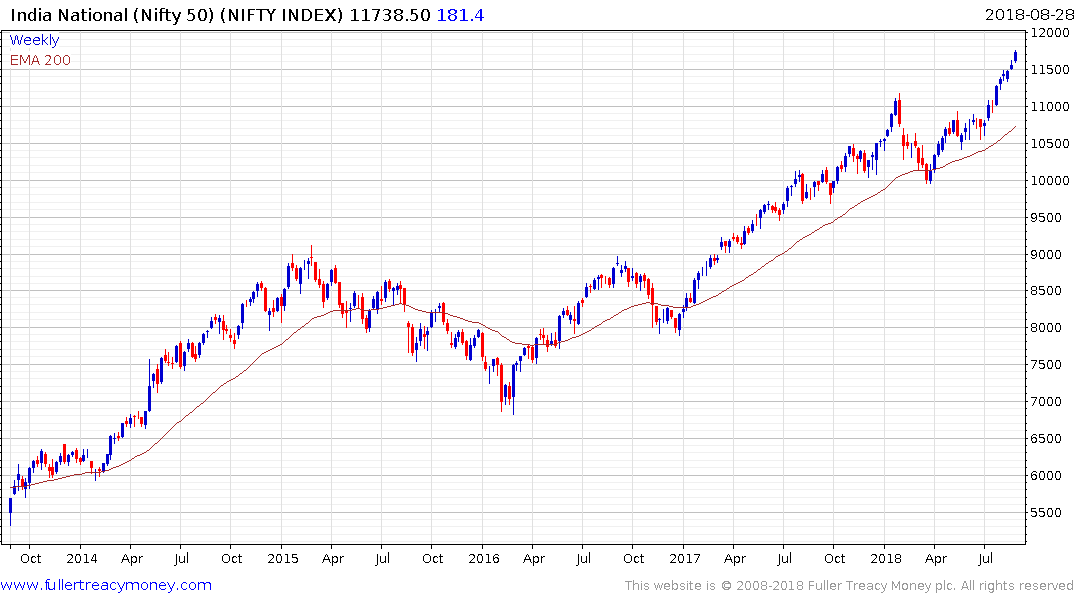 The Nifty Index continues to extend its impressive breakout and is being led higher by Reliance Industries which is the primary domestic play on 4G since it owns the network. The has is become increasingly overextended but a clear downward dynamic would be required to check momentum.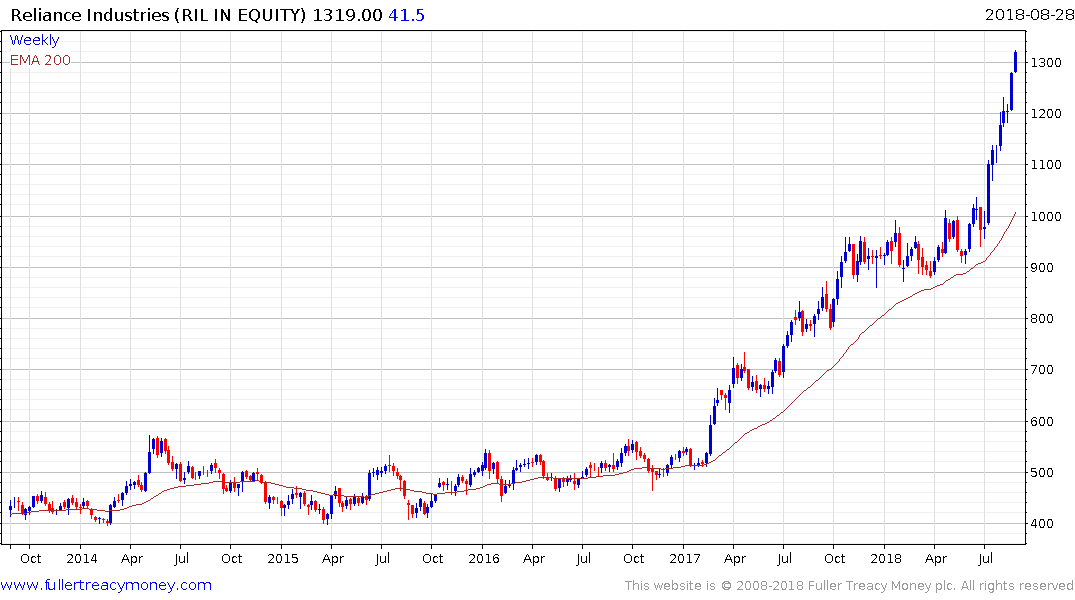 Meanwhile the Bombay Banks Index has broken out to new highs and continues to improve on that performance.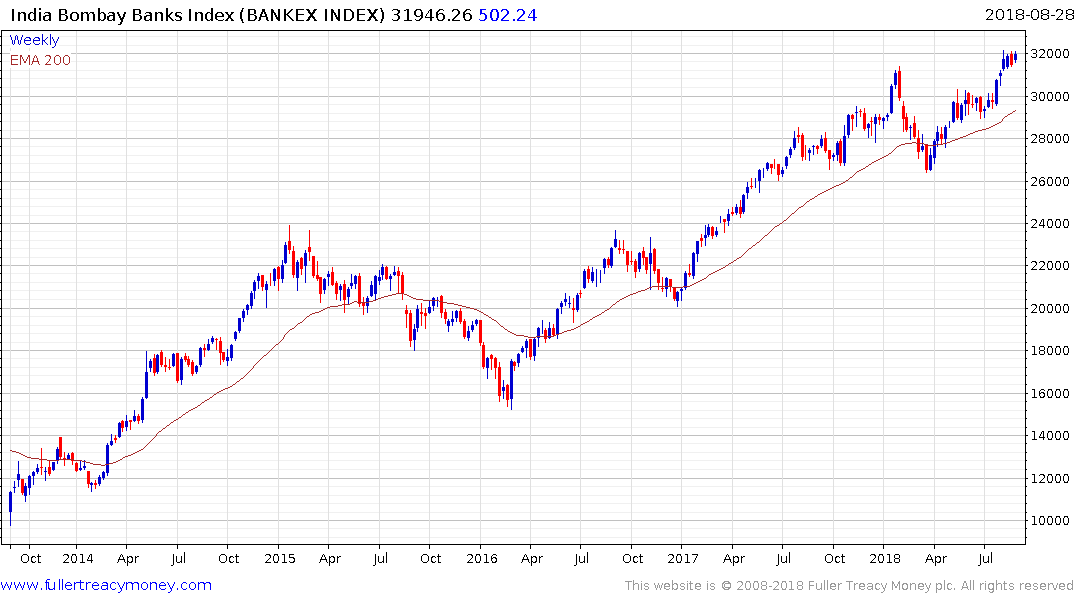 Axis Bank is back testing the upper side of its 3-year range and clear downward dynamic would be required to check potential for a successful upward break.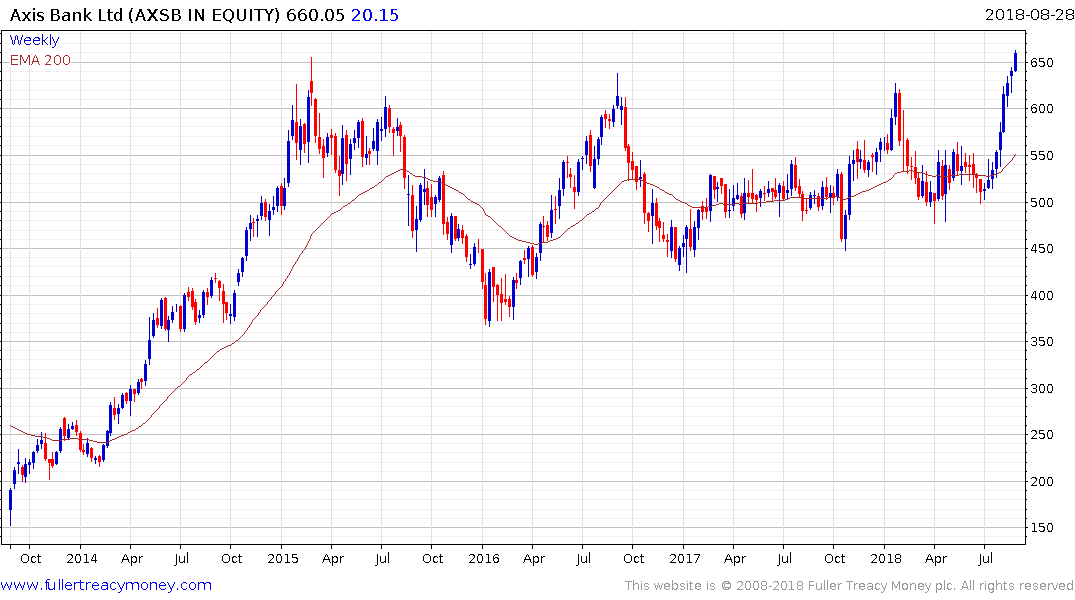 Back to top