FAAMG: A Bubble In The Making?
Thanks to a subscriber for this report from Julius Bär which may be of interest. Here is a section:
FAAMG: The music continues to play We continue to be bullish on the global Information Technology (IT) sector, mainly due to our positive view on the semiconductor and software sub-segments. Global IT is benefiting from a macro environment, which is characterised by accelerating growth and rising rates that support IT companies due to their low financial leverage and high operating leverage. Global IT stocks are trading at a forward P/E of around 18x, broadly in line with the sector's long-term historical valuation multiple average. As a result, we believe that the good growth perspectives of the sector are not yet fully reflected at current levels.

However, within the IT segment, we would like to take a closer look at the FAAMG group (Facebook, Amazon, Apple, Microsoft, Google). Those five stocks have been the main performance drivers of the underlying IT and consumer indices and now represent around 13% of the S&P 500, roughly the same weighting as the US energy sector.

A recession would be needed to trigger a bubble burst.
While we agree that the share price performance of the FAAMG group may look like a bubble in the making, we would stress the fact that bubbles only tend to burst when the underlying market moves into a recession. According to our economists, global growth should accelerate towards the end of the year and stabilise at current levels in 2018. Leading indicators in all major regions around the globe support this forecast and thus a recession looks highly unlikely in the foreseeable future.
Here is a link to the full report.

The US technology sector continues to represent some of the clearest beneficiaries of the evolution of the digital economy where data is a valuable asset. While companies like Microsoft and Facebook look quite different on the surface they both see their growth deriving from gathering, parsing, interpreting and selling data. The evolution of the home speaker/digital assistant market being simultaneously pushed by Apple, Amazon and Google are all symptomatic of their desire to secure consumer cashflows by being the conduit for data.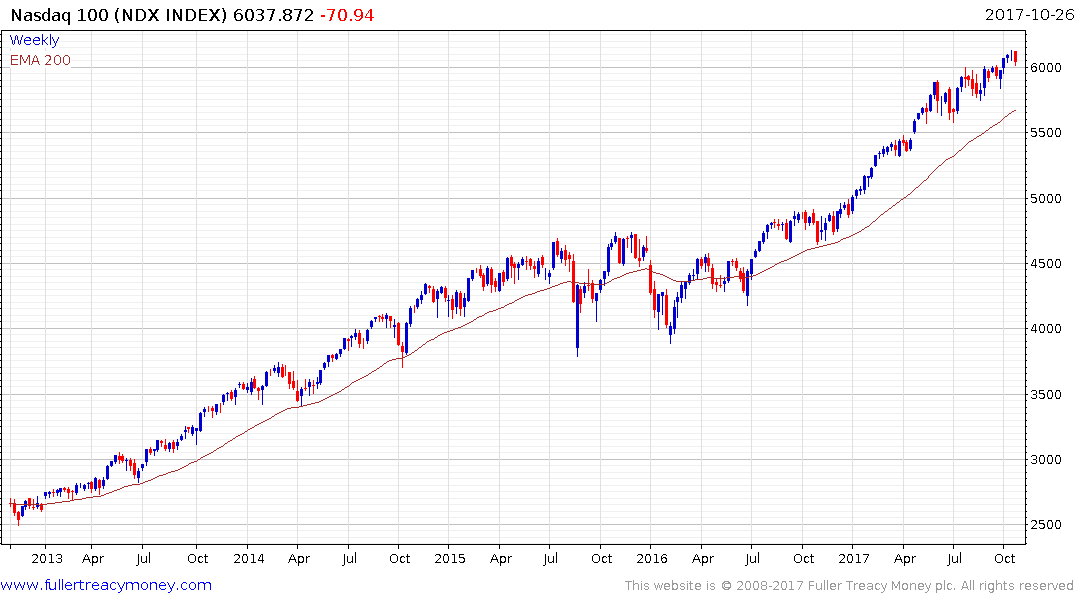 This is a trend which shows little sign of slowing down and could well form a bubble but, if so, we are still in the inflation stage. The Nasdaq-100 Index has lost momentum since June while still holding a progression of higher reaction lows. It has paused over the last seven sessions but a sustained move below the trend mean would be required to break the upward bias and confirm more than a temporary pause.

Amazon might have an eye watering P/E but it is an A rated credit. Meanwhile Tesla at B- and Netflix at B+ are probably more susceptible to any future expansion of high yield spreads.
Back to top