Exxon and Chevron Profits Rebound to Pre-Pandemic Levels
This article from Bloomberg may be of interest to subscribers. Here is a section:
Exxon Mobil Corp. and Chevron Corp. swung to their biggest profits since pre-pandemic days amid surging demand and prices for plastics and energy.

Exxon reported $4.69 billion in profit, the best quarter since late 2019, as its chemical division turned in a record performance. Chevron's $3.1 billion second-quarter net income was its strongest showing since the start of 2020 and prompted the driller to revive share buybacks that were suspended more than a year ago.

The companies' combined cash flow from operations approached $17 billion, signaling an across-the-broad recovery after the dark days of 2020 that saw the titans of American oil incur massive financial losses.

Chevron's share repurchases will begin during the current quarter and range between $2 billion and $3 billion a year, around half the amount it devoted to the program before it was suspended in early 2020. Chevron's move followed similar steps by Royal Dutch Shell Plc, TotalEnergies SE and Eni SpA, all of which have reinstated buybacks this week.

"It says we're confident in the future," Chief Financial Officer Pierre Breber said in an interview. The level of buybacks was chosen because "it really is a range that allows us to also continue to pay down debt."
Exxon's board have been clear they are more interested in rebuilding their balance sheet than buying back shares. Most energy companies have to face up to the reality they will need war chests to weather the threat from aggressive regulatory regimes all over the world. There is a growing trend of legislation against single use plastics. That's a major business for the large oil companies. Demand ramped higher in 2020 but that only increases the visibility of the sector and bolsters the argument for alternatives.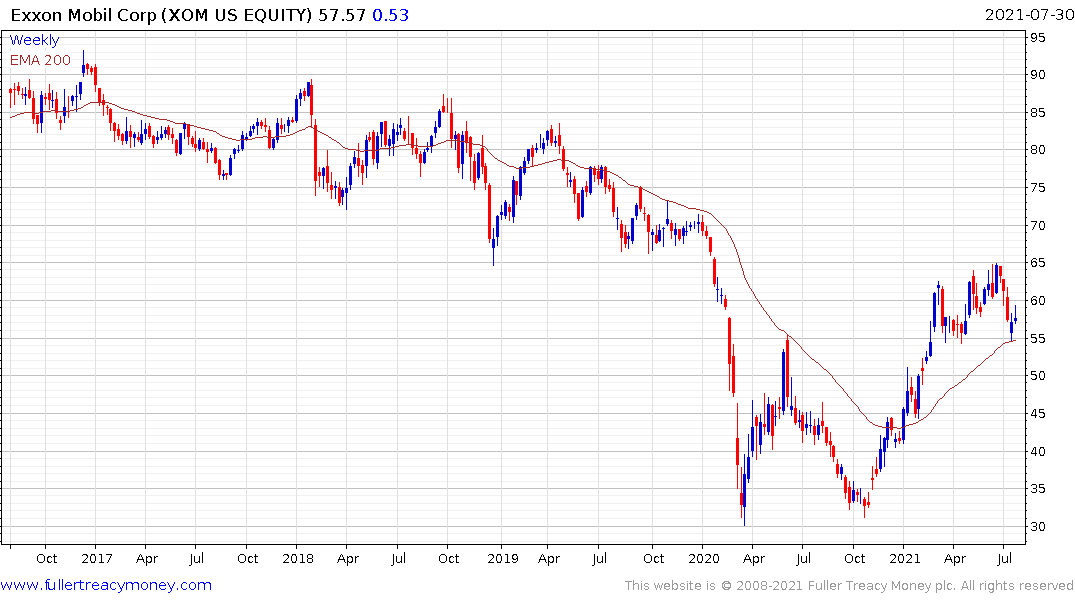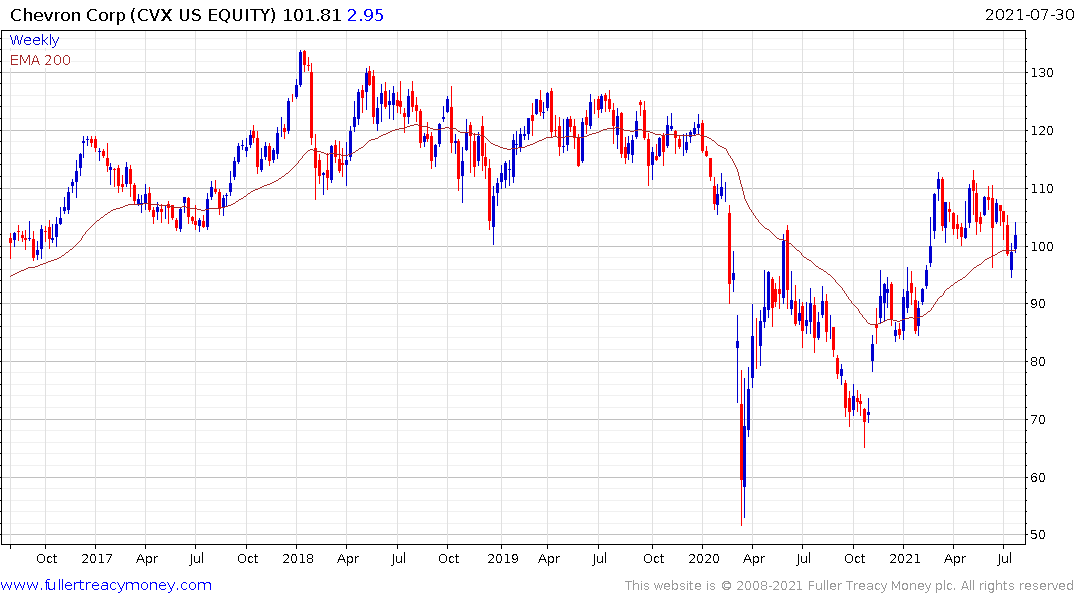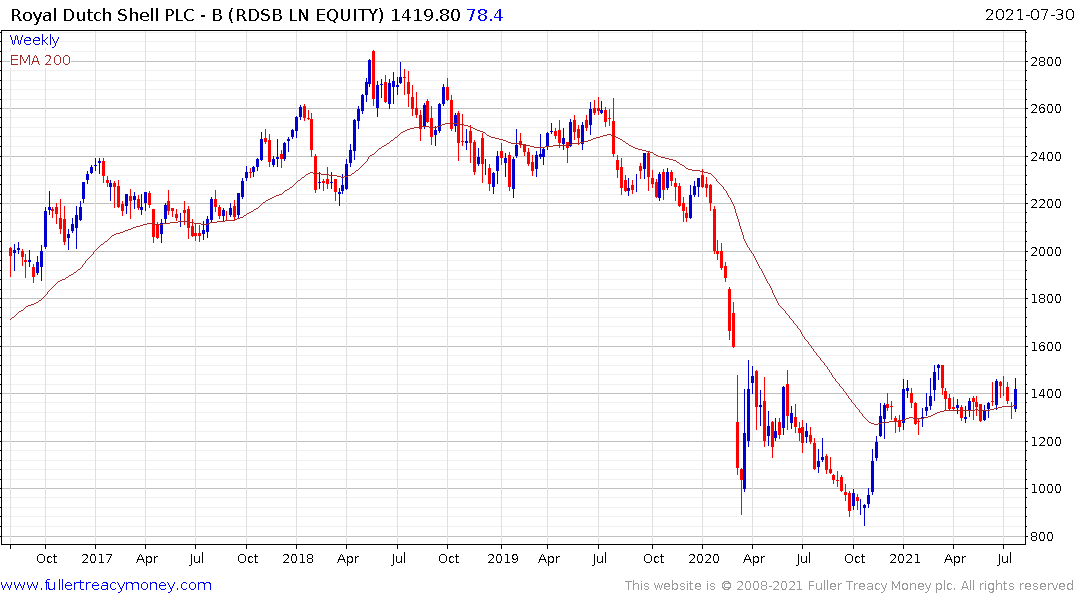 Exxon Mobil, Chevron and Royal Dutch Shell will need to continue to hold the region of their respective trend means if potential for higher to lateral ranging is to be given the benefit of the doubt.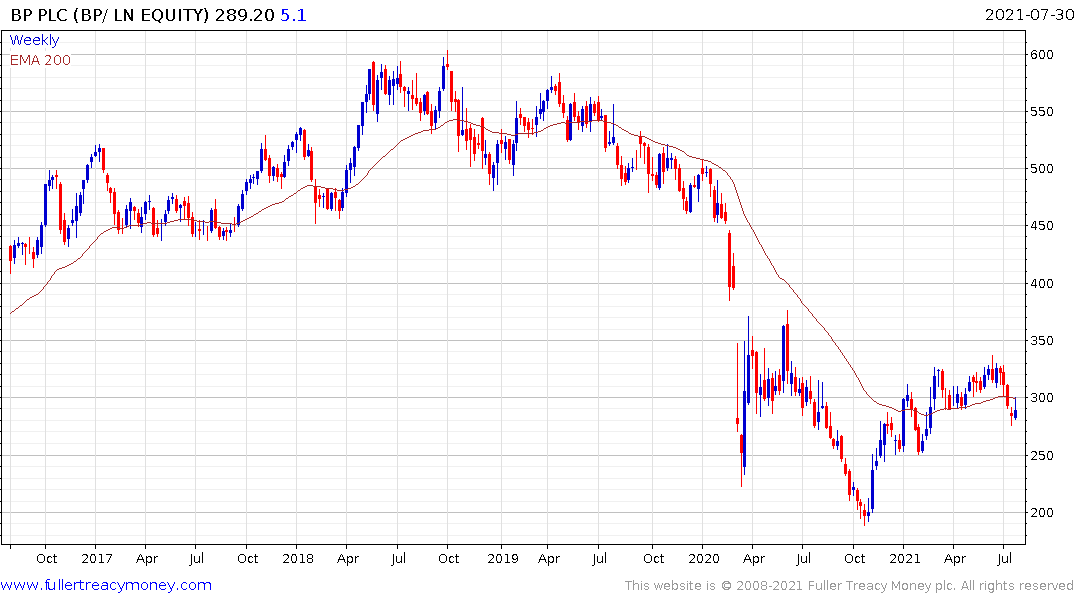 BP has already broken down.
Back to top