Exit polls predict Narendra Modi will cruise back to power in India
This article by Pramod Mathew for quartz may be of interest to subscribers. Here is a section:
In India, exit polls have often been off the mark but financial markets, among others, have rarely showed the patience to await the official results.

In 2014, most exit polls accurately predicted that the NDA had an upper hand over the UPA, but few foresaw that the BJP alone would get an absolute majority. In 2009, the UPA ended up getting more seats than forecast by polls.

In 2004, all exit polls had predicted a win for the NDA, but the Congress-led alliance's triumph surprised the pollsters.
India is at an important juncture. It has millions of new voters entering the electorate at each election. That means politicians have to appeal to their interests if they are to secure power. Economic growth was the clear strategy which propelled Modi to power in 2014. Following the slow pace of reform over the last five years, a much more nationalistic and populist tone has been witnessed in electioneering.

Meanwhile, India is at the beginning of capitalising on its demographic dividend with manufacturing picking up and regulatory barriers slowly but surely being removed. Economic growth is still strong and the country stands to benefit from increasing tensions between the USA and China. Meanwhile the RBI is predicted to ease over coming months which is a support for the stock market.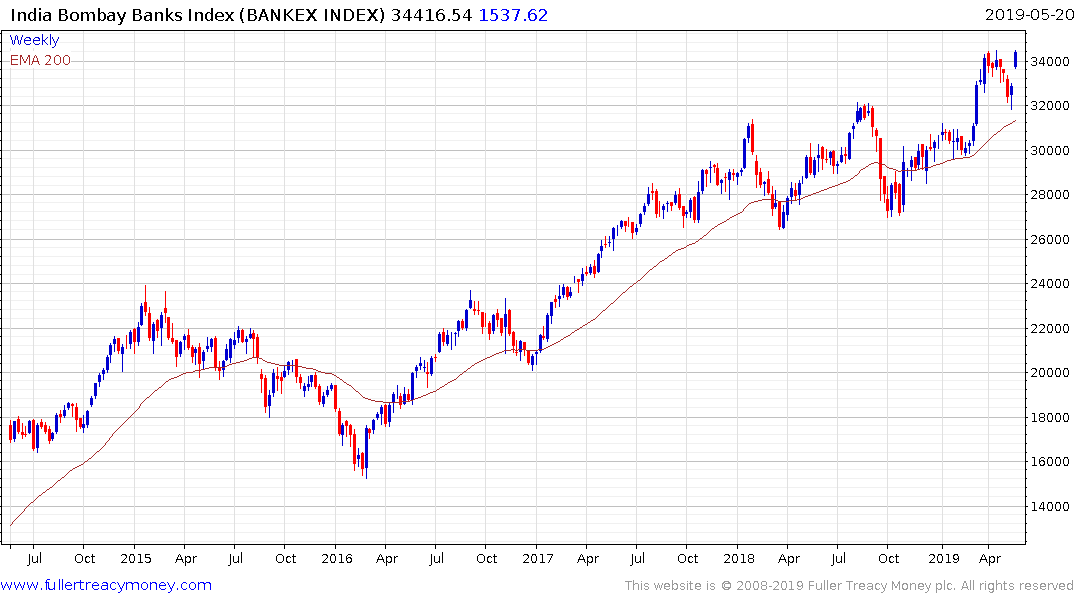 The Bombay Banks Index surged, on the exit poll news, to hit a new closing high.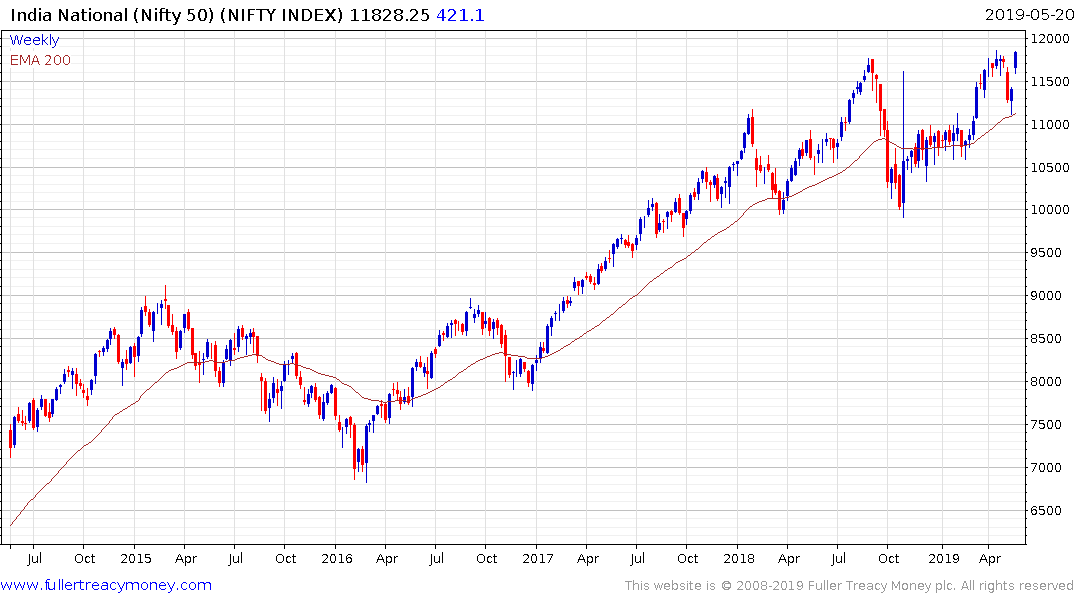 The Nifty Index also posted a new closing high and the surge confirms support in the region of the trend mean.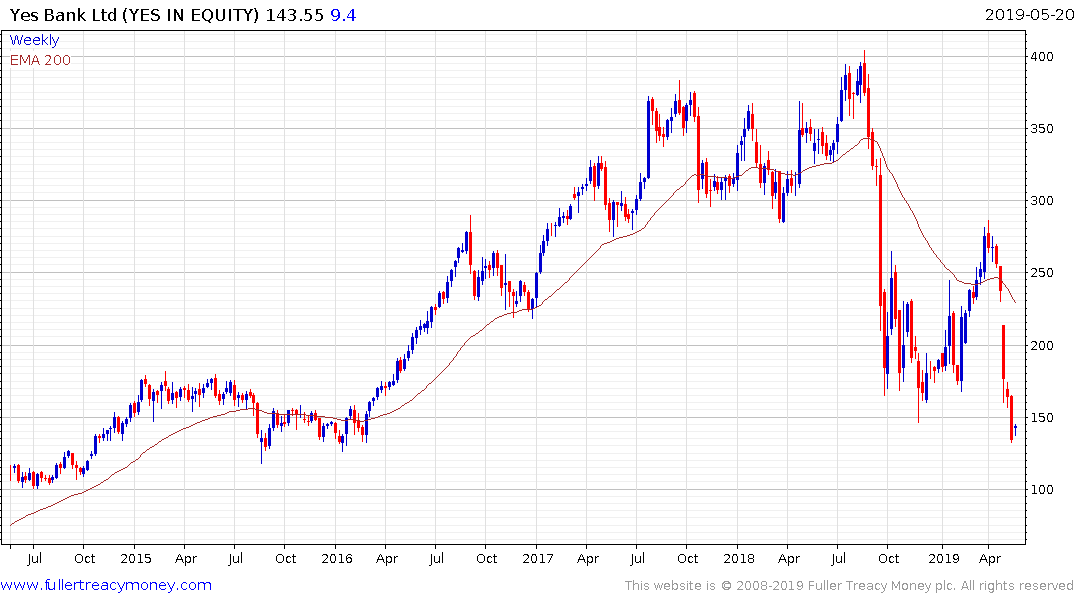 Yes Bank collapsed over the last month following the RBI's imposition of one of its employees onto the board. The last CEO was engaged in nefarious activity and while the new CEO has been engaged in a cleaning of the Augean stables, he will probably need to do a capital raise. The share is trading at a Price to Book of 1.24 and arguably a lot of bad news is already in the price.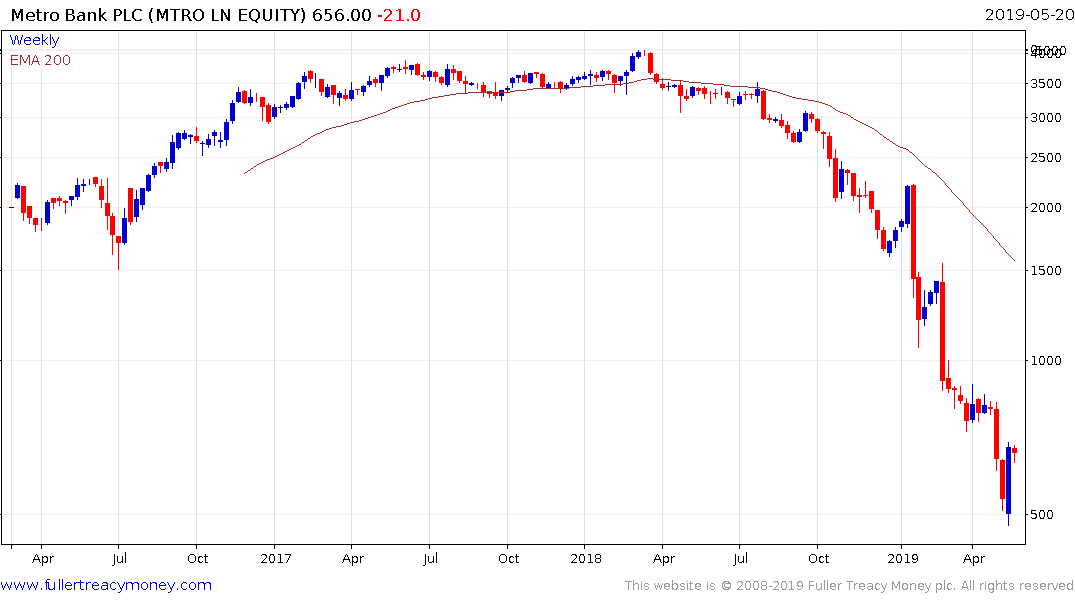 The UK's Metro Bank completed a recapitalisation last week which did not allow short sellers to short sellers to over by buying discounted shares. That resulted in last week's upside weekly key reversal from deep oversold territory. I wonder if a similar model will be used by Yes Bank as it shops around for additional capital.
Back to top