Everything You Need to Know About Ethereum 2.0
This article by Christine Kim for CoinDesk may be of interest to subscribers. Here is a section:
The culmination of over five years of research and development, Ethereum 2.0 is a highly ambitious upgrade.

Never before has the cryptocurrency industry seen a blockchain of the same size and value as Ethereum attempt to transition all users, as well as assets, to an entirely new decentralized network while keeping all operations on the old network active and running.

It will likely take many years for the Ethereum 2.0 upgrade – in all its complexity – to be complete. However, developer commentary featured in this report suggests the biggest hurdle (and perhaps most important milestone) in the Ethereum 2.0 roadmap is its initial launch.
The breakout to new recovery highs by Ethereum last week and bitcoin this week suggest a return to demand dominance following a multi-month hiatus. The coincident surge in precious metals suggests this is more about the demand for a hedge against the debasement of fiat currencies than the range of impending innovations in the cryptocurrency sector.

The announcement last week that the USA is seeking to develop a highly secure quantum internet is bound to raise questions about the sustainability of digital encrypted services like cryptocurrencies, despite their complexity. However, the rationale is quite clear. Cryptocurrencies by their very nature are public ledgers of transactions. Their transparency is part of their appeal for smart contracts etc. A quantum internet is designed to be secure and totally outside of the realm of public perception or accessibility. Therefore, there is room for them both to exist in parallel.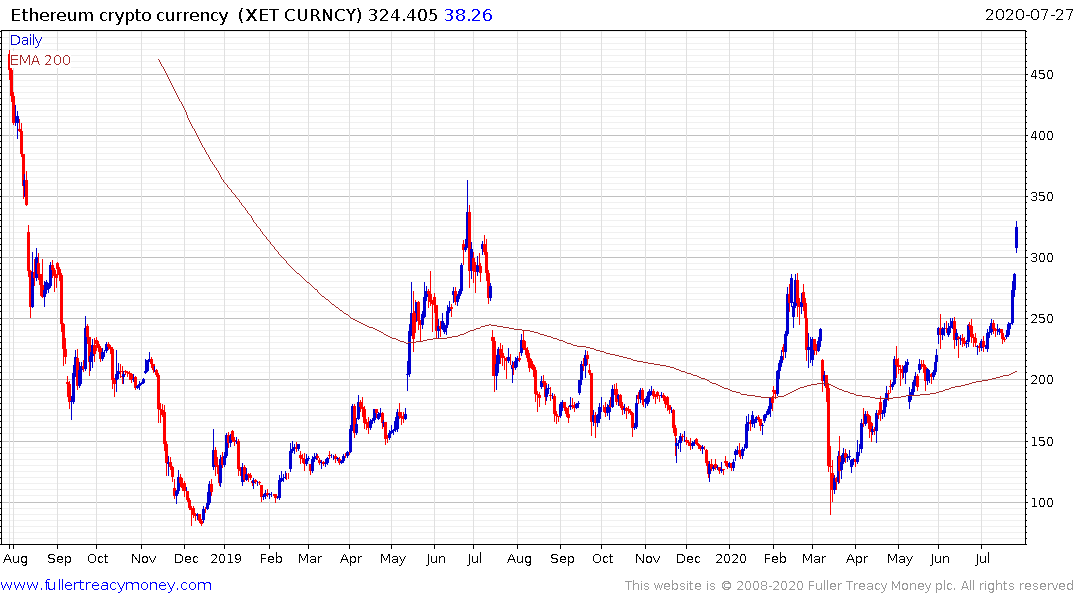 Ethereum may be in the process of completing a two-year base formation and will need to hold the move above $300 if the benefit of the doubt is to continue to be given to the upside.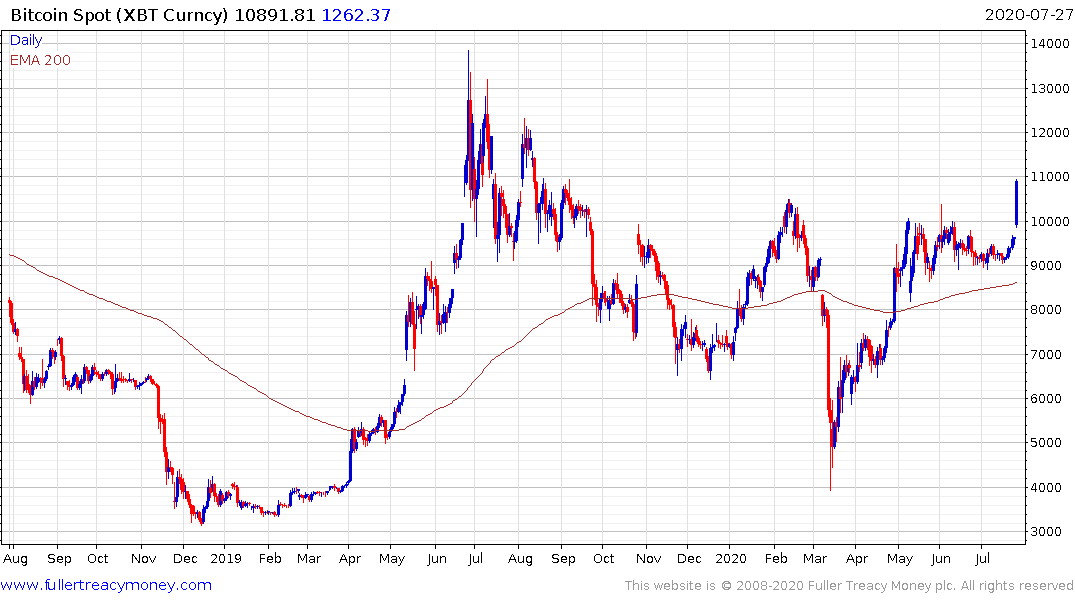 Bitcoin jumped through the psychological $10,000 level over the weekend to complete a yearlong consolidation.
Back to top