Euro Slides to Weakest Since 2006 on ECB and Greece as Dollar Gains
This article by Lananh Nguyen and Lukanyo Mnyanda for Bloomberg may be of interest to subscribers. Here is a section:
The euro slid against most of its major peers after President Mario Draghi said in an interview with German newspaper Handelsblatt published Jan. 2 that policy makers were ready to act if needed to counter deflation.

"The risk that we don't fulfill our mandate of price stability is higher than it was six months ago," Draghi said.

"We are in technical preparations to alter the size, speed and composition of our measures at the beginning of 2015, should this become necessary."

Greece began an election campaign that Prime Minister Antonis Samaras said may lead to an exit from the euro region should the Syriza party win. Der Spiegel magazine reported German Chancellor Angela Merkel considers a Greek exit from the euro to be manageable.
The Austrian School of Economics has a justifiable fear of the impact inflationary policies have on the assets of savers not least because of the region's experience in the early part of the last century. Government bond yields below the expected rate of inflation represent a significant challenge for savers who have relied more on the momentum in prices to contribute to total return than yields over the last few years.

There is little potential for the situation to change with deflation still a factor in the Eurozone's deleveraging, disinflation in the energy markets and the potential for Greece to vote in favour of an anti-establishment party in its upcoming election. The ECB will announce later this month just what it has planned in terms of additional extraordinary monetary policy but its balance sheet is already expanding.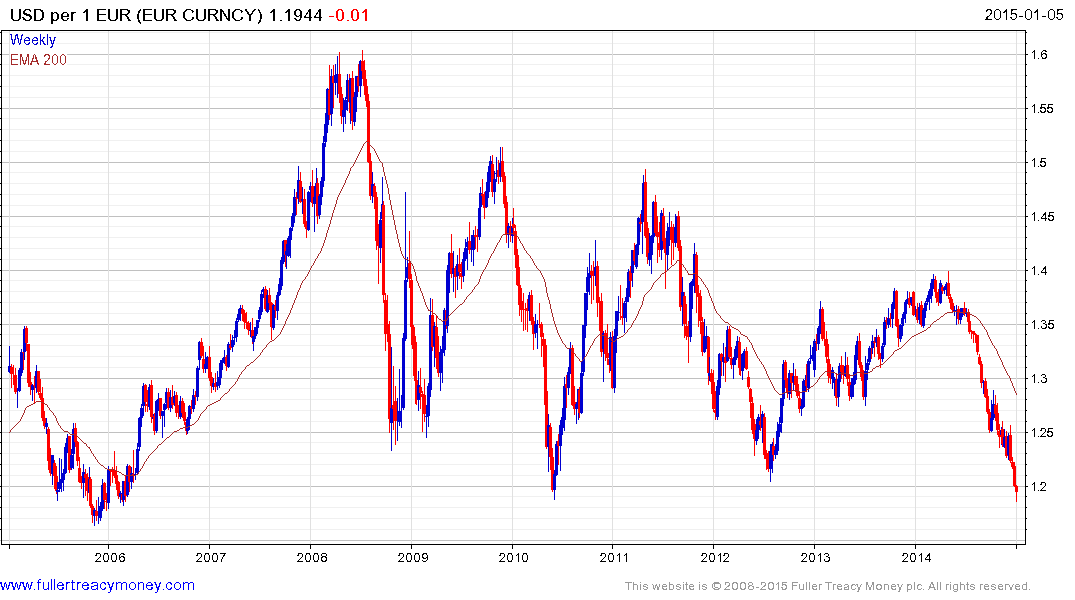 The Euro fell through $1.20 today and while oversold in the short-term a clear upward dynamic, similar to those posted in 2010 and 2012 from this area, would be required to check downward momentum.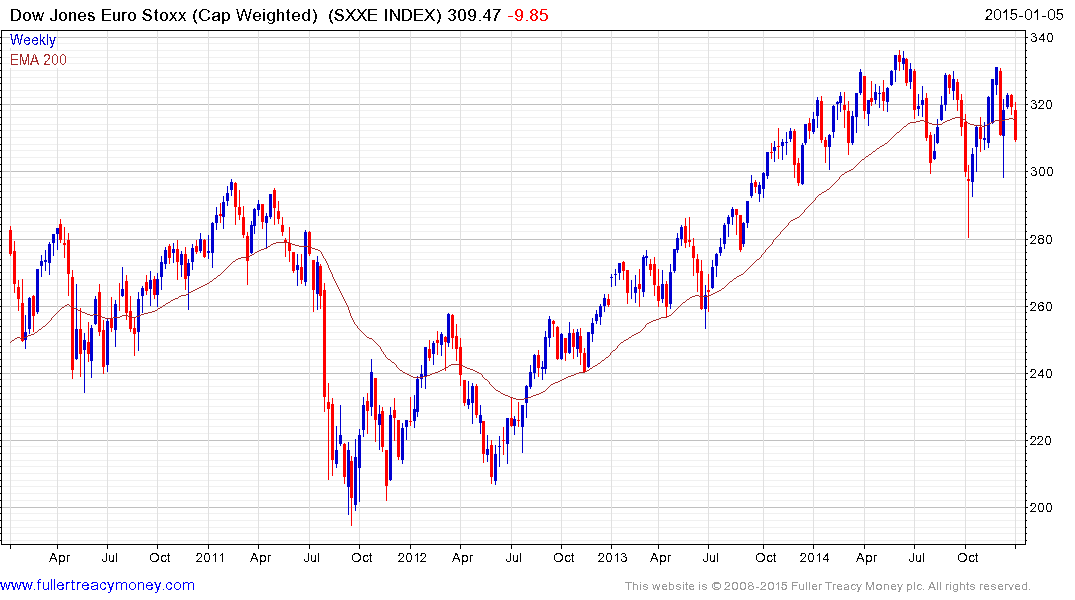 The Euro has fallen 17% since May 2014. From the perspective of a foreign investor this underperformance represents a significant deterrent to participating in the region. However as the currency falls it is worth bearing in mind that the Eurozone's significant export sector is being lent a competitive advantage. Once evidence of currency stability is evident which admittedly might not be for a while, investors are likely to re-evaluate the allure of European equities.
Back to top