Euro Declines Most in Three Months on Shift to Policy Divergence
This article by Lananh Nguyen for Bloomberg may be of interest to subscribers. Here is a section:
"The view in the market is that policy divergence between Europe and the U.S. will continue," said Richard Falkenhall, a trading strategist at SEB AB in Stockholm. "Whether or not Greece has a deal, the ECB may have to step up its quantitative- easing program, weakening the euro. We maintain our view that the Fed will start tightening in the second half of the year, and expect the euro to trade towards parity by year-end."

European leaders gave Greek Prime Minister Alexis Tsipras's government 48 hours to make a final effort to satisfy creditors and end a five-month standoff. Leaders from Greece's 18 fellow euro-area countries agreed to step up the pace of negotiations to secure a breakthrough on Wednesday that leaders can sign at the end of the week.

The euro moving in the opposite direction as higher- yielding assets suggested the euro is seen by investors as a "quasi-safe haven," according to Jane Foley, a senior currency strategist at Rabobank International in London.

"It follows that once risk appetite is restored that investors will again take advantage of the low interest rates that are prevalent through much of the euro zone and use the euro to fund riskier trades in higher-yielding assets," Foley wrote in an e-mailed note.
Traders are beginning to price in the prospect of Greece staying within the Euro. Of course that is at least until this saga flares up again when there are doubts about how successfully Greece can achieve budget surpluses in the face of a deflationary economic environment. Of course the whole thing will not be put to rest until the t's are crossed and I's dotted but Greek yields are compressing which is a good sign that bargain hunters are back in the market.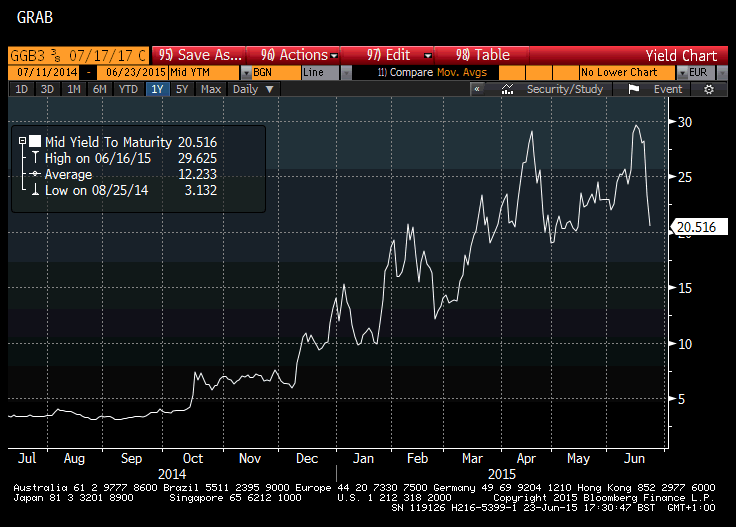 Greek two-year yields hit a high of 31.74% last Wednesday and closed at 21.04% today. The bonds might be CCC rated but if the country is going to remain in the Euro for another year the yields are attractive for risk tolerant investors.

The Euro has been engaged in a reversionary rally for the last three months as the market priced in the potential that Greece might leave the Euro and the Fed resisted the Dollar's strength. Keeping Greece in suggests the need for ECB easing is more important than ever since the weaker countries need a soft currency to help ameliorate the pressure of internal devaluation through austerity.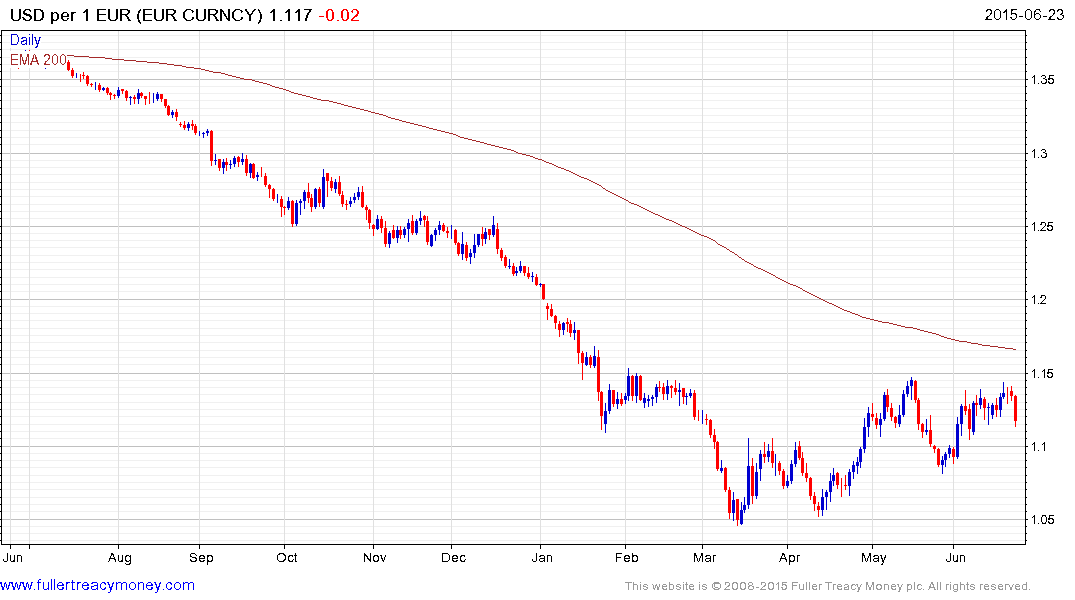 The Euro encountered resistance today in the region of last week's high. $1.08 represents the area of the last higher reaction low and a sustained move below that level check the three-month advance.
Back to top