EU Sugar Plans Pit Growers Against Food Makers After Prices Fall
This article by Isis Almeida for Bloomberg may be of interest to subscribers. Here is a section:
While stockpiles are at a "reasonable level," consumption could grow faster than expected and imports may not meet the forecast, the sugar users group said. Inventories should not drop below 2.4 million tons, it said in the statement. Reserves on Sept. 30 were 2.5 million tons and are forecast to be 2.3 million tons by Sept. 30, 2014, commission data showed.

"Allowing a shortage on the market runs contrary to the clear need to develop a sustainable transition to the EU sugar supply chain," Muriel Korter, secretary general of the sugar users, said by e-mail today. "It would annul all recent efforts of the European Commission to stabilize supply on the EU sugar market since 2010."

The EU shrank its output after 2006 as the World Trade Organization ruled the bloc was dumping subsidized sugar on world markets. Under current regulations, local producers can only sell a limited amount in the bloc, leaving part of the demand to be met by imports from countries that have agreements to ship tariff-free sugar to the EU. Shortages emerged as imports from preferential nations fell below the EU's forecast.
The EU's decision to stop supporting its domestic sugar growers was a causal factor in the bull market for the commodity that took place between 2003 and 2011 which saw While Sugar prices quadruple. The subsequent supply response saw prices give up almost the entire bull market gains with the market returning to equilibrium at the upper side of the long-term base from late January. Just how high prices move in the current phase is unclear but decisions made by the EU will play an important role.

In the course of the two-year downtrend, white sugar has pushed above the 200-day MA on a number of occasions. It will need to sustain the breakout in order to demonstrate a return to demand dominance beyond the short term.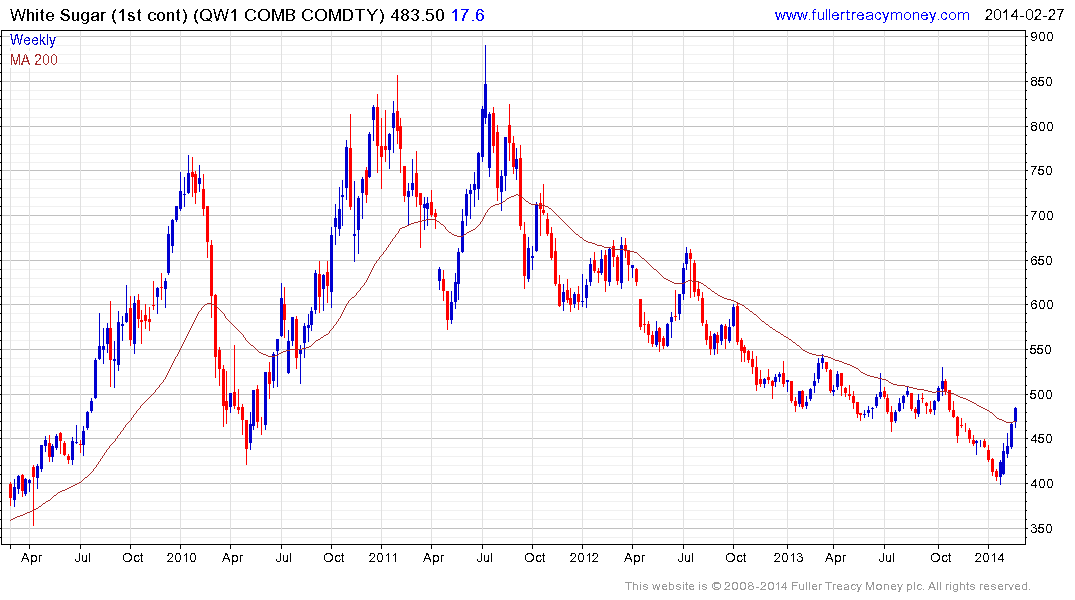 German listed Suedzucker (P/E 9.16, Est P/E 12.58, DY 4.49%) appeared in the list of shares with low P/Es posted in the preceding piece. The share almost halved since hitting a medium-term peak a year ago but has at least stabilised above €17.50. A sustained move below €18.30 would now be required to question current scope for some additional higher to lateral ranging.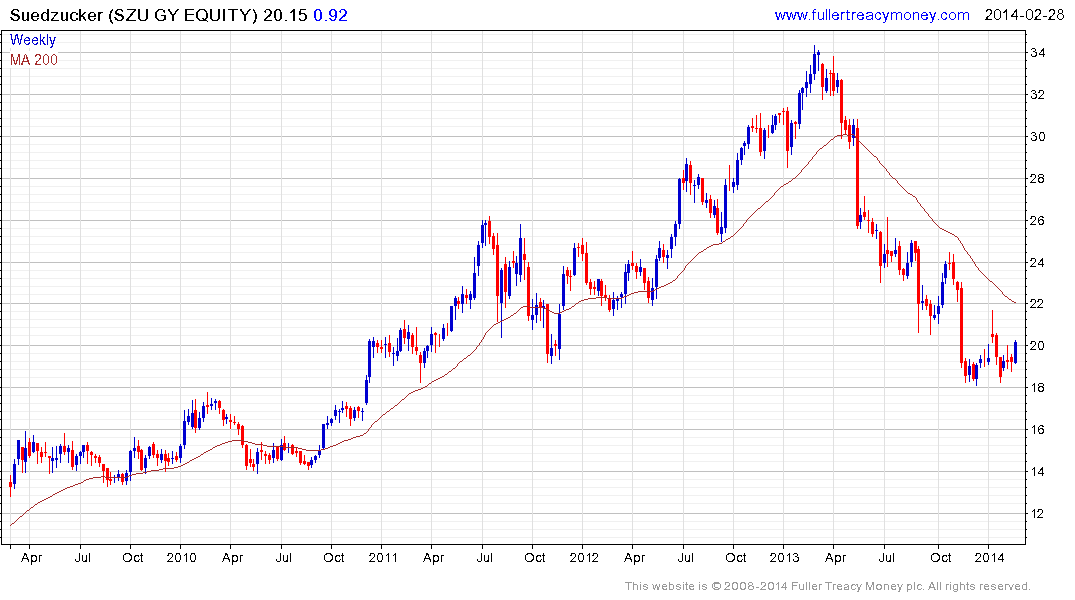 Back to top