EU Nears Deal on Landmark Carbon Levy as Trade Tensions Rise
This article from Bloomberg may be of interest to subscribers. Here is a section:
A deal on the carbon measure would be a major victory for one of the EU's more controversial proposals, when it was announced last year as part of the bloc's package to cut emissions by 55% by the end of the decade. The proposal tabled by the European Commission in 2021 envisaged that the importer would be entitled to account for the pollutions costs paid in country of origin if it has carbon pricing.

The EU plans have already caused diplomatic unease in China and India and there's concern that Russia may not comply with it. The EU mechanism also comes amid growing tensions over the US government's Inflation Reduction Act, the country's $369 billion green package, which provides subsidies only to American manufacturers to develop some clean technologies, including electric vehicles. The EU sees that as a possible contravention of WTO rules.

For its part, the EU argues that the CBAM is in line with international trade rules as an environmental measure, designed to stop industry from moving carbon emissions outside of the bloc as it imposes stricter climate measures on industry. A potential preliminary deal among negotiators on Monday would need the endorsement of ministers from national governments and the full EU Parliament to enter into force. That may be done only after policy makers iron out the details of a link with a broader carbon market reform.
For European bureaucrats climate change is a religion and adherence to its tenets borders on zealotry. From their perspective, there is an acute need to reduce all forms of carbon emissions as quickly as possible to avoid the worst effects of climate change.
They are also fully aware that the bulk of emissions now come from outside of Western Europe and North America. If everyone is not forced to take the same measures, Europe would take a significant hit to global competitiveness which would put the entire climate regime under threat.
Their solution is to force adherence by introducing what are effectively protectionist policies. Regardless of how they are being couched, demanding trade partners voluntarily impede their own competitiveness in service to climate idealism, is not going to sit well.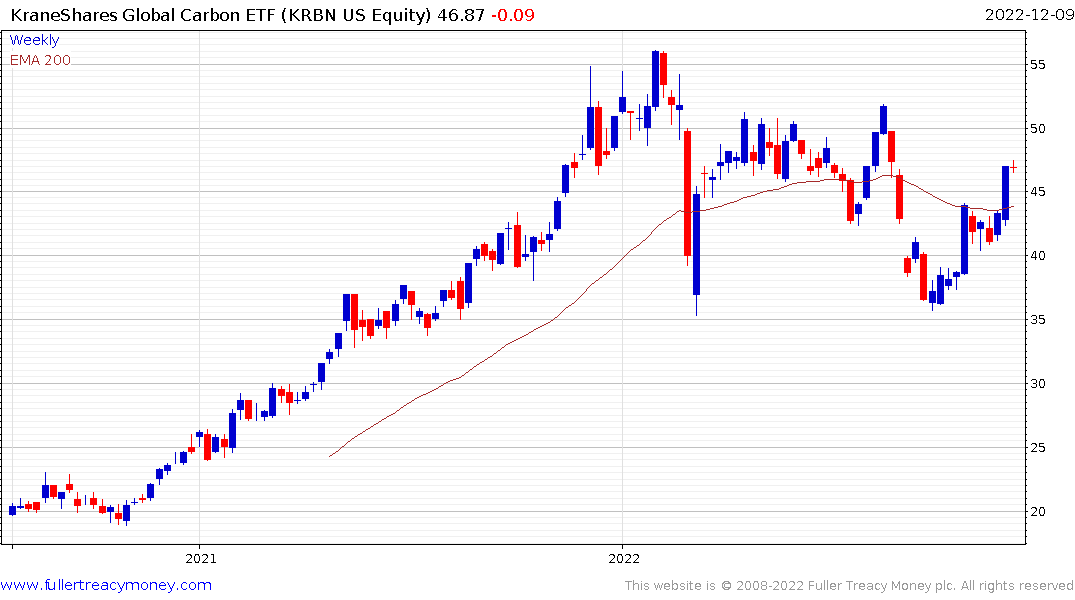 The Carbon Credits ETF continues to rebound. As a politically driven market, the stated aim of getting prices for credits up to €130, suggests that level is the next big area of potential resistance.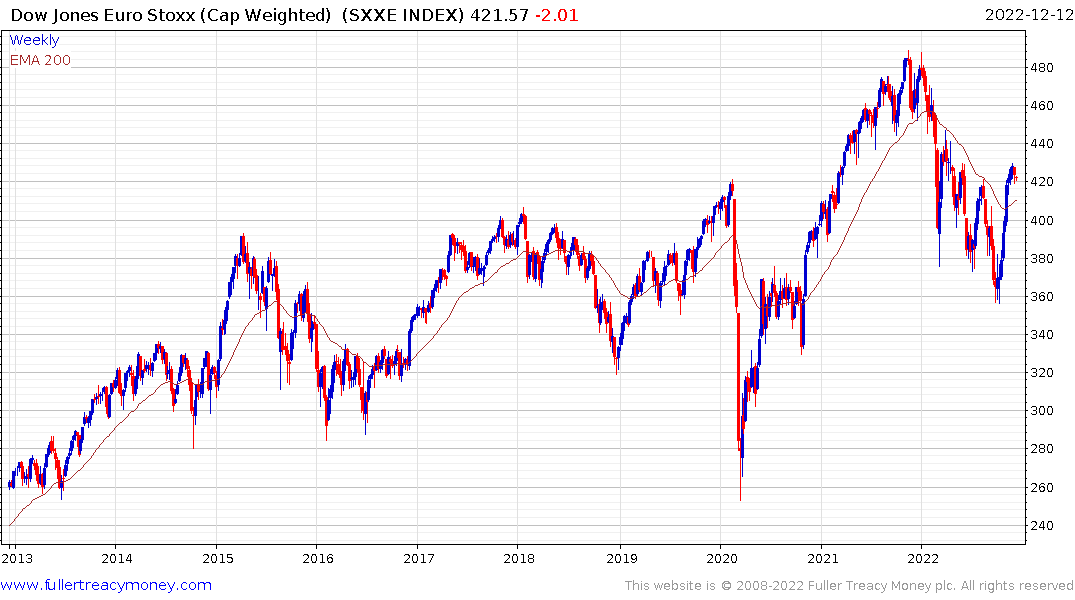 The Euro STOXX Index rallied to break the sequence of lower rally highs and is now consolidating. A sustained move below the 400 area will be required to signal a return to supply dominance.
Back to top