EU May Sanction Belarus's Potash Industry by This Summer
This article from Bloomberg may be of interest to subscribers. Here is a section:
The EU measures will need to name specific sectors and be clearly defined so as to withstand potential legal proceedings and win the backing of all member states. Forging unanimity between EU governments has proved tricky lately, with several countries keen to avoid hurting their economies or dent controversial political alliances.

"A lot will depend of what type of sanctions are implemented," said Elena Sakhnova, an analyst at VTB Capital. "If those are just sectoral penalties, such as limiting Belarus potash industry's ability to get financing in European banks, this won't cause disruption on the market as Belarus uses alternative sources of funding anyway."

Potential Impact
More meaningful penalties would prevent European companies from trading with the Belarusian potash industry, though Belarus would still be able to divert from Europe to other markets,
mostly to Asia Sakhnova said.

That may cause a short-term increase in potash prices in Europe, as Belarus supplies about 25% of the region's demand, though the situation should normalize fairly quickly, she said. Producers like Russia's Uralkali PJSC may replace Belarusian volumes in Europe, she said.
A big outstanding question is how powerful is the EU's farm lobby? Potash is an essential crop nutrient and is impossible to replace. Supply is concentrated in Belarus, Russia and Canada. Farmers have plenty of experience with exaggerated pricing for agricultural nutrients so achieving unanimity on sanctioning Belarus' potash exports will be difficult to achieve. A further deterioration in relations would probably be required to spur action.
Nevertheless, the argument for security of supply from politically stable countries is likely to become more pressing as prices rise. The reality is Europe is a hostage to Russia. They might introduce sanctions but rely on Russia to supply all manner of essential commodities. That's a very weak negotiating position.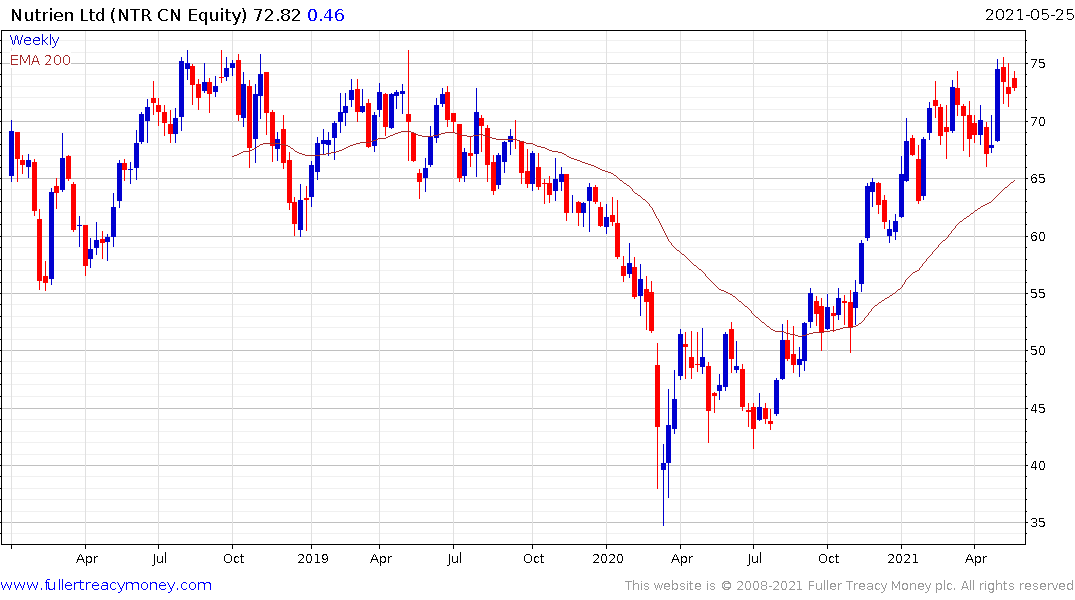 Nutrien is the result of a merger between Potash Corp of Saskatchewan and Agrium. The share continues to hold the move to new post-merger highs.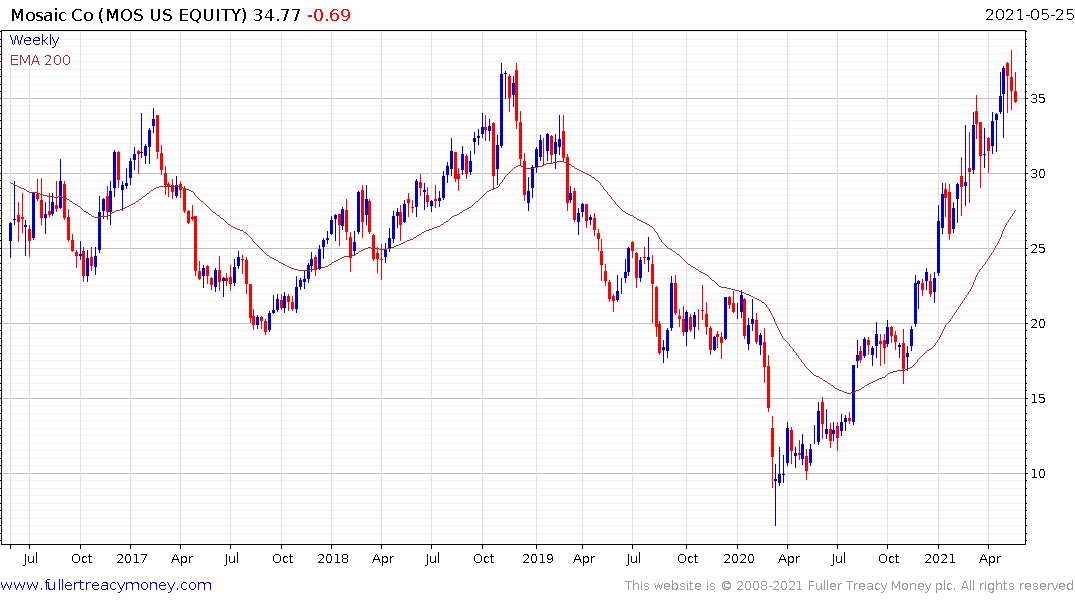 Mosaic continues to hold its yearlong sequence of higher reaction lows. It is somewhat overextended relative to the trend mean at present but a sustained move below it would be required to question medium-term scope for further recovery.
Back to top