Erdogan's Real Test Comes Monday When Election Calendar Clears
This article by Cagan Koc and Selcan Hacaoglu for Bloomberg may be of interest to subscribers. Here is a section:
"We're going to implement structural reforms that will make our economy stronger against such attacks with great speed following the election," Erdogan said.

The question is if investors will stick around long enough to see if he delivers this time. With Turkey succumbing to its first recession in a decade and unemployment at the highest in nine years, Erdogan will have an uphill battle ahead. It will be far harder to make headway on such key challenges as overhauling the labor market now than during a period when economic growth of 5 percent or more was the norm for Turkey, according to Naz Masraff, director for Europe at Eurasia Group.

Elections Loom
"It's almost the least likely period to do structural reforms after the elections," Masraff said. "If Turkey hasn't managed to do them when growth was higher and the country was doing economically better back in 2011, 2012, it's really difficult to do it in a downturn."
Turkey has a great deal of US Dollar denominated debt and with the Lira under pressure that is only going to be a progressively more burdensome obstacle to recovery. While extraordinary measures are underway to support the currency ahead of this weekend's municipal elections, the broader question is what measures are going to be put in place to repair the economic fabric after the election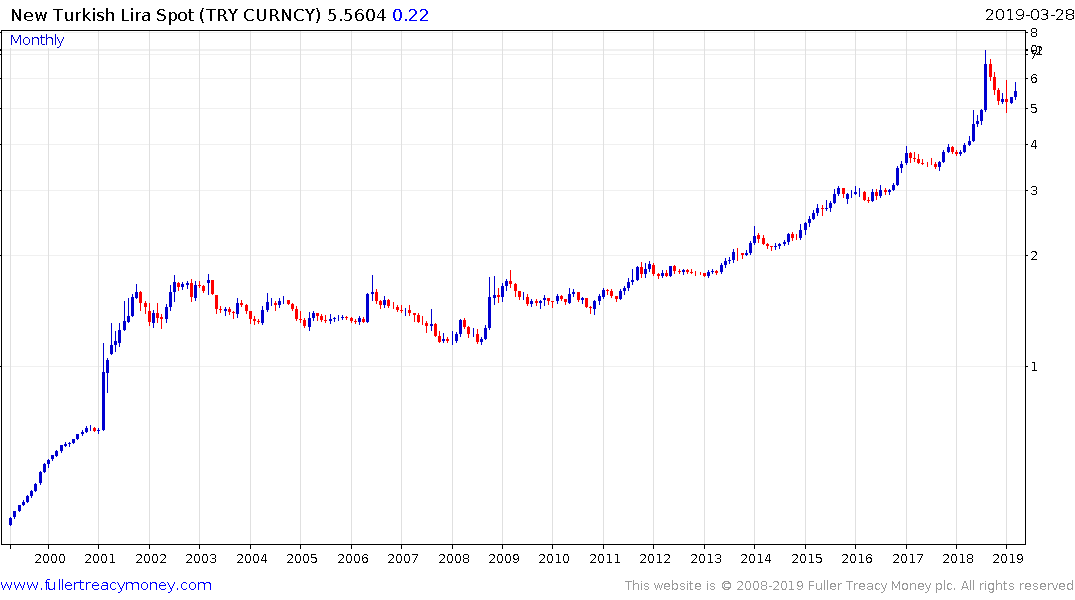 Despite the risk of a devaluation Turkey's on the run 10-year bond is still yielding about 7.42% which is well below the 9% recorded in August.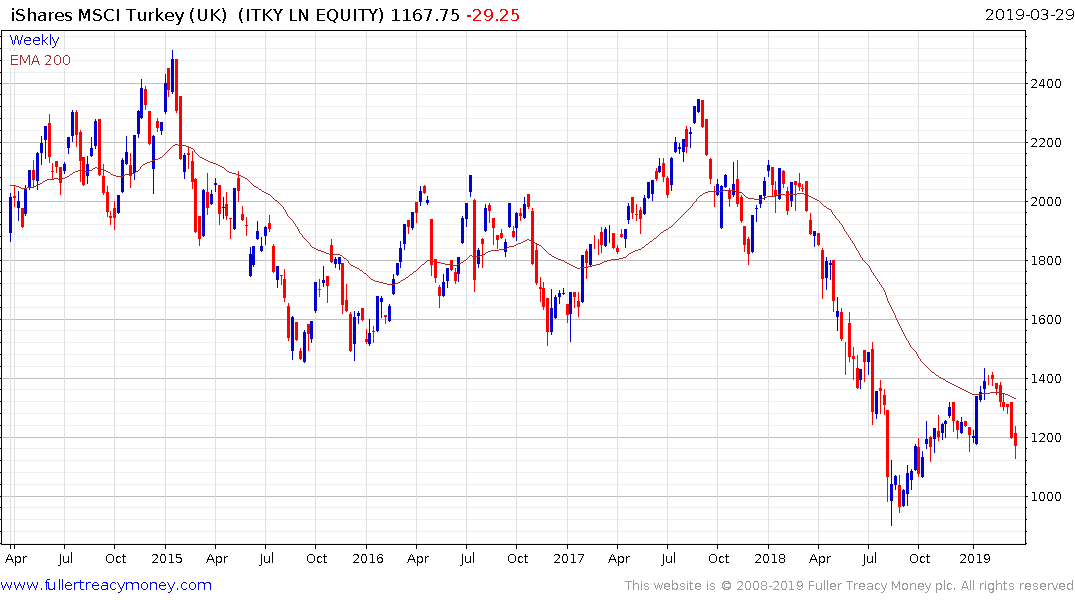 The iShares MSCI Turkey ETF rebounded from below the 1000p level in August to test the lower side of the overhead range and the region of the trend mean. It has pulled back over the last month but a short-term oversold condition is evident at present. It is currently testing the short-term progression of higher reaction lows and will need to find support soon if recovery potential is to continue to be given the benefit of the doubt.
Back to top