Eoin's personal portfolio: stock market trading position opened December 18th
One of the most commonly asked questions by subscribers is how to find details of my open traders. In an effort to make it easier I will simply repost the latest summary daily until there is a change.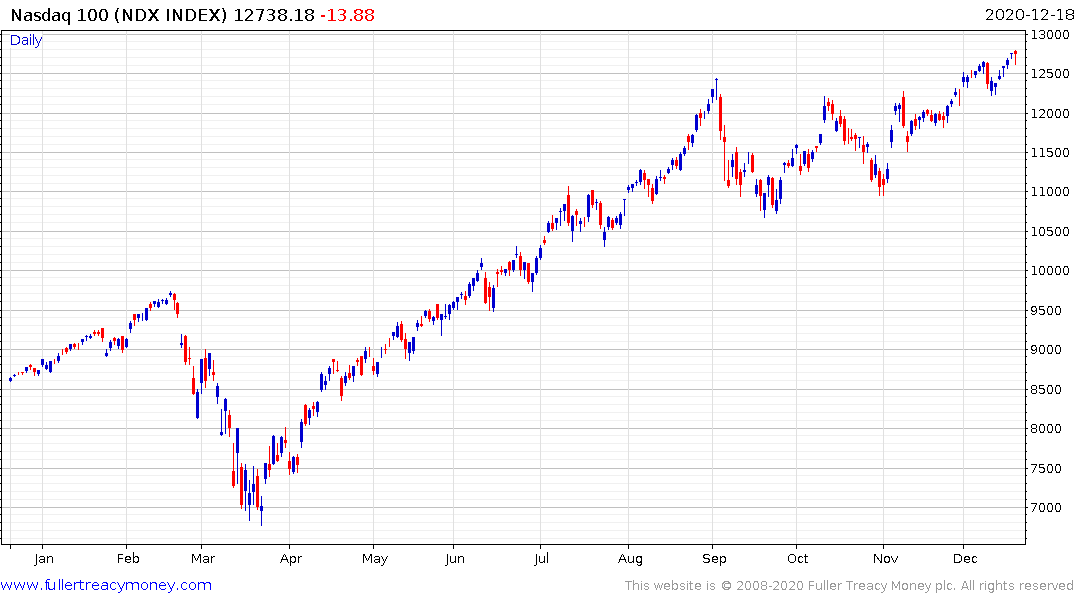 I opened a hedge short in the Nasdaq-100 today selling at 12670.1. I have a reasonably tight stop on the position but I think it is an opportune time to have some downside protection. Bullish sentiment is very high and some consolidation is increasingly possible.
My original position in the VanEck Vectors Gold Miners ETF was purchased on March 25th at $20.12. I bought another unit today at $35.79. As in March, I don't know if this is the low but I doubt prices will fall below $30 and with the Dollar breaking downwards, it appears an expedient time to be increase the weighting to gold miners.
My two investment positions in Rolls Royce were purchased at 154.75 and 105p respectively. I also took up the rights issue which has resulted in an average purchase price of 54.63p.
I continue to hold iShares Biotech ETF purchased at $131.9.
Within my trading book, I still have bids in the market below prevailing prices in gold and silver and will leave them in place to take advantage of any possible future volatility.
I increased my gold position on December 17th buying another unit at $1818.6 and continue to hold my original purchase which was opened at $1879.2.
I continue to hold my silver and platinum longs which were purchased at $23.7 and $885.4 respectively including spread-bet dealing costs.

I continue to hold my long in Ethereum which was purchased at $392.36 including spread-bet dealing costs.
These are leveraged trading positions rather than medium to long-term investments.
Back to top