Energy Prices Crash in Europe as Old and New Fuels Vie for Share
This article by Mathew Carr, Jeremy Hodges and Eddie van der Walt for Bloomberg may be of interest to subscribers. Here is a section:
"LNG is now so cheap it's competing with coal almost," said Caroline Bain, chief commodities economist at Capital Economics Ltd., who sees slowing demand for coal. "It's not actually falling off a cliff. We think it's going to be a long slow death rather than tomorrow."

The price slump is one sign of Europe's determination to phase out coal as it seeks to slash climate warming emissions without holding back the economy. Renewables are also in the fight for market share, with onshore wind and solar power "fast becoming cheaper than average power prices in Europe's largest markets," according to a research by BloombergNEF.

Front-month Dutch gas prices, a benchmark for Europe, plunged 50% this year as record volumes of LNG landed in northwest Europe. Coal for next year has dropped 30% after a mild winter left inventories at European ports unusually high.

"There's too much coal," said Hans Gunnar Navik, a senior analyst at StormGeo AS. As "natural gas out-competes coal," renewable generation is replacing both of them, he said.
In the pricing of commodities supply is much more volatile than demand. Generally, bull markets don't end because the market runs out of buyers but because new sources of supply appear to satiate demand. That is why we define secular bull markets in commodities in terms of a step up in the marginal cost of production.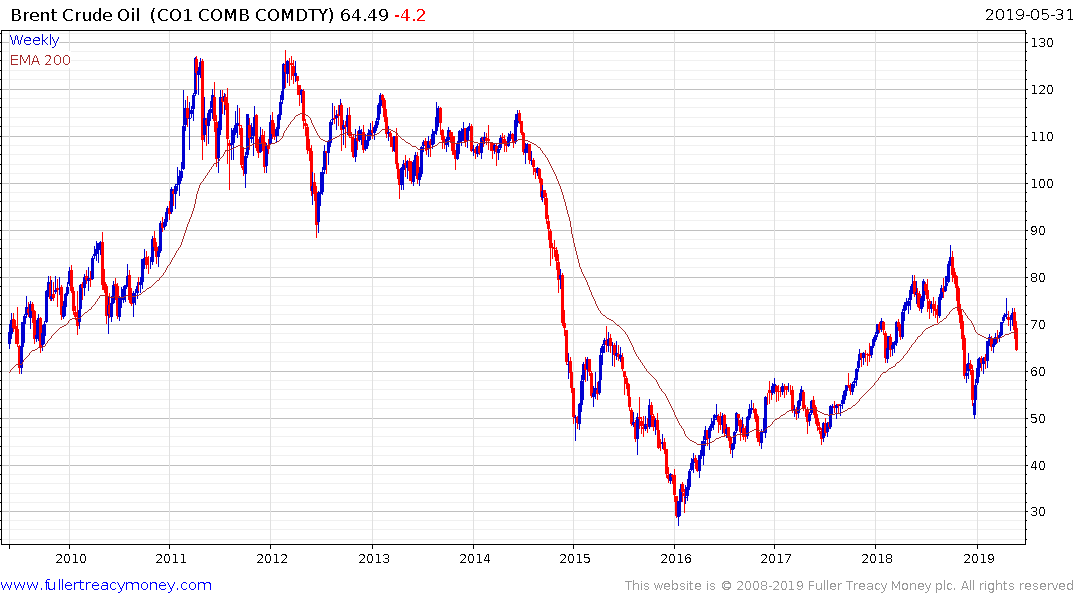 Crude Oil prices used to trade below $40 and now trade above that level. It took a decade long bull market to generate the investment in new supply necessary to meet demand but that has now been achieved. There is no shortage of oil. The question is only about what price will encourage excess supply back into the market. That suggests a long-term pattern of volatile ranging.
Short-term, oil has broken its sequence of higher reaction lows suggesting the rhythmic trending environment that prevailed from early this year is over. This pullback confirms resistance below $80 and further suggests that is the level that encourages ample additional supply into the market.
Any producer that cannot make money between $40 and $80 is going to eventually either going to have to bring down costs or will go out of business. That is particularly bad news for deepwater and some bitumen projects.
The flood of new supply of natural gas is a perfect example of economics 101. A surfeit of supply is creating new sources of demand by pushing out coal and making hydrogen fuel cell solutions viable.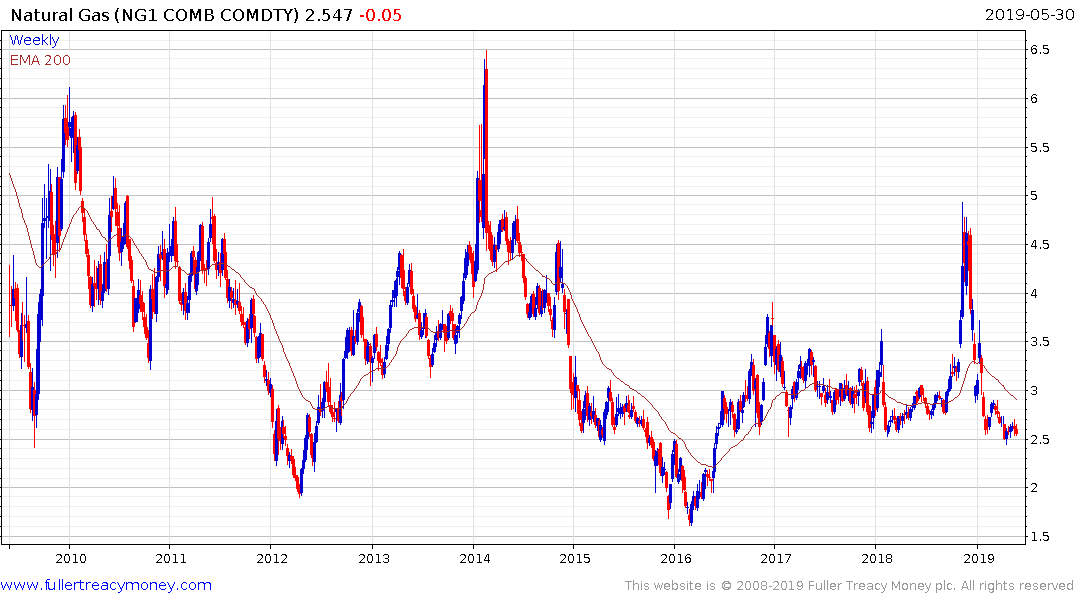 Natural gas is one of the few commodities to have completely unwound its bull market advance and is likely to range between $2 and $4 for years to come.
Back to top