Empty reservoirs, dry rivers, thirsty cities' and our water reserves are running out
Thanks to a subscriber for this article from the Guardian which may be of interest. Here is a section:
The gap between water supply and demand – predicted to reach 40% by 2030 – will not be filled by surface water resources, so aquifers are being exploited more and more for agriculture, power generation and daily use in fast-growing cities.

About 30% of the world's freshwater comes from aquifers, yet a third of the 37 largest aquifers studied by the University of California between 2003-13 were severely depleted, receiving little or no replenishment from rainfall.

Some of the most stressed aquifers are in the world's driest regions such as Asia, up to 88% of which is water-stressed. South Asia accounts for half the groundwater used globally, but the continent's aquifers – many of which were formed millennia ago when areas like northern China had a more humid climate – are no longer being replenished regularly by rainfall.

Boreholes are getting deeper and water tables are falling. In Pakistan's Punjab province, over-pumping is lowering the water table by up to a half a metre per year, threatening food and water security and making thirsty crops, such as sugarcane and rice, tougher to grow.
The rapid pace of urbanisation as well as the steady migration of people towards the coasts is stressing both the ability of natural water resources to cater to the number of people as well as the ability of infrastructure to deliver adequate water supplies. That is as true of California as it is of Pakistan. The rising global population is quite another problem since there is little infrastructure where the majority of population growth is occurring. This map of where the least number of people have access to indoor toilets also highlights just how acute the lack of basic sanitation is.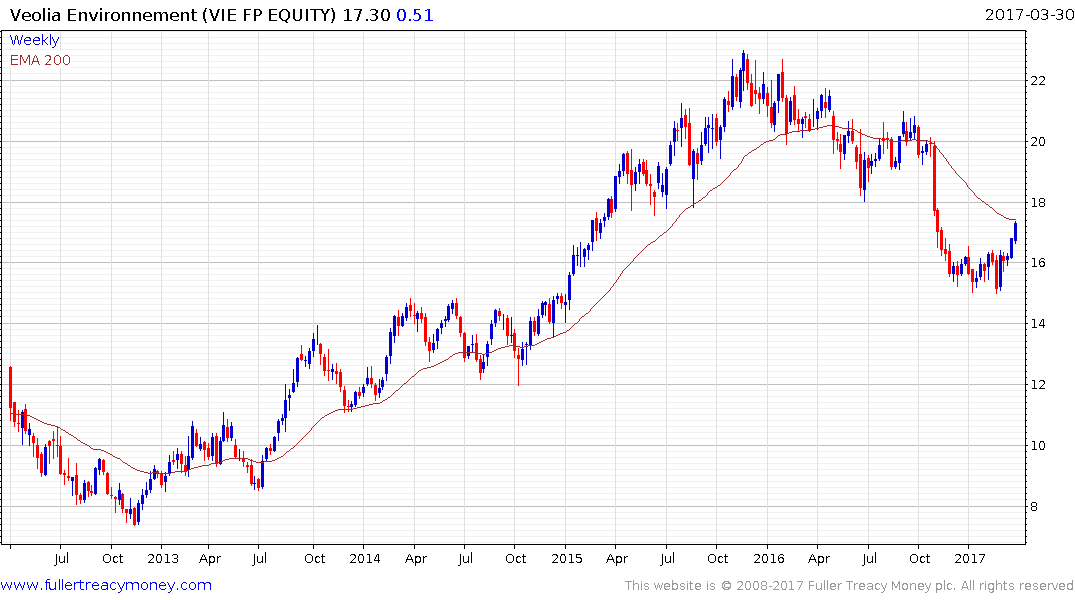 Veolia Environnement hit a medium-term peak near €23 in late 2015 and abruptly dropped in October. It has rallied over the last month to close an overextension relative to the trend mean but a sustained move above it would be required to signal a return to demand dominance beyond short-term steadying.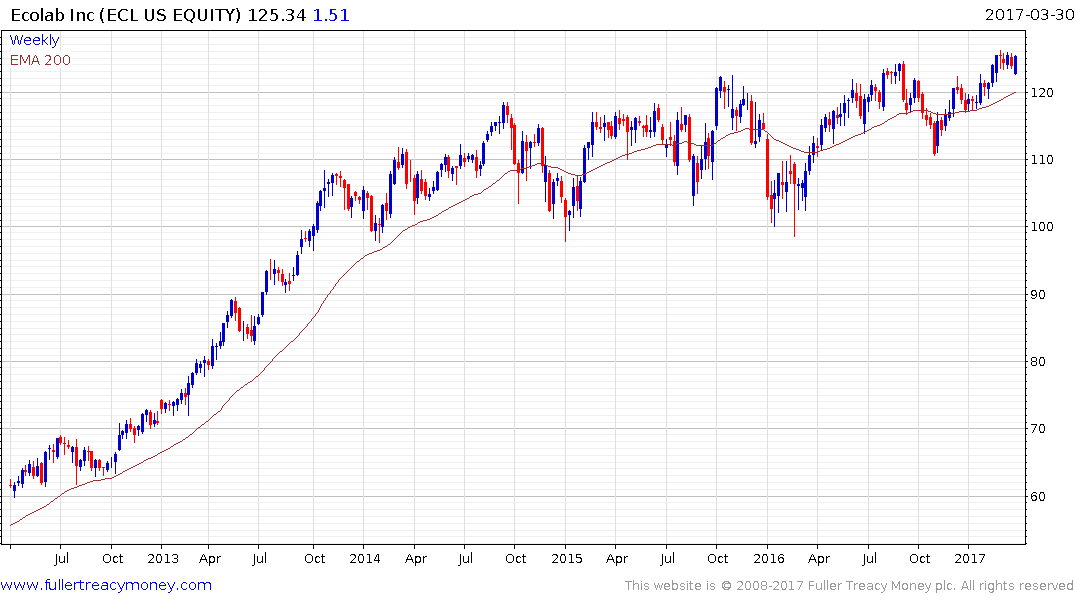 Ecolab lost upward momentum from early 2014 but has held a mild upward bias. It firmed impressively from the November low and a sustained move below $122 would now be required to question medium-term scope for additional upside.
Back to top