Email of the day on virtual reality and augmented reality
The Gartner curve you posted indicates that Augmented Reality and VR are approaching or in 'payback' phase. If so this ETF could be a good investment vehicle. Purefunds Video Game Technology ETF (GAMR) Can you please add it to the Chart Library. Grateful thanks
Thank you for this suggestion and I agree that the video gaming sector is a growth engine quite apart from the evolution of virtual and augmented reality gaming. The question is no longer about whether people will play games, regardless of gender, age or ethnicity, but rather which will be the most effective platforms to deliver the media. Right now mobile apps are by far the most popular because everyone has a phone.

The primary obstacle for widespread roll out of virtual reality headsets is they are relatively expensive for higher end products and lower end products offer grainy displays. However those are simply issues often seen with early versions of consumer electronics and are likely to be ironed out in future product rollouts.

This quote from Naruatsu Baba might offer the most compelling reason for why virtual reality will succeed now where it has failed previously.

Baba says virtual reality's most significant feature is its ability to trick users into thinking others are physically present. That will soon let humans communicate in a way that approximates face-to-face conversations.

"It fools you into thinking that both you and the other person are actually there, and it does this in a way that makes you really believe it is true," Baba said. "That's probably the real essence of what VR is all about."

The vividness of real time interaction could give new meaning to the virtual office and how long before whole conferences are conducted in virtual reality? I wouldn't be surprised to see a future TED talk delivered over VR. However that pales in comparison to the leisure ramifications of VR. Game publishers are already ramping up their output of titles for the holiday season. Like it or not the VCR's success was helped along by demand for pornography and virtual reality could get a similar bump. Here is an article from the BBC discussing the topic.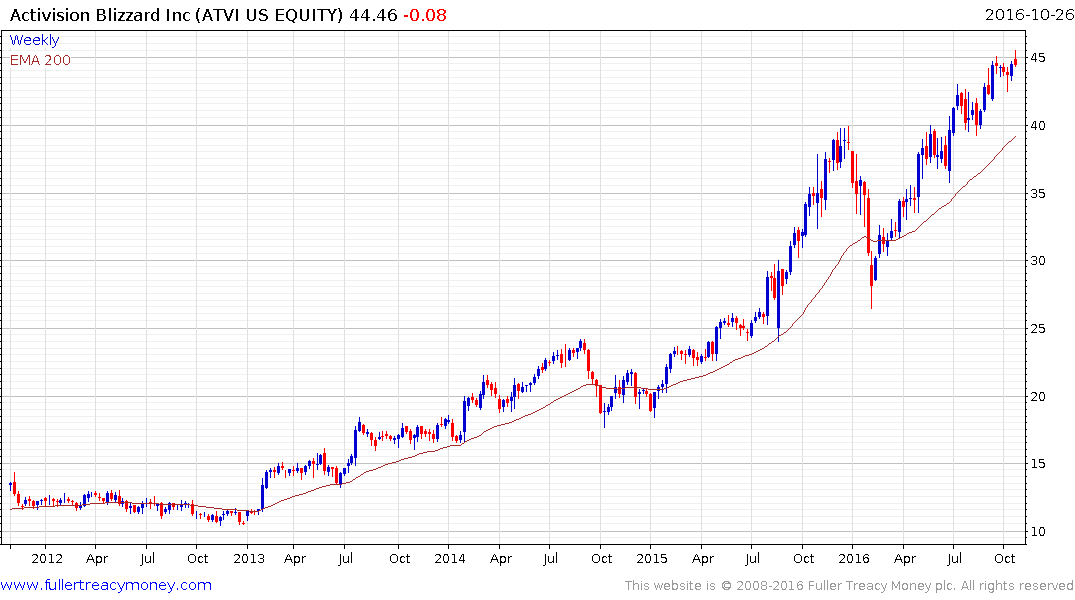 The ETF you mention is primarily weighted by game producers rather than platform manufacturers and there is no question that software is a higher margin business than hardware.
Activision Blizzard remains in steep but consistent uptrend and a break in the progression of higher reaction lows would be required to signal mean reversion is underway.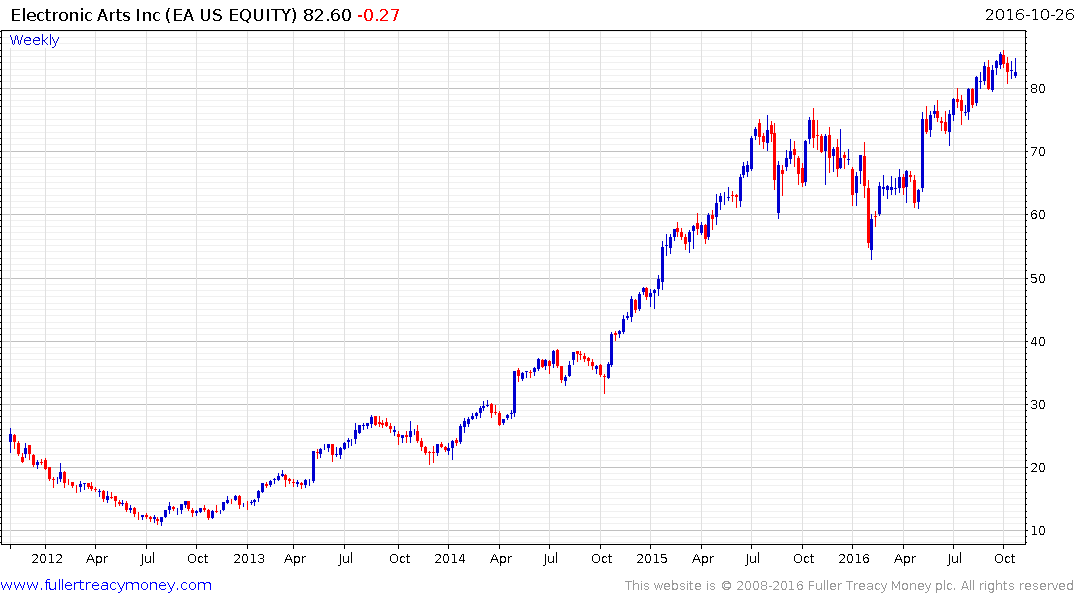 Electronic Arts has a reasonably similar pattern.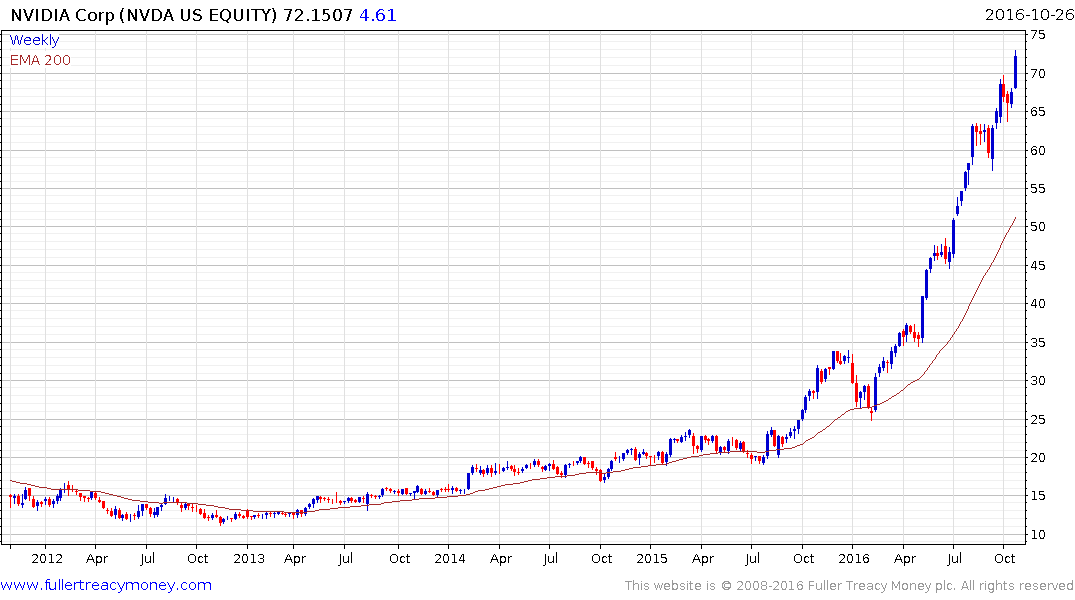 NVidia has surged this year on the strength of demand for its graphics cards used in virtual reality systems and autonomous vehicles. It is overextended by any measure but a break in the progression of higher reaction lows, currently near $65, would be required to signal mean reversion. It reports earnings on November 3rd.
Back to top