Email of the day on Vietnam and coronavirus
Dear Eoin, I've enjoyed reading your words for quite a while. Today is the first time I am writing you. You included a snip-it from Martin Spring suggesting a genetic component to how people from Southeast Asia avoid infections. You also suggested that it might be potential herd immunity from previous outbreaks.

As a person who has lived in Hanoi for 12 years, I wanted to share my insights with you.

First, and foremost, the government was very quick to shut things down here. The border with China closed even before we had our first case in country. Given the history with previous outbreaks, the government knew enough to act swiftly.

Second, lots of propaganda. In every neighborhood there are announcements about covid. On TV you are reminded constantly about covid. Every time you call someone, they insert a message between the time you press the button and it starts to ring. That message reminds everyone to wear a mask, wash your hands, keep your distance, etc.

Third, people here are more compliant. Conflict is frowned upon. The government says do it, you do it. They say you will protect your parents and grandparents, so you do it out of respect. Young people often avoid wearing helmets on their motorbikes (required by law) but they all wear masks.

Fourth, and something I have not seen stated before, is the Vietnamese language itself. Vietnamese is an under-aspirated language. That is, people breath much less when they speak. In the English- speaking world, sometimes we feel others spit on us accidentally while they are speaking. This does not happen in Vietnam because of the way the language works.

In short, there are plenty of reasons why Vietnam, in particular, has been lucky. Of course, we just started our second wave and now have 16 deaths. Still, I see no reason to believe that there is a genetic component to Vietnam's good fortune. Keep up the great work. Even those of us who never write to you find great value in your insights. Best regards, J.
Thank you for this informative email and your kind words. The Vietnamese response has been very impressive and I in no way wished to disregard the Herculean efforts they have made to contain infection. I did however wish to draw some attention to the question of where the disease in fact originated.
In many respects Vietnam's Communist Party is in the mould of Deng's "black cat, white cat, who cares if it catches mice" rather than Xi's "socialism with Chinese characteristics". It is an authoritarian regime but the focus is on growth, improving standards of living, economic development and getting along rather than dominating trading partners.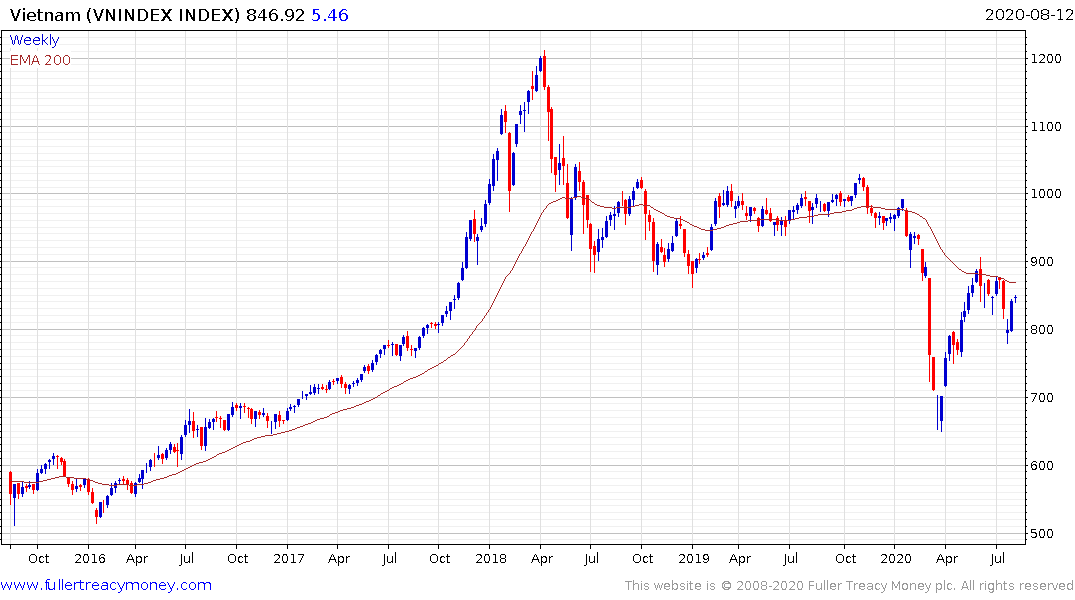 The stock market may have now posted a higher reaction low and a sustained move back above the trend mean would confirm a return to medium-term demand dominance.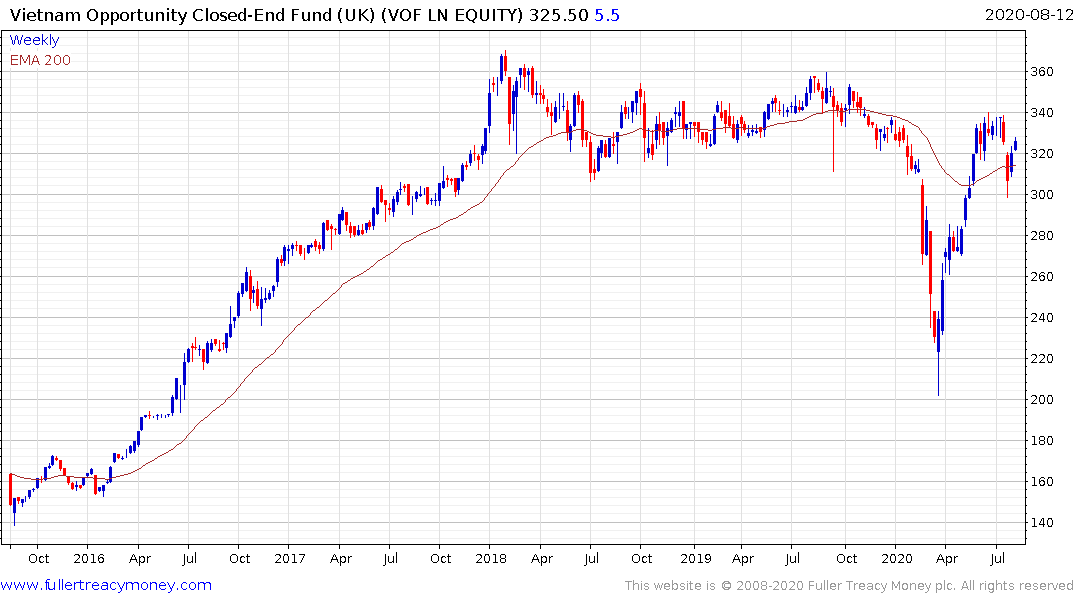 The UK listed and Pound denominated, Vietnam Opportunity Fund has bounced from the region of the trend mean.
Back to top