Email of the day on US listed robotics companies
Any U.S. traded ways to invest in these service robotic application companies? Which industries are the ripest insofar as labor displacement? The national call for a minimum wage seems an added tailwind.
Thank you for these questions which may be of interest to other subscribers. The disruptive power of technological innovation is hard to predict but we can be assured that there will be some major winners and losers.

If you look at the teamsters website, the self-professed strongest union in America, it is not difficult to see how they will oppose any threat to their working conditions and what an incentive this creates for companies to completely displace them. To this end Amazon has already introduced a robotic retrieval system in its warehouses and we can anticipate this will be ubiquitous before long.

Advances in robotics, optics and programming mean that the loading and unloading of goods from vehicles will also increasingly be automated. Since most supermarket shelves are stacked when the store is closed, why not have a robot do the job? Tighter regulation on the number of hours a driver can work, increases the allure of driverless vehicles from a business perspective even if this is still years away.

Taking a look further down the line, the automation of the diagnostic process in the medical field should introduce efficiencies to the profession not previously thought possible. Automating drug delivery systems and portering of patients would also remove inefficiencies from the process of patient care.

Among US listed robotics companies:
Fanuc has a US listed ADR trading under the FANUY code. Its performance highlights just how much of an influence the weak Yen has had on the share. Both Krones AG (KRNNF) and KUKA AG (KUKAY) also have ADRs but they are not liquid.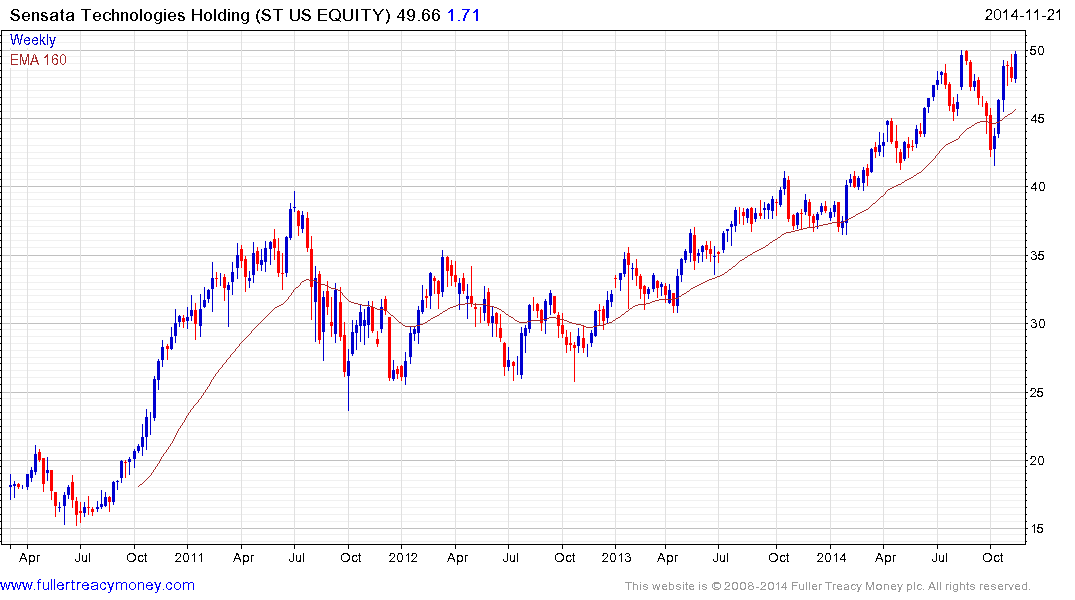 Sensata Technologies produces the sensors that contribute to your vehicle becoming smarter and performing self-diagnostics. The share found support last month in the region of the upper side of the underlying three-year range and a sustained move below that level would be required to question potential for additional upside.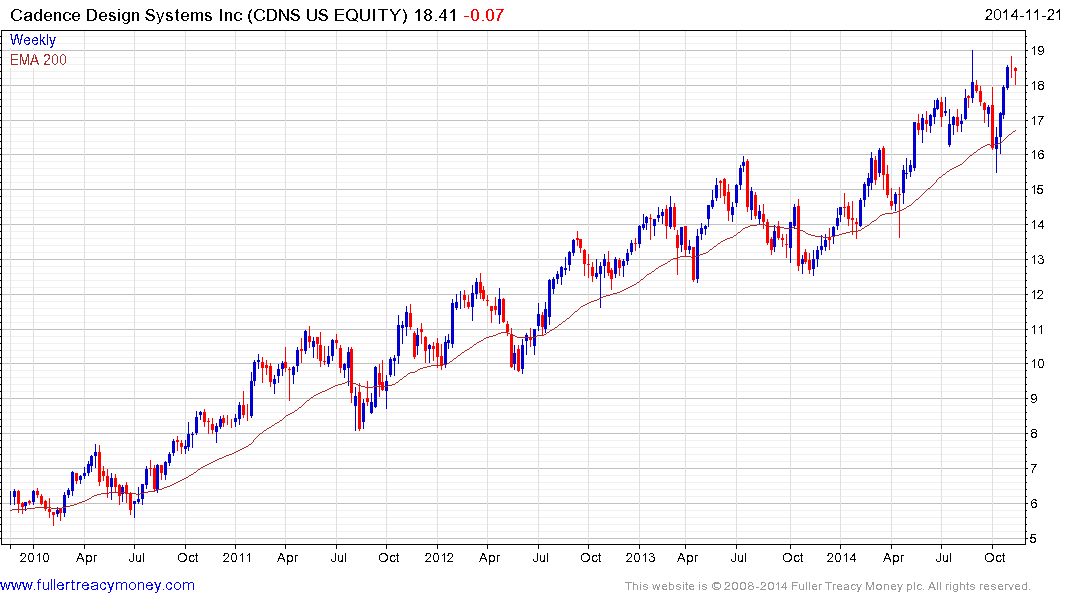 Cadence Systems develops technology to improve the efficiency of manufacturing particularly in the semiconductor sector. Rather than focus on robotics it is an application software provider for them. I mention it here because it has the most consistent trend of any of the US listed shares in the Industrial Automation segment of the Chart Library; with a progression of higher reaction lows evident since 2009. http://chart.fullertreacymoney.com/chart_listings/group/144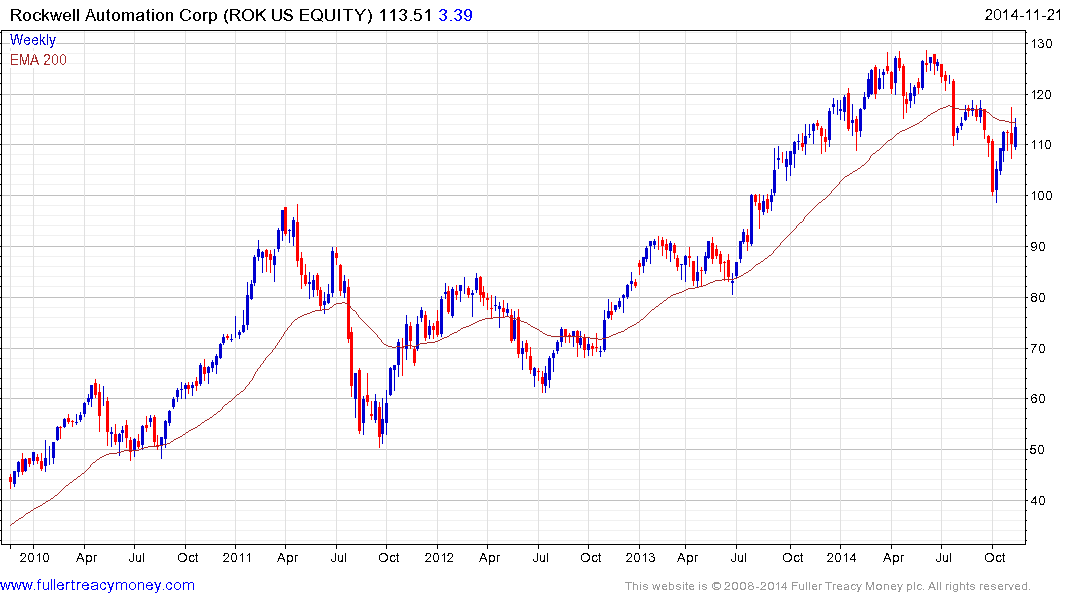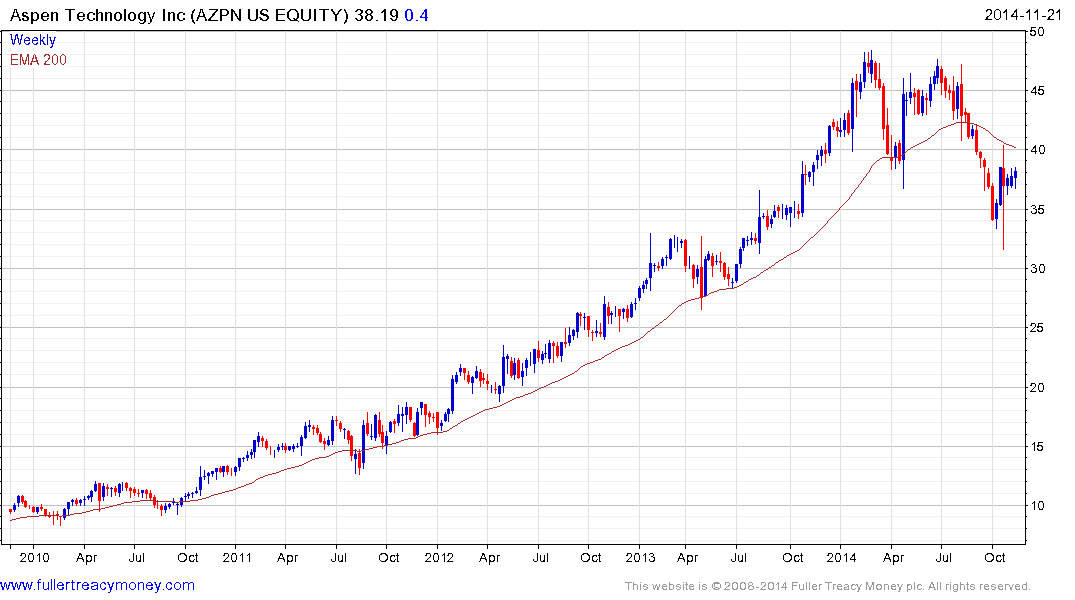 Rockwell Automation has held a progression of lower rally highs since its June peak and is now testing the region of the 200-day MA. It will need to sustain a move above that area in order to demonstrate a return to demand dominance beyond the short term. Aspen Technology has a similar pattern.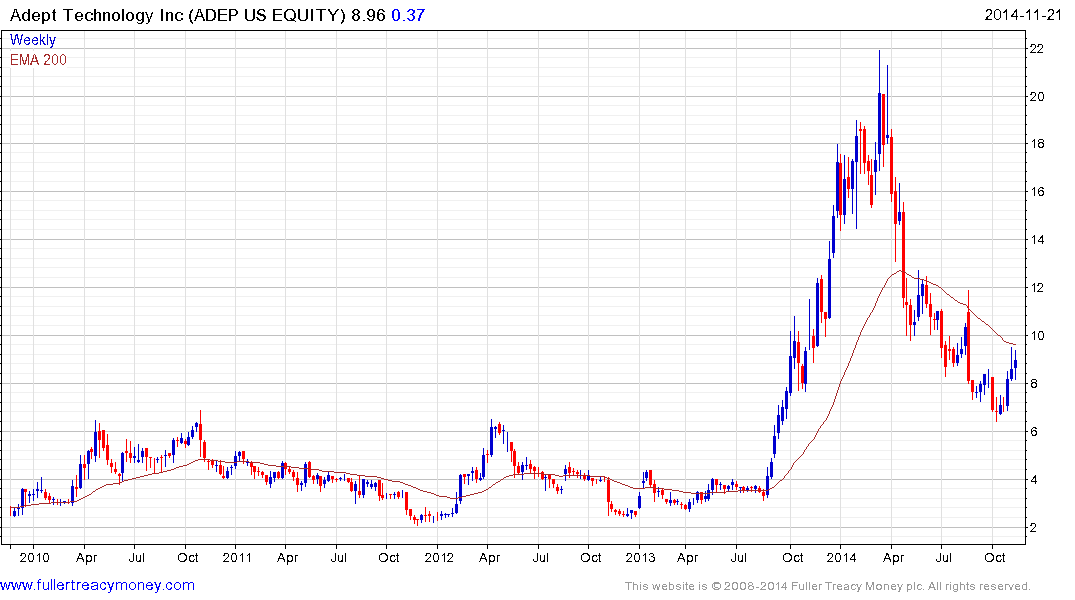 Adept Technology has seen its market cap shrink to $100 million over the last 8 months and is still trading at an ambitious P/E. The share has rallied over the last three weeks to close its overextension relative to the 200-day MA but a period of support building is likely required before higher levels can be sustained.
Back to top