Email of the day on UK listed precious metal miners
Fresnillo's (London) share price has been falling, among other things due to weakness in the Mexican Peso. Historically, JSE gold shares have surged on ZAR weakness with a rising USD gold price. In the event of a recovery in the USD silver price, could it be argued that FRES would do better?
Thank you for this question is something I believe a number of subscribers will be interested in. The underperformance of the UK listed precious metals sector has been something of a quandary and is now fully explained by the relative weakness of emerging market currencies. For example, the bounce in the Mexican Peso over the last couple of weeks has done nothing to arrest the decline in Fresnillo's shares.
That is a testament to just how negative sentiment is right now towards the precious metal mining sector. Therefore, a return to performance by precious metals could be expected to deliver a high beta move in related mining shares not least because they have eschewed the temptation to boost investment in additional supply and are mostly cashflow positive at current levels.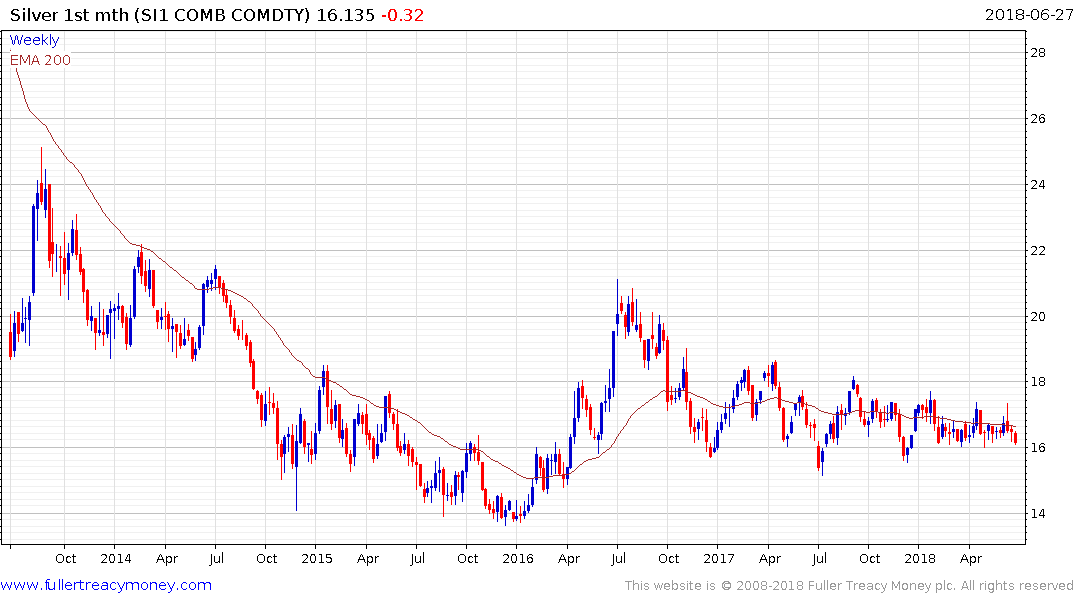 The market is at a key level where if demand is going to be reasserted it needs to happen soon to avoid serious trend consistency deterioration. Silver is at the lower side of a five-month range and is showing tentative signs of steadying above $16. However, a sustained move above $17.50 will be required to break the two-year progression of lower major rally highs.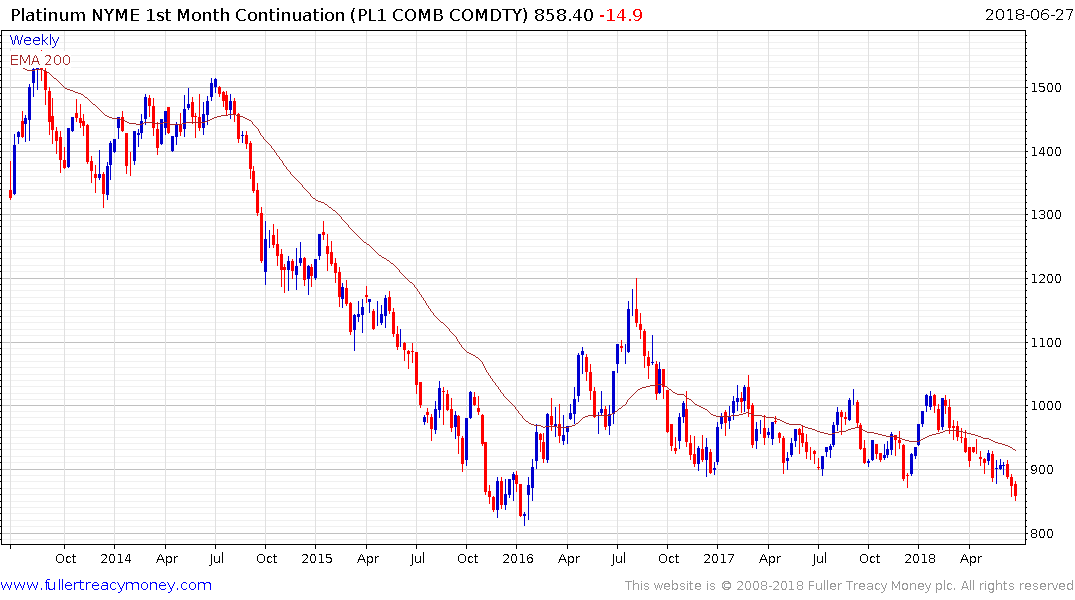 Platinum broke downwards last week and continues to extend the decline. Admittedly platinum has suffered from the decline in demand for diesel vehicles but its decline is not positive for sentiment.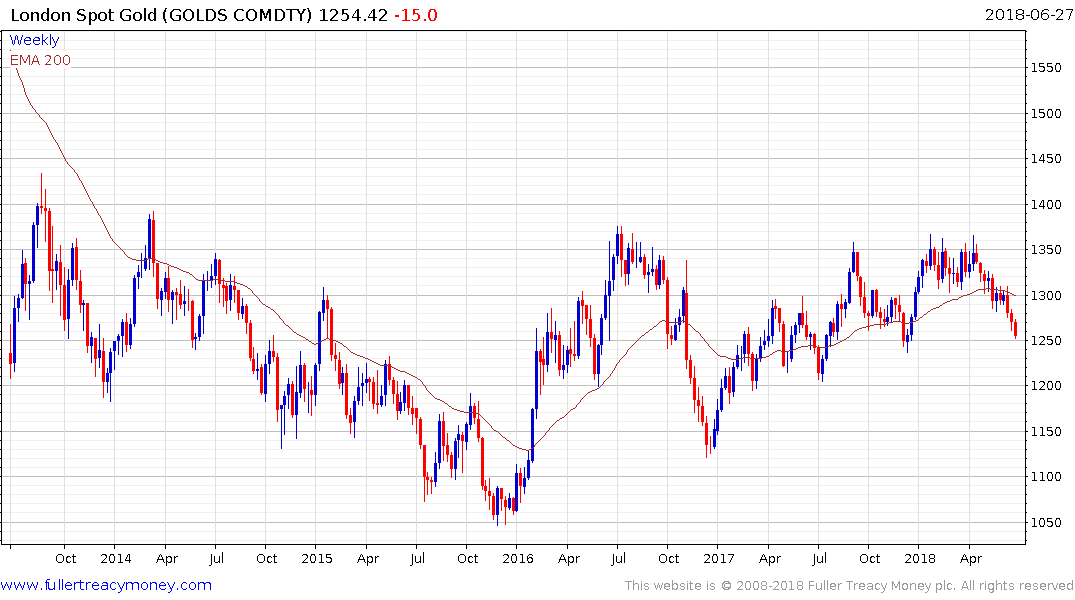 Gold has declined on consecutive days over the last couple of weeks. The price of gold has pulled back below the trend mean on five occasions since late 2016. On each of those occasions it has bounced emphatically. Sentiment towards gold has deteriorated along with the price but a clear upward dynamic will be required to check supply dominance.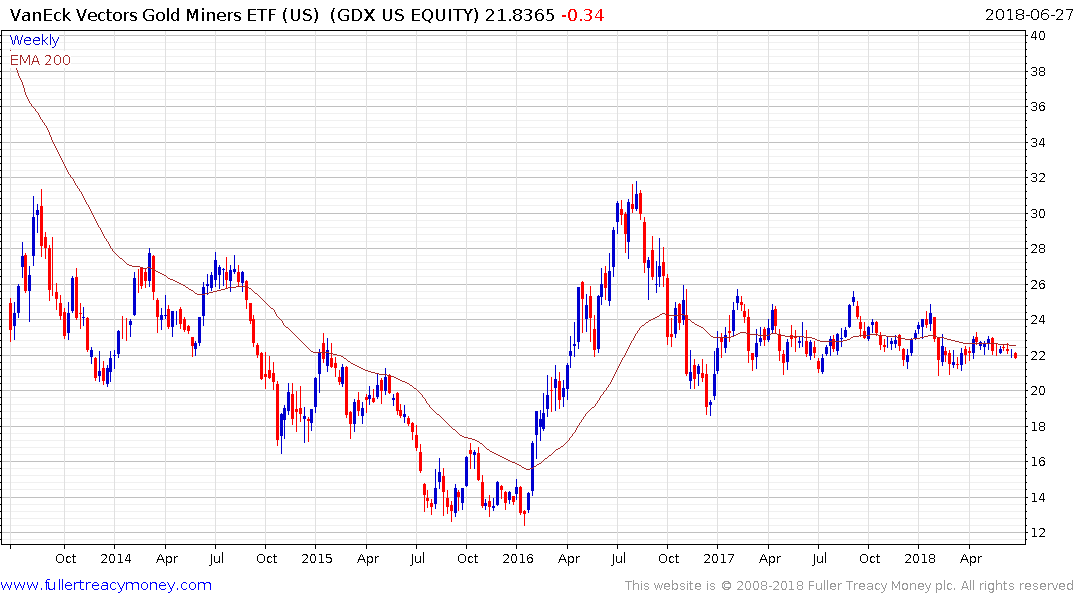 The amplitude of the Van Eck Vectors Gold Miners ETF (GDX) has been compressing over the last year but has maintained a downward bias. It is now drifting between $21 and $23 and will need to at least break the progression of lower rally highs to signal a return to demand dominance.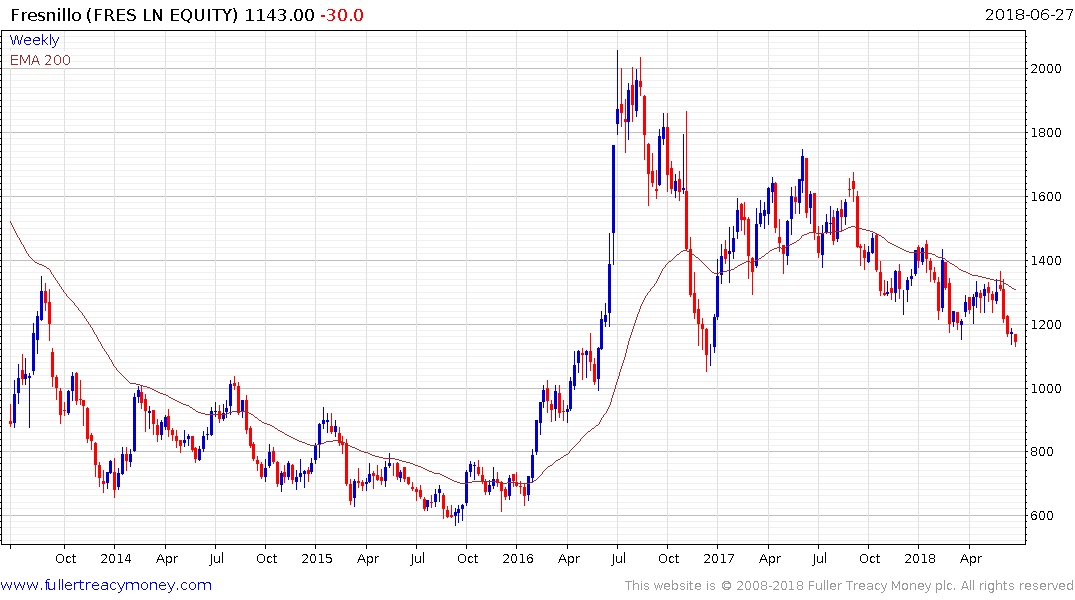 Fresnillo is coming back to test the region of the late 2016 lows and while somewhat oversold in the short-term a clear upward dynamic will be required to check momentum beyond a pause.
Back to top