Email of the day on top formations
Looking at the chart of Franco Nevada, is that a head and shoulders top formation?
A head and shoulders top formation is an iteration of a ranging, time and size Type-3 top discussed at the Chart Seminar. Tops are more difficult to identify than bottoms because the natural proclivity of prices is to rise once a trend has been established. Therefore, a number of factors need to fall into place to confirm top formation development.
Franco Nevada ranged below C$100 between 2016 and 2019 and broke out in line with gold. The price came back to test the upper side of the range in March and subsequently doubled in short order. As a royalty streamer Franco Nevada offers one of the few ways to buy gold at a discount to prevailing prices. That generally means it trades at a high multiple but it is snapped up when it goes on sale.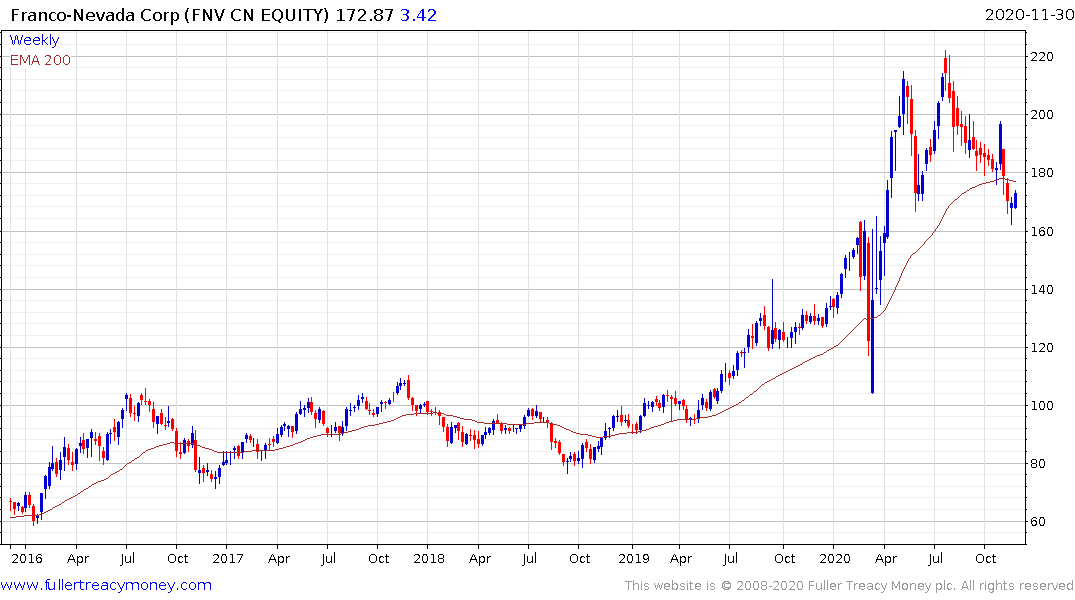 The sharp rebound from the March lows lost consistency in May and failed to hold the breakout to new highs in July. It has been in a corrective stage since then and is now attempting to find support in the region of the C$170. I am very reluctant to call this a top formation. It looks more like a medium-term correction to me, which will ultimately be resolved with a breakout to new highs.
Back to top