Email of the day on tobacco stocks and accelerating trends:
As you rightly point out defensive stocks tend to outperform towards the end of the cycle, especially those that consistently pay a high dividend. I, like I suspect others in the collective hold BATs shares. Yesterday the price got hammered on a rumour that the FDA is proposing to ban menthol cigarettes. Wonder if you have any thoughts on what has happened ? Any crumbs of comfort to be had ?
Thank you for this question and I suspect you are not alone in holding a share that has accelerated lower of late. At The Chart Seminar yesterday for example we had a discussion about British America Tobacco exhibit is accelerating downtrends. As you will remember acceleration is a trend ending characteristic;, albeit of unknown duration.
This news story about the FDA potentially banning menthol cigarettes weighed on just about all tobacco companies but British American Tobacco most especially. It also states that the company derives about 40% of its US sales from menthol cigarettes which helps to explain the recent move.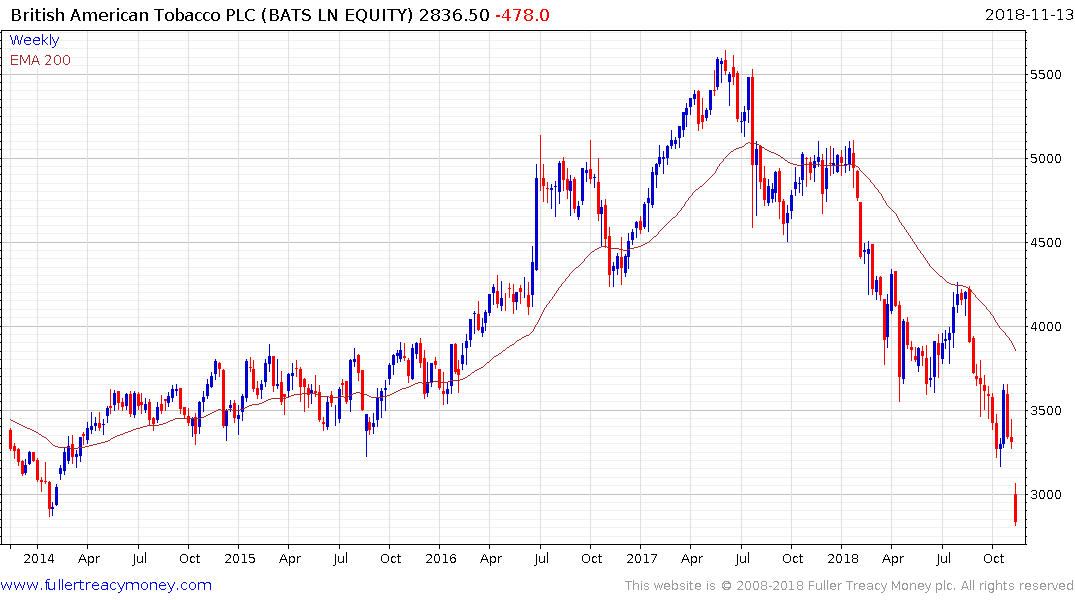 The share has been trending lower since mid-2017, with a series of ranges one below another and failed to break back above the trend mean in August. The big question is whether this news is going to affect the dividend. The US accounts for about 38% of revenue so the share is rapidly pricing in that loss of revenue. Nevertheless, it is increasingly oversold and the first clear upward dynamic will likely signal a low of at least near-term significance.
Back to top