What is your view on the tin chart? https://uk.investing.com/commodities/tin-streaming-chart

Looking at the LSE the only tin share I can find is AFRITIN MINING who produce in the safe jurisdiction of Namibia. Additionally, they are due to release an estimate on their lithium resources mined as a by-product at the same time.
Thank you for this question which may be of interest to the Collective. This graphic produced by Rio Tinto Ventures goes a long way towards explaining the recent strength in the tin market. Here is also is a section from Avalon Advanced Materials website which talks about the primary uses of the metal: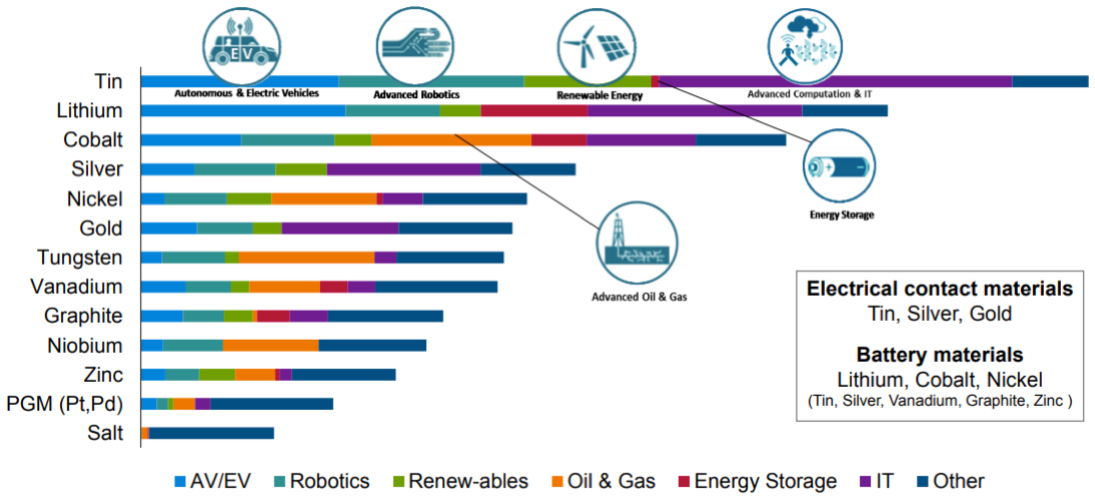 Tin is perhaps better known for its historical use in tin cans than in modern technology; however, usage of tin in coating lead, zinc and steel to prevent corrosion (i.e., tin plating) is now the second highest usage of tin worldwide. Tin is primarily used in lead-free solders for electronic circuit boards and microchips – accounting for 50% of global tin consumption.
Tin is expected to increasingly contribute to modern, clean technologies including lithium-ion batteries for autonomous and electric vehicles. For example, battery researchers are developing solid-state batteries utilizing ceramic electrolytes (versus liquid) for improved safety and performance. Silicon is a potentially attractive anode material due to its high potential capacity and abundance in nature. Recent research has shown that adding tin to the silicon-based anode enhances its performance, creating the potential for tin to be a major contributor to the next generation of lithium batteries.
Further, researchers at the Texas Material Institute have demonstrated a tin-aluminium alloy can be produced that is cheaper and double the charge capacity of today's copper-graphite anodes for lithium-ion batteries.
The greatest growth potential for tin is likely to be found in these and other automotive battery applications. As of 2016, use of tin in lead-acid batteries approached 30 kt and, supported by further growth in vehicles sales and the further substitution of antimony, use of tin in this application is expected to exceed 50 kt by 2027 (Roskill).
Finally, indium-tin-oxide is used as a glass coating due to its electrical conductivity and optical transparency and continues to find application in renewable energy and communications, including flat panel displays, smart windows, thin film photovoltaics (solar panels) and organic light emitting diodes lights.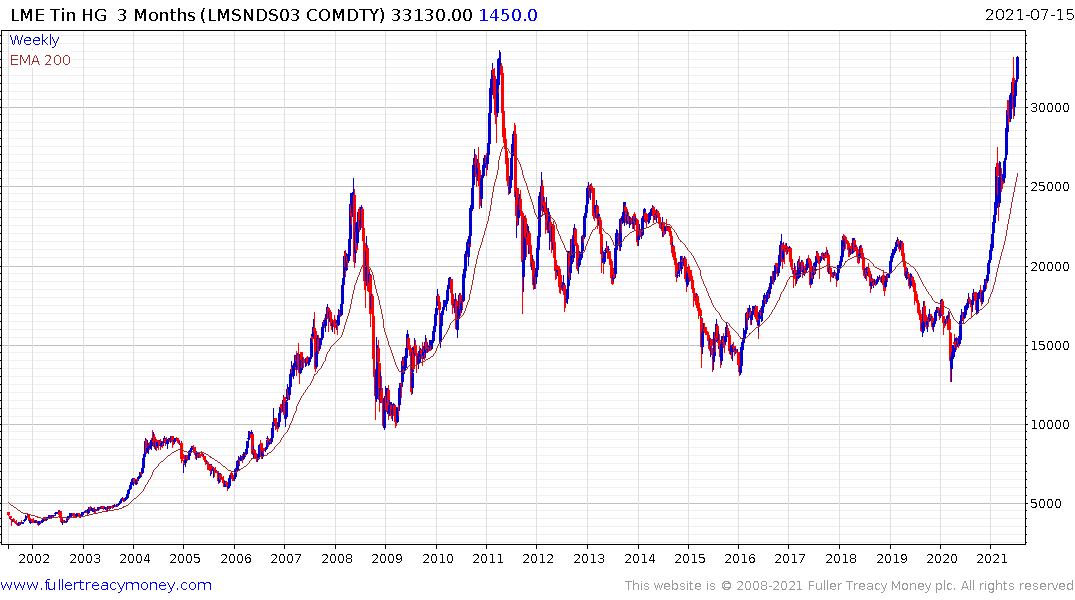 The surge in demand for electronics during the pandemic has therefore had a strong positive effect on tin prices. The pace of the advance is accelerating but a break in the sequence of higher reaction lows will be required to check momentum. Medium-term there is clear scope for continued demand growth as electronics demand growth migrates to the automotive sector.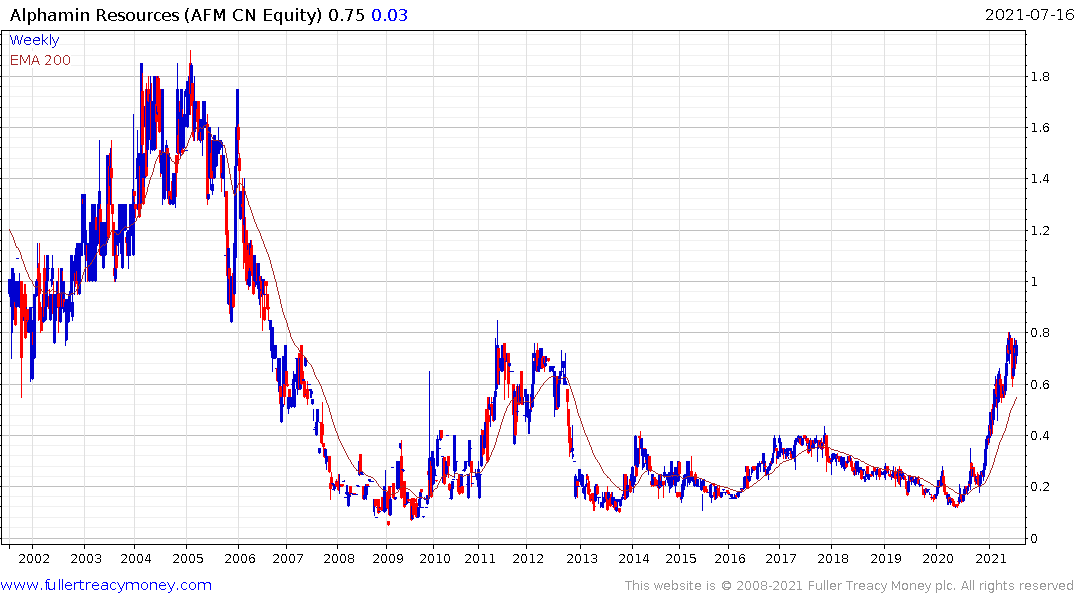 Canada listed Alphamin Resources continues to trend higher in a reasonably consistent manner.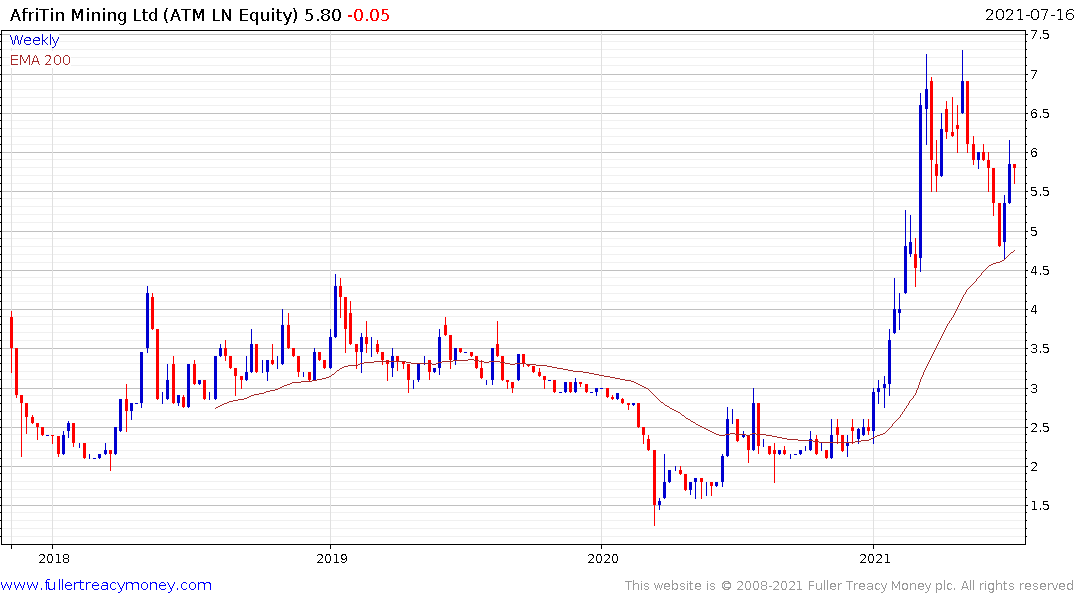 AfriTin continues to firm from the region of its trend mean.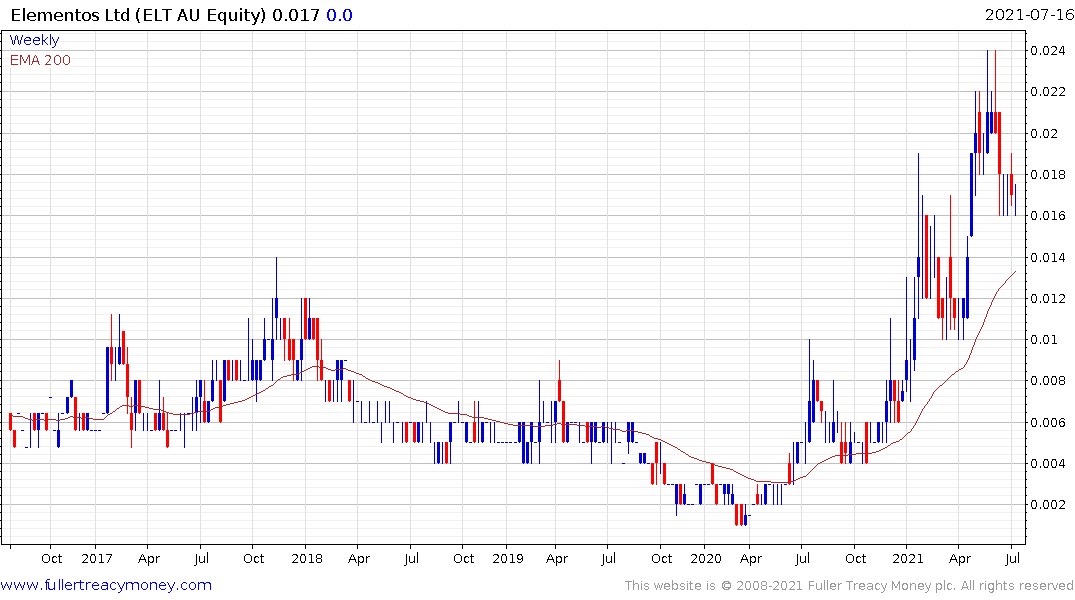 Australia listed Elementos is also firming from the region of the trend mean.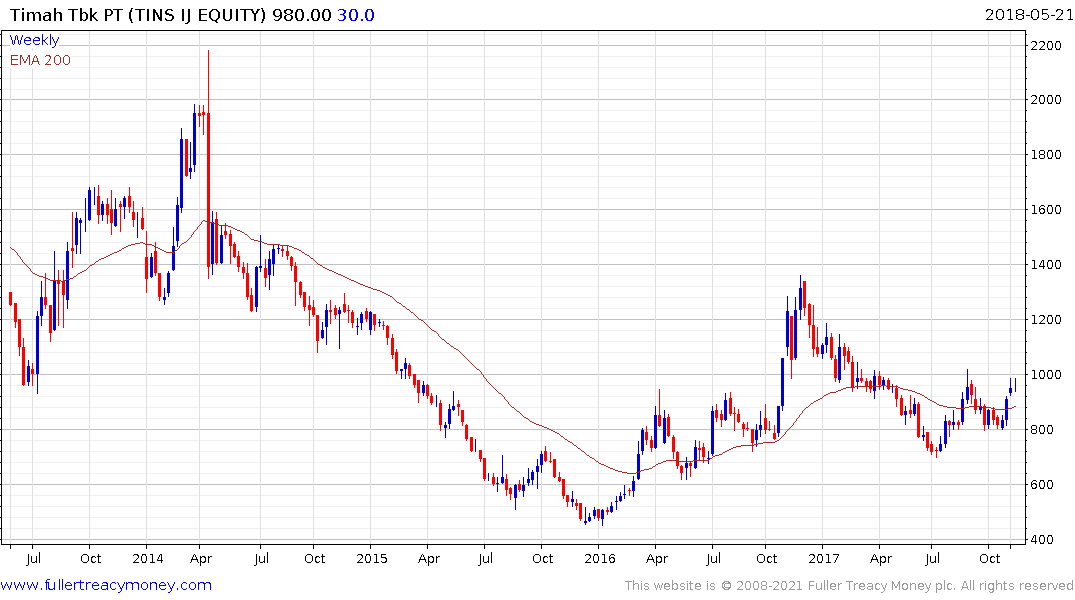 Indonesia's Timah Tbk shares a similar pattern.


Canada listed Avalon Advanced Materials is trending downwards.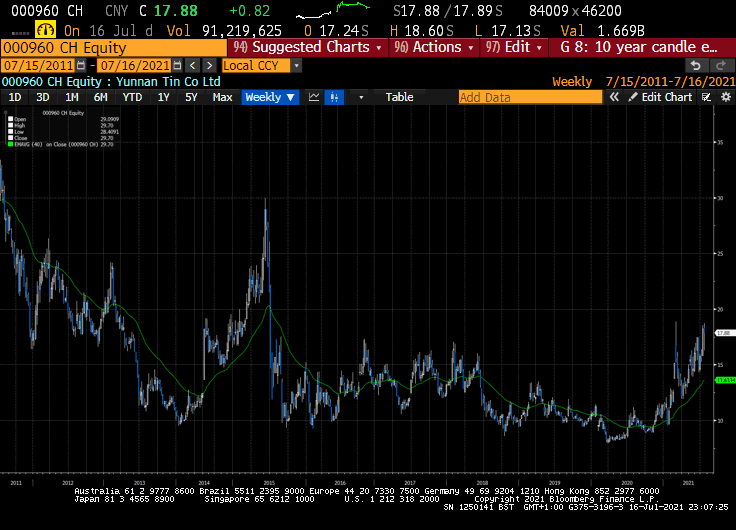 China's Yunnan Tin Co appears to be in the process of completing a six-year base formation.
Back to top